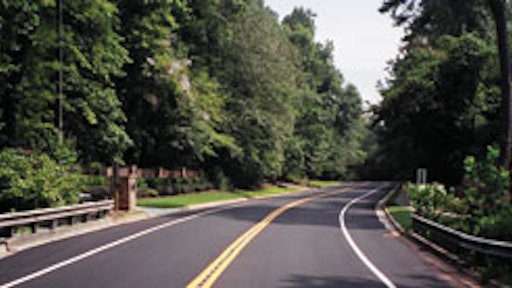 I caught up with John Indrunas, construction supervisor for the City of Roswell, GA at Riverside Road on the banks of the legendary Chattahoochee River. It was ironic that the Cherokee Indians called this river "Chattahoochee" — River of Painted Rock. The road reclamation crews were up on the bank of this same river, "painting" ground up road base rock with foamed asphalt base stabilization.
In fact, this is the fourth foamed asphalt base stabilization project for Indrunas and the City of Roswell, and following covers the four-year evolution of how this tool in his road building toolbox has come to save so many tax dollars.
Roswell is a historic city founded in 1836 and incorporated in 1854. The sixth largest city in Georgia, Roswell has grown to over 85,000 people and is located at the northeast corner of Metro Atlanta in Fulton County. One ideal the city strongly promotes is recycling. With asphalt being the number one recycled material by weight in the United States today, it seems only natural the city would welcome road reclamation with open arms. However, this didn't happen overnight.
"When I went to the first ARRA (Asphalt Recycling and Reclaiming Association) meeting in Atlanta in spring of 2000, I took along my Director of P ublic Works, Jack Seibert," says Indrunas. "I knew if I could get my managers involved with the training that was available, it would be easier to sell to our council when the time came to utilize this technology."
Based on the ARRA seminar that year, Indrunas initiated the first reclamation project for Roswell in 2001. Bids were accepted for Houze Way reconstruction, a major cut through around the Highway 9 corridor.
"Blount Construction was the successful low bidder for this project and we went to work on traffic control immediately following the pre-construction meeting," says Indrunas. "As the road was traveled by over 16,000 cars per day, we decided to run single lane traffic in one direction in the morning, then turn them around the opposite way that afternoon."
As the first city in the Southeast to perform foamed asphalt base stabilization, Indrunas clearly can be considered a pioneer in the road-recycling realm. Houze Way reconstruction went better than expected, and afforded Indrunas the opportunity to not only match the existing curb elevations on one side of the road, but also widen the eastbound lane an additional three feet at the same time.
Even with the success of the initial project on Houze Way, he attended another seminar on full depth reclamation at the GA DOT Materials and Research Lab in September 2001. It was there that he first heard John Emery speak on the benefits of reclamation with foamed asphalt base stabilization.
Emery, president of John Emery Geotechnical, was one of the featured speakers at that fall seminar. His firm provides technical support and mix designs for firms doing foamed asphalt base stabilization. Moreover, he and his staff are currently conducting a study on four years of foamed asphalt projects in the Southeast to determine an average layer coefficient for road design purposes. At this point the industry is using 0.40 as a layer coefficient for foamed asphalt stabilization based on test data from existing projects in other parts of North America. Another pioneer himself in the reclamation industry worldwide, Emery has been involved with foamed asphalt as well as cold in-place recycling since its inception into North America.
Still skeptical
While still not fully satisfied that reclamation was the answer to his over-crowded and under-designed roads, Indrunas let a project for conventional construction in the fall of 2001 for Jones Road Reconstruction.
The bids came in at over $1.5 million to complete this work. This amount was well over the budget that the city had set aside for this road.
"When you have to undercut a road by 16 inches to place new rock, you are going to have to get utility clearances and relocates," says Indrunas. "All this takes time, and we knew this project would take up to six months to perform. We were shocked when we rebid this same road as a reclamation project the following spring and the successful low bidder was awarded the work at just over $270,000."
While still skeptical of the process, Indrunas gleamed at the fact that his city was looking at a potential cost saving of over $1.2 million.
"In addition to the monetary savings, having a roadway open to traffic after seven or eight working days with reclamation versus six months with conventional construction is priceless," says Indrunas. "Rather than waiting for utilities to be relocated and adjusted as in conventional reconstruction, the Blount Construction crew simply pulverized and mixed the existing asphalt and base, trucked away surplus material to make room for curb reveal and injected lime and foamed asphalt into the ground up road mixture. We got the strength of a brand new road for a fifth of the cost and substantially less time than conventional reconstruction."
Though the project went well, there was still plenty to be learned in the developmental stages of this process. "There is a definite learning curve out here, but we work closely with the low bidders of these projects to achieve the desired results," says Indrunas. "We learned very quickly that there is a trade-off between following the old in-place curb with the new road and rideability. We soon found out that it is best to ignore the old curb profile and focus on the finished ride. With 15,000 cars a day on these roads, you only get one chance to get in and do the work, so we learned that it is imperative to get it right the first time."
With two successful foamed asphalt base stabilization projects, Roswell staff went to work on the budget for 2003. It was now a question of where to use full depth reclamation with foamed asphalt rather than should we use it. The cost savings alone was reason enough to plan on using it in following years. It looked as if the days of adding more and more layers of asphalt resurfacing, then raising the curbs were soon coming to an end in Roswell.
Hardscrabble
In 2003, Hardscrabble Road Reconstruction Project was let and the bids came in to do this reclamation project with a combination of 2.4 miles of foamed asphalt base stabilization and a half mile of milling and resurfacing. Mix designs were prepared and Blount Construction went to work as a sub to APAC Paving to prepare a 5-inch stabilized base under their 2 inches of asphalt overlay. With the road closed to local traffic only, reclamation crews were able to expedite the work in record time.
"Here is a road with 16,000 cars a day being completed in 10 days versus being done in six to seven months with conventional reconstruction," emphasizes Indrunas. "Even if we chose to do deep patching instead of conventional reconstruction to save time, unless you are going to go down 10 inches with your patches, the patch method cannot address the sub base failure problems the way full depth reclamation does. I have the reclamation crews go down as deep as 18 inches on occasion to inject extra quick lime to stabilize sub base problems prior to stabilizing the entire road."
Knowing that the sub base failures are properly addressed and that the foamed asphalt base has a long life cycle when properly performed gives Indrunas confidence when it comes time to tell his elected officials that their engineering staff can meet their 20-year lifecycle expectation. As Roswell experiences unprecedented growth, additional subdivisions have been added to the original road design.
"We can adjust and correct the resultant drainage deficiencies," says Indrunas. "Now with proper drainage, cross slope, width and uniformity, we are giving our taxpayers roads that are new for a third or more of the cost of conventional reconstruction. The fact that we can do this recycling reconstruction in record time under traffic is invaluable. On some occasions where it is feasible, road closures can expedite the construction time even further. Backing up 20,000 cars a day is not an option anymore in this just-in-time age."
Continued success
With three successful foamed asphalt base stabilizations completed, the bid for Riverside Road Reconstruction was let earlier this year, and Blount Construction was the successful low bidder. Originally the work was to take place over the year in four phases to limit disruption to traffic flow. This road, in addition to allowing the passage of over 20,000 cars a day, also sees its fair share of cycling enthusiasts and joggers. Ironically, due to the fact that Phase I went so fast, the city decided to go ahead and complete the latter three phases all at once.
"When I first studied the logistics of the jobsite I realized that several thousand tons of new material would be required to stabilize the shoulders in phase IV of the project," explains Indrunas. "I knew that the surplus reclaimed material in phases I and II could be utilized in lieu of new material on phase IV so I was delighted with the city's decision to do all four phases at one time."
While numerous complaints were received from delayed motorists during the reconstruction of Riverside Road during Phase I, the contractor and the city worked diligently to resolve congestion problems during the next three phases.
Chris Arnold, Regional Roadway Services manager of QORE Engineering, Atlanta Division, performed quality control on-site. Arnold, like Indrunas, has been involved with foamed asphalt reclamation base stabilization since its Southeast debut in 2000.
"We correlate on-site nuclear density readings with the sand cone method," says Arnold. "Target density of 96 percent of modified cold method is what we are looking for. Typically, we see results between 95 and 98 percent with occasional variances."
Before and after extractions and gradations are also compared, along with net AC, moisture content, flow and stabilities.
"It's common to see Marshall stabilities in the 9,000 to 10,000 (pound force range), largely due to the combination of the foamed asphalt cement and quicklime mixture," says Arnold. "I've been looking at these reclamation sites since 2000, and we are impressed with the results that the contractors are achieving here in the Southeast."
Since the strength of the existing bases are stabilized with the addition of foamed asphalt, cities and counties alike can reap the benefit of placing less Hotmix asphalt as a wearing course. Rather than going with thick binder courses, typically the 5- and 6-inch foamed asphalt bases are topped with a single hotmix overlay of 2 inches. In fact, there is a trucking terminal in Savannah that to this date has only the foamed asphalt base as its wearing course after two years in service.
The City of Roswell plans to continue its usage of foamed asphalt base reclamation in road reconstruction projects. Indrunas will be a guest lecturer at four upcoming LTAP seminars to be held in Georgia this fall. You can contact him regarding any of the above projects at jindrunas@ci.roswell.ga.us.