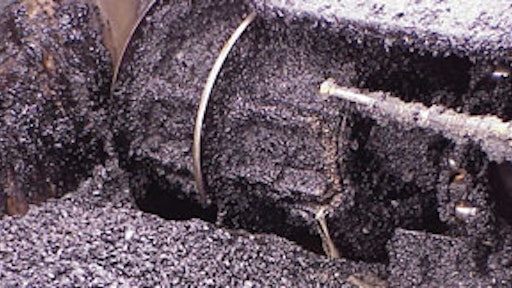 For many years, diesel fuel was considered a reliable and economical release agent for the asphalt industry, but tighter Environmental Protection Agency (EPA) regulations and newer Superpave mix designs requiring more stringent quality control specifications have led to the development of more environmentally friendly alternatives.
Release agents serve a simple purpose: keep asphalt mixes from sticking to the trucks used to haul the mix from plant to project, as well as keep equipment used to lay down the mix free of costly and detrimental asphalt build-up.
The EPA made it clear that diesel fuel was not an acceptable solution, since it could potentially contaminate ground water in areas where asphalt projects were being constructed. The Federal Highway Administration and numerous state DOTs also frowned on its usage, since it strips the asphalt cement from the aggregate used in asphalt mixes, causing mix degradation and shortened project life span. Quality control specifications of new mix designs, like many of the Superpave designs required for FHWA and DOT projects, prohibits the use of any release agent that could potentially degrade the finished results of a project.
Unfortunately, when EPA regulations and quality control standards forced asphalt producers and contractors to find a different solution, many release agent manufacturers introduced products (like soap-based agents) that failed to perform as well as the old standby. That led some producers and users to return to the reliability of diesel fuel and remain skeptical of any new agent that could deliver the cost-effective, performance results they wanted in a release agent. There was also an autonomous work environment, with upper management leaving it up to plant and laydown crews on how to get the job done.
"It's not something the industry can continue to ignore," says Maurice Slayden, president of Rhomar Industries, manufacturer of Enviro-Slide Ultra. "With the EPA telling the industry to discontinue or limit the use of diesel fuel, and the negative impact diesel poses to the newer, more expensive mix designs used today, upper management's involvement in addressing the issue and communicating the importance of using an agent that meets industry standards is crucial. Also, the EPA and DOTs are going to have to enforce penalties in order to establish and maintain industry-wide standards governing the type of release agents that can be used."
While contamination of ground water is obviously a good reason to move away from diesel fuel as a release agent, finding an acceptable alternative, especially one that performs with the stickier polymer modified asphalt used in many of today's new mix designs, has been a bit more challenging. Using diesel fuel or any other solvent that would dissolve the oil in the asphalt cement would cause the mix designs to fail, or at a minimum shorten the life span of the project. That led release agent manufacturers to develop products that would prevent asphalt from sticking to metal, rubber, and other components it came in contact with during the hauling and laydown process, without stripping the sticky polymer modified oil that binds the aggregate mix together.
"We do have products out on the market today that provide a solution to this problem," Slayden says. "Now, governing bodies need to test what's being used and establish standards that require asphalt producers and contractors to use only those products that eliminate or reduce the stickiness of asphalt on surfaces it comes in contact with, without stripping the oil away from the aggregate."
As Slayden points out, the release agent business is very competitive and many in the industry have commoditized the product, while the industry continues to operate with very loose regulations regarding the use of release agents.
Lower maintenance costs
In addition to the environment and quality control aspects that today's release agents address, lower maintenance costs are also worth noting. Like diesel, other oil-based solvents, such as soybean and orange oil agents, can have caustic results over time when applied to metal and rubber components.
Protecting equipment against asphalt, especially wear caused by the new polymer mix designs, and keeping the equipment productive during the peak work season, should be another consideration when selecting a release agent.
While many of the environmentally friendly soy- and orange-based solvents will do a good job of cleaning and preventing the buildup of asphalt residue on equipment, the agents don't always protect components from the abrasive contact of asphalt mixes.
New lubricating systems provide smoother operation of moving paver components, like bar and chain assemblies, augers, screeds, rubber tracks, and rubber belts, reducing maintenance costs and minimizing unexpected downtime.
Nick Pittman, president of Tec-Team Industries, manufacturer of Wet-to-Dry Lubrication, says products with additional performance benefits will help convince contractors that there are alternatives that not only meet EPA and DOT requirements, but also improve the overall productivity of their equipment and paving crews.
Elevating perceived value
Release agents suppliers will need to continue promoting the advancements and advantages today's products offer in an effort to elevate their perceived value.
"They're (release agents) not considered leading-edge technology and some users might even consider them commodity items, but they can improve productivity, while addressing a project's quality and environmental concerns," says Tessa Buechler, asphalt product manager for Petroferm, manufacturer of Bioact AR405 release agent. "Equipment manufacturers can also help influence the use of today's environmentally friendly release agents by suggesting what agents will help contractors achieve high productivity and lower maintenance costs."
Most release agent suppliers will agree that a product which is non-detrimental to asphalt's quality, the environment, and the laydown equipment's components but still promotes smooth movement of the asphalt mix through the paving process is a product that will gain wide acceptance. DOT approval will further support the case for using today's release agents, according to Buechler, and hopefully governing agencies will specify the type of release agent that is to be used during the construction of a project. And with industry-wide standards and agency support, the perceived value of today's improved release agents will also improve.
Greg Udelhofen is editor of The Asphalt Contractor, www.asphalt.com.