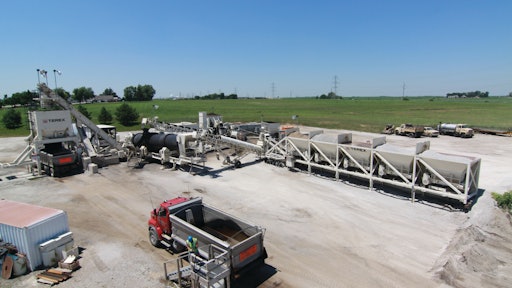 Adapting to today's difficult construction economic climate can mean the difference between staying in business and closing the doors. Modifying asphalt production practices to improve efficiencies and lower costs – this is the difference that experienced producers are employing to keep their bottom line flowing black.
Increasing efficiency is all the more critical for producers mixing asphalt for commercial paving contractors. Varied mix requirements, multiple design changes within the day, and frequently moving targets for estimated tonnage requirements make it extremely challenging to efficiently make mix.
This is a challenge that a division of Des Moines, IA-based Rasmussen Group – Grimes Asphalt and Paving Corp. of Grimes, IA – is facing head on. The producer lives off of a steady diet of making mix for commercial paving contractors, both its own crews and friendly competitors in the area. "We are also a full-service paving contractor and will pave highways, but the majority of our work is for streets, commercial jobs, parking lots and trails," says Ray Svoboda, plant manager for Grimes Asphalt.
Making hot mix asphalt designs ranging from an Iowa Department of Transportation spec to commercial mixes to porous asphalt with 1/2-, 3/8- and 3/4-inch aggregate, plant operators must be flexible to meet the customer's demand. For years, Grimes Asphalt supplied asphalt with a two-ton batch plant, producing mixes for each customer on the spot.
There was a problem with this mix-producing method. Quality wasn't the issue. Efficiency was. Starting and stopping a plant increased the cost of that mix, and it escalated wear and tear on plant equipment.
Svoboda offers this analogy regarding the costs of making mix on demand. "It's like comparing the costs of stop-and-go traffic versus non-stop driving on the interstate," he says. "Of course the stop-and-go driving will take more fuel, increase costs and result in more wear on car components."
In order to smooth production and boost efficiency, Grimes Asphalt has been drawing more of their asphalt production from a drum mix plant the company purchased a couple of years ago. From the base plant configuration Grimes Asphalt purchased, the company has been adding plant components to further increase efficiencies.
Super-portable counterflow drum mix asphalt plant
Grimes Asphalt originally took possession of the Terex E225P super-portable counterflow drum mix asphalt plant in late 2008, prior to being a part of the Rasmussen Group. The plant was literally just blocks away from Grimes Asphalt, so the producer moved it up the street to the office and batch plant location. "After tearing down the plant, we were able to set it up at the new location in one day," recalls Svoboda. "It was quick and easy to move."
The original plant configuration consisted of the E225P drum mixer, five cold-feed bins, 40-ton self-erect silo, 40,000-cfm Roto-Aire RA218 baghouse and a chassis consisting of an AC tank, control house and fuel tank. "The E225P drum is pitched at operating angle and has all the ductwork preinstalled, which aids in portability," says Mark Oehmke, director of sales and marketing for Terex Roadbuilding. "Additionally, the entire base plant configuration can be moved in only five loads and has only 20 plug-and-play connections, making it fast to tear down, transport to a new location, and set up."
Capable of producing up to 225 tph of asphalt, the E225P is designed to accept and make mixes that include recycled asphalt (RAP). Installing two RAP bins in order to include recycled asphalt into mix designs was one of the first modifications Grimes Asphalt made to the plant. This allows the company to reduce consumption of virgin materials, improve efficiency and lower mix costs.
When including RAP into the mix, Svoboda reports the asphalt still meets Iowa DOT specifications, even though they are making a commercial mix. "Where allowed, we are running up to 20% RAP in our mixes," comments Svoboda. "This allows us to use approximately 1% less virgin binder, which results in about a $2 per ton savings."
Employing the counterflow drum mixer with a 40-ton surge silo enabled Grimes Asphalt to more consistently produce mix for its customers, reduced the stop-and-go production, lowered costs and limited the necessity to run the batch plant. The purchase came at the right time, as it helped the company to lower costs during the global economic collapse of 2008 and 2009. Similar to so many other asphalt producers, the economic downturn resulted in lower asphalt sales for Grimes Asphalt over the past few paving seasons.
Still, Svoboda saw more potential to lower costs and improve mix-making efficiency. The plant is configured to operate on either used oil or natural gas, so the company has options to take advantage of lower fuel costs. The company purchased two used Terex 200-ton silos. In addition to surge capacity, the silos also gave the plant extended storage time for asphalt. "We can now store mix for up to 18 hours if necessary," says Svoboda.
The plant crew now surveys Grimes Asphalt's paving crews and external customers daily to get an estimated tonnage and type of mix needed for the following day's work. This combination of mix storage and planning enables plant operators to produce asphalt ahead of time, so the plant isn't required to start and stop as often. Svoboda mentions the counterflow plant can efficiently run up to five different mix designs in a day, so they now only run the batch plant when absolutely necessary.
Lowering temperatures
One additional investment Grimes Asphalt made in the plant was to include a Terex warm mix asphalt system in the plant design. This system employs a water-injection solution that delivers simple operation with its patented expansion chamber that offers single-point mixing of water and asphalt binder. The chamber quickly mounts in-line on the plant's existing liquid AC supply line. The expansion process allows the "foamed" binder to more readily coat the aggregate at temperatures of up to 90-degrees Fahrenheit lower than traditional hot mixes.
Svoboda sees warm mix as being the next evolution of asphalt pavements. As with most regions in the United States, however, this evolution has been slow but progressing in Iowa. It was actually the City of Des Moines that began allowing the use of warm mix first. Private industry also helped lead the push for more warm mix, as commercial development contractors were looking for additional LEED (Leadership in Energy and Environmental Design) points. Grimes Asphalt's warm mix asphalt with RAP and recycled shingles used in the developments helped those contractors with points.
For the first time starting in 2012, the Iowa DOT will allow all of their mixes – with the exception of asphalt destined for interstate mainline paving – to be produced using warm mix asphalt. This will ultimately lead Grimes Asphalt to be able to produce more asphalt mixes at lower temperatures. "If you reduce mix temperatures, you will lower energy costs and the cost to make the asphalt," says Svoboda.
Unique to Grimes Asphalt as compared to most asphalt producers making warm mix, the company caters to a predominantly commercial customer base. Its customers' profile includes predominantly stop-and-go paving and hand-working of the asphalt. Rather than the "blow and go" style of mainline paving where tonnage is king, these contractors do the time-consuming work of paving around obstacles.
As a result, these contractors typically demand the mix to be workable for long periods of time and produced as hot as possible – with steam coming off of it – since the asphalt will sit for a long time at the job site. "They want the asphalt to flow like melted butter," says Svoboda.
This runs counter to the lower mix temperature philosophy of warm mix and is a hurdle that Grimes Asphalt must overcome. It's one that the producer has crossed by running warm mix at lower temperatures but not as low as it would for mainline paving mix. Svoboda mentions his crew produces warm mix for commercial paving contractors at temperature approximately 25-degrees F lower than its traditional hot mix design. This has struck the right balance between meeting the needs of the customer and allowing Grimes Asphalt to reduce production costs.
As Grimes Asphalt enters the 2012 paving season, the current Terex counterflow plant equipped with storage silos, RAP bins, shingle bins and warm mix asphalt has the company running more efficiently than ever before. With the local market being more receptive to warm mix and recovering from mix demand's downward spiral from the crash of '08 and '09, the producer is poised to maximize profit for every ton of asphalt produced.