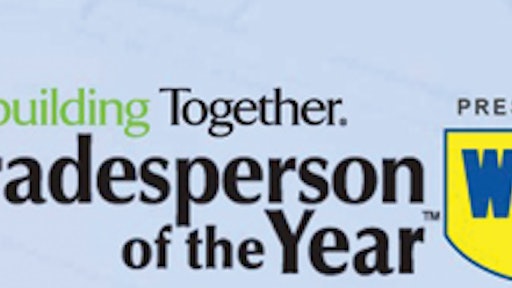 WD-40 Company and Rebuilding Together are conducting a national search for the 2011 Tradesperson of the Year - someone who gives back to the community, adds value to his or her skilled trade industry and reflects the values of Rebuilding Together and WD-40 Company.     
Individuals can nominate qualified skilled trade professionals at www.RTTradespersonoftheYear.com now until January 20, 2012.  Six finalists will be chosen from specific skilled trade categories including: carpenter, contractor, electrician, HVAC/plumber, painter, and roofer.  One grand-prize winner will receive a Super Bowl getaway for two to the 2013 Super Bowl in New Orleans, including air travel, lodging, game tickets, and $500 in cash.  Each finalist will also be a guest on a live national radio broadcast of "On the House with the Carey Brothers."
Chris Grundy, host of DIY Network's Cool Tools, will serve as this year's spokesperson and appear in commercials on DIY Network to promote the contest. For more information about the Tradesperson of the Year program or to nominate an individual for the award, please visit www.RTTradespersonoftheYear.com.
Companies in this article