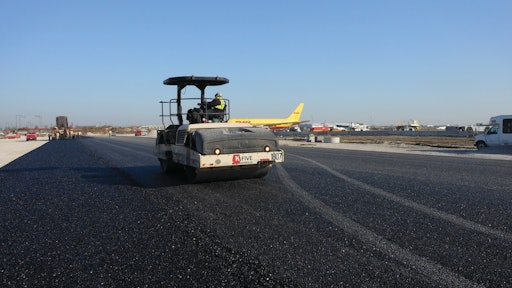 AkzoNobel Surface Chemistry has provided its Rediset LQ liquid asphalt warm mix additive to help pave new taxiways at Chicago's O'Hare International Airport. The taxiways are an integral part of the O'Hare Modernization Program (OMP), one of the largest infrastructure rehabilitation and construction projects in the United States at one of the world's largest and busiest airports.
O'Hare handles heavy volumes of both passenger and cargo traffic. As part of its modernization program, five new taxiways located in the Northeast section of the airport are being paved to accommodate the taxiing and parking of newer and larger aircraft, particularly cargo planes.
The taxiways, designed to measure 80 feet in width and flanked by 35-foot-wide asphalt shoulders, are being paved with multiple layers of warm mix asphalt (WMA) containing AkzoNobel's Rediset LQ additive by K-Five Construction, a leading asphalt and concrete paving company headquartered in Lemont, IL, with plants throughout Northeast Illinois. The asphalt layers are then overlaid with 19 inches of Portland Concrete Cement (PCC) by general contractor Walsh Construction.
Lower-temperature alternative
Rediset LQ is a liquid variation of AkzoNobel's Rediset WMX, a warm mix additive that allows the processing of asphalt mixes at lower temperatures and the compaction of asphalt mixes containing high contents of reclaimed asphalt pavement (RAP). According to K-Five Project Manager Rocco Danna, the taxiways are being paved with warm mix that includes PG 58-22-asphalt binder and 20% RAP.
The asphalt layers form a 12-inch lift that is actually two different lifts of WMA. The top lift consists of a 6-inch course of N50 binder warm mix and the bottom lift 6 inches of asphalt-treated permeable base (ATPB) warm mix.
Rediset LQ is used in both lifts as well as in the all-asphalt shoulders, which consist of a 4-inch course of an N50 warm mix base and a 3-inch, N70 surface course. Mixes prepared with Rediset LQ, in addition to being produced and paved at lower temperatures, exhibit a great improvement in their moisture resistance properties.
Green & effective
WMA paving is one of the "green" technologies adopted by the OMP and presented as an option to prospective paving contractors. Dennis DeVitto, K-Five vice president of operations, and Scott Pirkins, K-Five marketing manager, chose this option in order to use Rediset LQ warm mix technology in this O'Hare paving project.
The use of RAP in the mixes also fit very well with the OMP initiatives to use green technologies.
"We've done warm mix paving for other Illinois governmental agencies, including the Cook County Highway Department and the Illinois Toll Highway Authority," Danna says. "We found Rediset LQ the easiest warm mix technology to incorporate into our paving operations without having to invest in upgrades at our hot mix plants. AkzoNobel Surface Chemistry's warm mix technology, combined with our great working relationship with their technical personnel, has made the transition from traditional hot mix to warm mix very easy for us."
Key reductions across the board
Because it is a liquid product, K-Five was able to meter Rediset LQ into its existing hot mix asphalt (HMA) binder lines with an injection system. Moreover, at the plant, the inclusion of Rediset LQ in the asphalt mix helped reduce mix-production temperature to 270ºF – a reduction of 40º-50ºF over traditional hot mix – which cut carbon dioxide emissions as well as fuel costs significantIy.
In the field, paving temperature was reduced to 260ºF – a reduction of 40º-60ºF over hot mix paving. This has greatly diminished the smoke, fumes and odor that typically result from laying down HMA, thereby providing a better working environment for the K-Five paving crews. Danna also noted that consolidation of the warm mix ATPB lift took about half as long as consolidation of hot mix ATPB, which reduced the manpower hours considerably.
More than 38,000 tons of WMA with Rediset LQ have been laid since K-Five began paving in early October. The paving season for 2011 was concluded in early December and resumed in early April 2012. A temporary taxiway, designed to have a life span of three to five years, was completed in early November to enable connection of existing taxiways with new pavement, thus ensuring that this new section was fully open to aircraft operations.
At this point, about 50% of the permanent taxiways project has been paved, with completion scheduled for early June 2012. All told, Danna estimates that a total of 65,000 to 70,000 tons of WMA with Rediset LQ will be laid.