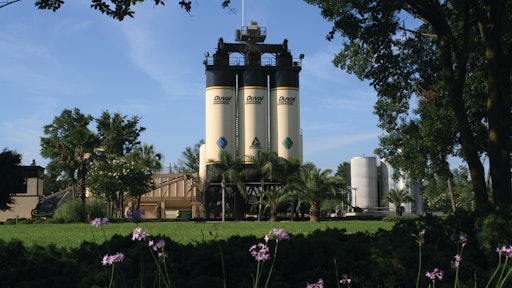 For over 50 years, Duval Asphalt has been serving Northeast Florida with services ranging from asphalt production to paving, sealcoat to pavement repair. Headquartered in Jacksonville, FL, Duval has two asphalt plants offering custom asphalt mix designs, including up to 40% RAP mixes, and is the first and only asphalt producer in Northeast Florida to offer warm mix.
TJ Young, plants manager at Duval, says the company's customer split is now 30% private sector/70% public sector-DOT. This has changed recently from a 80 private/20 public split, which was brought about because of the recession. "The private sector dropped across the country," he says. "With public projects, you are paid incentives based on quality. Automation is a huge contributor to quality; and quality brings efficiency.
"The public sector is keeping our industry propped up right now," says Young. "And you have to be really, really good to compete in the public sector. There are no opportunities for mistakes."
Young explains that Florida was hit hard in the recession, and with a tight competitive market, Duval needs every tool in its box to compete. "We have three competitors, each with two plants, all located in the same proximity," says Young. "It's a brutal business. You have to produce quality. You have to be efficient. The amount of waste has to be zero. You can't afford to fix mistakes – you have to do it right the first time."
Pinpointing the problem
Duval Asphalt uses the WEM 4000 Pro Series controls, which is PC/PLC based system that provides complete control and monitoring of an entire facility on any type of plant. Motor control, flows, temperatures, sensors and all other components of the plant are monitored, controlled, trended and alarmed to individual needs.
"You can constantly monitor all your values – watch the numbers move – and tell if there is a problem before you waste mix," says Young. "Automation lets you watch targets, actuals and movement. If you see where the equipment is trying to adjust, it can help you pinpoint the problem and diagnose it. Automation helps you stay on top of the quality of your mix and minimize waste."
Young says the WEM System offers a few features that others don't. One is a feed control that allows the operator to know the exact amount and speed of material that is coming out of the feed bin. "This feature offers independent speed measurement to maintain feeder control. When you're making a recipe, it helps measure each aggregate so you can have optimal quality all the time, with every mix."
Automation is priceless
Another feature of the WEM System Young likes is the trending history. "This feature allows you to pick ingredients and define parameters to see how individual elements are performing," he explains. "If you're having a problem, you can go back, define a time, zoom in – and the system will show you flow rates, for example, and where the problem is occurring. You can see failures before they affect the mix. This helps increase quality and efficiency and decrease the amount of waste, which all adds to your bottom line."
Another feature WEM offers is its standard 24/7 phone support with on-site engineers. "WEM can access our system over the phone to do service," says Young, who feels comforted by the fact that help is only a phone call away. "WEM offers many service people - more than other competitors - that Duval can access in order to keep our plants online and producing quality product."
Young feels the automation system Duval Asphalt utilizes is an invaluable tool that allows the company to be highly competitive.
"The upfront costs of automating your asphalt production don't matter," he says. "We needed to be automated to compete in our market. Automation is really priceless.
"It's like having a crystal ball – it allows you to see what's going to happen before it happens," he continues. "By the time you get feedback from the lab that there's a problem, it's too late. By that time, you've produced thousands of tons – it's too late to fix the mistake and now you've wasted time, mix and money.
"A consistent mix at a consistent temperature equals paving success," he concludes. "And all that starts at the plant. In today's world, close is not good enough. Automation helps you stay on top of the quality issue from the beginning."