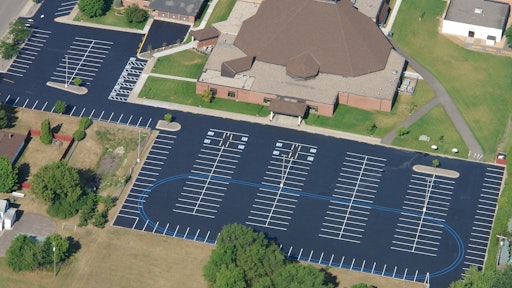 This column is written to help you make more money while becoming an important member of your customer's "team" rather than another outside contractor doing a specific "job" which takes away profit dollars from your customer's bottom line. Most clients assume that taking care of their parking lots and other commercial pavement is an expensive but necessary cost of doing business – rather than a potential profit generator. Further, some clients and prospects think that acceptable pavement care is something that can be done by unskilled people with little or no training. Many times they just "let the maintenance man handle it."
Let's face it, most companies view their parking facilities as a cost center that provides no profit to the company. I'm sure all of us have encountered customers and prospects who view pavement maintenance as something that should be done only when the parking lot or other pavement deteriorates. We know they are wrong because preventative maintenance and pavement preservation provides one of the most cost-effective, least-expensive ways to insure that their profit is not affected.
The reality is that we need to show our clients and prospects the value in maintaining and preserving pavements.
All pavement begins to deteriorate the day it was installed. Asphalt pavement begins oxidizing the moment it is made, and concrete is adversely affected by weather, traffic, acid rain and many other conditions – especially if the sub-base was not prepared properly.
Taking care of the pavement from day one will save your customers and prospects significant money in both the short and long term.   New pavements need to be maintained from the beginning to avoid the development of distresses that cause pavement failure. These distresses will be much more costly to correct versus initiating a good pavement maintenance program. This is true for both asphalt and concrete pavements.
Choosing whether to provide simple pavement maintenance as the distresses occur, or a more comprehensive pavement maintenance program including pavement preservation, can significantly extend the use- life of all pavements. Deciding which approach is best for each of your customers requires careful decision making by both yourself and your client, proper planning with them, and timely cooperation and implementation.
Normal preventative maintenance is a routine necessity for most businesses, especially those businesses that have high traffic. Most retail customers want their pavements to look aesthetically pleasing to their customers with visually clean pavement, free from gross trash and kept in drivable condition. Large retail customers want their lots "new looking" and expect frequent sealing and restriping to provide the appearance of a "fresh" look. These customers are willing to overlook some distresses, and even the "checker board" appearance from repairs or utility cuts as long as the pavement looks clean and does not have an overly chopped up appearance.
When the cost of asphalt was less expensive than concrete, most lot owners were less interested in pavement preservation than today and would resurface the lot. With the increased cost of asphalt paving materials coupled with increased labor cost, resurfacing has become less desirable than maintaining what they already own. The time has arrived to evaluate and implement new paving maintenance practices that include extending the life of these pavements.
There are several new methods available to achieve this goal, and each type of pavement may need one or more pavement preservation methods. The older, recoat-and-restripe approach with asphalt or coal tar is only one of the methods that are available. These legacy methods and materials used are the most costly way of preserving asphalt and lend a clean, aesthetically pleasing look until soils from vehicles dripping oil, transmission or other hydraulic fluid, or anti- freeze liquid begin damaging them. Asphalt coatings begin oxidizing and that clean, new look becomes dull and grey. Further, in some areas of the country, bans exist to prevent the use of some materials due to their possible toxicity. In addition, in high-traffic areas, some of these surface seals may rapidly wear off.
Newer pavement preservation product made from non-petroleum sources offer longer pavement preservation longevity, sometimes up to two to three times the useful life. These newer agents may penetrate into the asphalt matrix to renew and strengthen the pavement; however, they lack the aesthetic "jet black" look desired by some customers. The trade-off for this type of pavement preservation practice requires reselling your customers, and completely reeducating them on what to expect.
Most commercial non-retail customers want their pavement to last longer and do not demand the "new pavement" appearance.  They expect the pavement to be free of gross trash, potholes and other distresses, and want to get the maximum useful life out of the pavement at the least possible cost. Conventional pavement maintenance practices might not be the best choice for those customers. Generally commercial non-retail customers are interested in pavement preservation because it will save them time, labor, and money if the pavement lasts longer.
Concrete pavements require a different approach. Waterproofing seals that do not create slipperiness are desired. These seals should help protect and prevent the problems that occur with concrete. The ASR (alkaline-silicon reaction) reaction turns the sand into a gel-like substance that weakens the concrete, causing it to deteriorate rapidly. Parking garages and other large pavements need to be treated regularly, and patching should be done immediately to prevent further damage. More concrete pavement is in our future because the cost to install a concrete pavement is comparable to an asphalt pavement, and concrete lasts about 30% longer.
Presently, many of the food store parking lots and other areas are shifting their parking lot pavements to these new types of pavements. These pavements require special maintenance and have problems not previously experienced. These pavement, how to maintain them, and what to watch for when working with them will be covered in the next issue.
Shel Chesky is CEO of BioSpan Technologies Inc., Ballwin, MO, producer of rePlay pavement preservation agent. BioSpan is committed to providing cost-effective and environmentally friendly solutions in the fields of paving and pavement preservation, biodecontamination, environmental recovery and resource utilization of solid waste. For details visit www.biospantech.com.