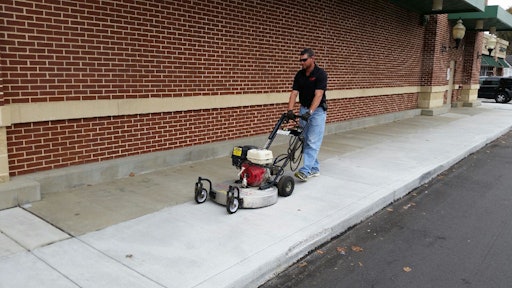 AccuSweep & Landscape Inc., Columbia, SC, started sweeping properties in 1987, but it didn't take long for them to realize they were going to offer more than just sweeping.
"We kept getting requests from property managers for other services they needed," says David McCaskill, president. "We found that property managers were looking for providers to offer more than one service. Because they have so much to manage, most property managers want to take the path of least resistance because that's easiest for them. And we found that if you do what you say you're going to do they'll keep on using you for all sorts of services."
So the company added landscaping – "a natural" McCaskill says – then striping, pavement repair and power washing. Today the company employs 80 people at its Columbia and Charleston, SC, locations generating 40% of sales from sweeping, 40% from landscaping, and 20% from its variety of other services.
And it's the power washing service, added in the late 1980s as an ancillary service, that interestingly enough has provided a boost to AccuSweep's client list. He says the company gets weekly calls (often generated by the website) to perform power washing, then works to sell that new or one-time customer another service.
"We get a lot of calls for just power washing and striping, more than anything else, probably because the lines wear off fast," he says. "So that's a way in for us. We don't have any hard numbers on that but it's certainly something worth our time. And it's revenue in itself."
"One of our goals is to keep our customers from going to other contractors for work. So when we do one service we always ask what other services they need," McCaskill says. "We try to be a one-stop shop, if you will."
Adding Power Washing
Like many first efforts, AccuSweep's initial foray into power washing was a learning experience, but an experience that has since served them well. "We had rented a washer and used a zero-degree tip and quickly decided that if this is what power washing is all about there's no way to make money doing it and we wouldn't be doing it for long," he says. Crews spent a lot of time using a wand with a 0° spray tip (which produces a straight stream of water), which was incredibly slow. Today Accusweep uses 25° or 30° tips, which are the most common for power washing and are easy to control; 15° rotating tips also are available for a wider spray path.
McCaskill credits that first experience with its on-the-job training and learning with setting them on their current path where power washing is both an integral part of the service packages they offer property managers and a revenue stream from one-time jobs. "Power washing is a nice add-on, an easy add-on for most contractors," he says.
One larger job Accusweep took on, was to clean a 12-story concrete parking garage that, when all was said and done, took them 7 months to complete. In addition to being able to work only at night "The scrubber they used was actually so good it removed the lines, so we ended up having to go in between the lines to wash, which slowed us down." But eventually they got the job done.
McCaskill owns three Mystic Washer 30-in. model pressure washers, and he says the size is ideal for parking lot and shopping center power washing. The unit produces 4 gpm of water at pressures adjustable up to 4,000 psi. Biodegradable chemicals and detergents can be injected via a siphon tube, and a single wand with 50 ft. of hose features quick-connects for a spray gun or various spray tips. Solvents or detergent are delivered through a siphon tube and mixed with water at the point of the spray or contractors can use a backpack sprayer or hand-held sprayer to apply detergent directly to the surface before power washing.
"You don't want a model too wide because some of the areas you'll be working in are small or narrow. Sidewalks are generally 3 feet wide so a 30-in. unit works well for those," he says. "If you have a 24-in. wide washer you're doing extra work because it doesn't cover as much area and you end up going back and forth too much." On the other hand he says using units larger than 30-in. diameter covers too much area "and it's going to make a big mess. You're going to have water and worse all over the place."
McCaskill says most of AccuSweep's power washing work is on sidewalks, brick walls beneath canopies, building facades and parking decks. General cleaning of areas accounts for most of the work, though graffiti removal and cleaning of commercial gutters and mold (such as where a downspout empties) is common too. The company also power washes trash can lids using the scrubber's wand. They don't do any power washing on asphalt.
Power Washing Insights
McCaskill says the biggest concern when starting out is determining the appropriate pressure to use for the job and surface to be power washed. But he says as long as you start with lower pressures and work your way up on a surface it's fairly easy to determine what pressures to use where. He says that under most canopies, for example, walls have a lot of vinyl which is dusty and dirty. "You don't want to use a high pressure on that kind of material," McCaskill says. "It's basically a rinse and it comes right off."
Most of the time Accusweep crews use a power washing scrubber on flat jobs such as sidewalks because for that type of work the scrubber is a big time saver. "If you're looking at 5,000 sq. ft. of sidewalk, for example, someone with a scrubber can clean that in a fraction of the time it would take someone with a wand," he says.
Other tips include:
Often power washing is done in conjunction with sweeping, in which case the power washing is completed first, working from the building out toward the parking lot. "Then we sweep up everything we pushed into the lot," McCaskill says.
Power washing bidding is done based on the square foot, though some specialty jobs are bid by the hour. He says a specialty job might be a job that involves cleaning a wall 10 ft. wide x 50 ft. tall where a lift would be required. "It wouldn't make sense to bid that based on the square foot." He says that because of technology such as Google Earth some power washing jobs can be bid right over the phone in real time. "If someone calls in and it's a one-time power washing job and we've qualified the caller then we can measure it through Google Earth. It just depends on what they ask for," he says. "If it's a 12-story parking garage they want power washed we're going to pay a detailed site visit to get a lot more information before bidding that work."
Another bid factor is the availability of onsite water. "Generally we can access the water we need at the jobsite but if we have to bring water to the site that's going to increase the bid," McCaskill says.
Helping Retain Customers
McCaskill says that in addition to providing a steady revenue stream for Accusweep, power washing has become an important part of the service packages the contractor works to sell its customers.
"As we put together a program for shopping centers this is just a part of that program," he says. "I came out of the radio industry and one thing I learned there that I've applied here is that it's easier to get people to buy a comprehensive package. Packaging services just seems easier to me and for the customer.
"For the group of property managers coming up, time is money. They try to find what they need as quickly and as easily as possible and when they don't they keep looking. That's why it's so important to establish and maintain a relationship with them."
McCaskill says the Accusweep office is set up based on how he feels when he calls another company: Accusweep has a "live" person answering the phone. "If I call someone and I get an answering machine I just move on, and I assume my customers do the same," he says.
He says most shopping centers budget power washing to be done once or possibly twice a year, and that fits in well with AccuSweep's sales approach.
"If they hire an individual power washer they see them once a year. They see us every week or in some cases every day and they know us," he says. "We tell them, 'You see us all the time. You know what kind of company we are and what kind of work we do.' They understand that. They know we don't want to have to show up for a sweeping or landscaping job and have the property manager tell us our power washing looks bad."
He says power washing is included in the service packages of 25% of AccuSweep's customers. "We do a lot of power washing work for folks we already do business with, and when a new customer calls us for single service – whether it's power washing or striping or something else -- we try to bring them into the fold. 'Can we bid on your sweeping and landscaping?'"
He says that by offering a broad variety of service property managers use AccuSweep also is keeping his customers away from his competitors.
"So there's no opportunity for them to hire anyone else. By making your service convenient for property managers or owners it's going to lengthen the number of years you're involved with that customer because you're more than a sweeper, a striper or a power washer," he says. "So even if you make a mistake one time it's not worth them getting rid of you because you've done so many other good things for them."