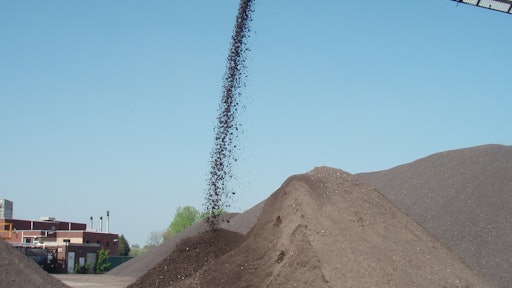 Use of reclaimed asphalt pavement (RAP) is ubiquitous in road construction. This is confirmed in the National Asphalt Pavement Association's (NAPA) latest annual asphalt pavement survey, which found that in 2013 all 249 U.S. companies polled in used RAP in warm mix asphalt.
The advantages of using RAP are two-fold: significant cost savings because of the reduced use of more expensive virgin asphalt material, and environmental, reduced need of landfill space reserved for used asphalt. So far, however, the percentage of RAP used in asphalt mix has been limited by road performance issues. Users have typically found that the more RAP that is blended with virgin asphalt mix the lower the performance, i.e. faster degradation with more rutting, cracking and water seepage. This is why percentages average 20% to 30%.
Breaking barriers
The barrier to increasing the percentage of RAP in asphalt mixes has been the effect aging has on asphalt binder properties. Over time, binder in RAP becomes harder. Stiff binder can be an advantage, as a road is less prone to permanent deformation. But eventually the stiff road pavement becomes brittle, which increases its susceptibility to cracking. Numerous additives — most of them petroleum based — have been developed and presented to industry leaders to evaluate, but none have been able to restore the properties of the aged binder, in a mix with high RAP content, to a level similar to virgin binder.
This was the challenge for scientists at Arizona Chemical Company, a biorefiner of value-added pine chemicals. Typically they work to provide manufacturers of everyday products with key ingredients. In this instance after identifying needs in the paving applications market, they applied their pine chemicals expertise to solve the problem of restoring aging asphalt binder.
What they developed was a bio-based, cost-effective additive that dramatically increases the percentage of RAP that can be used in asphalt mixes. SYLVAROAD RP 1000 enables the use of 50% or more RAP in asphalt mixes reaching performance equal to those of pavement containing 100% virgin aggregates. In fact, lab tests and trials of mixes containing up to 70% of RAP and SYLVAROAD RP 1000 meet rigid rutting, cracking and water resistance specifications.
Biobased performance
In the early days of sailing, pine tree sap was used to seal the hulls of ships, and terpenes from pine trees have been used in solvents and medicines for hundreds of years. Derived from Crude Tall Oil (CTO) and Crude Sulfate Turpentine (CST), co-products of the pulp and paper industry, today pine chemicals are used in a number of products: inks, adhesives, paints, rubber used in tires, coatings, vitamin intermediates, fragrances and perfumes, flavors and a number of food additives. 
Arizona Chemical scientists developed SYLVAROAD RP1000 by experimenting with different ester blends of fatty and rosin acids found in pine chemicals. They found that their properties worked well — very well — when mixed with aged asphalt binder.
A combination of in-house and third-party testing against a petroleum-based additive found:  
Improved softening of RAP binder
Low-temperature cracking resistance
Better fatigue cracking resistance
Good elevated temperature performance
Improved miscibility
When applied to RAP mixes in percentages not ordinarily seen — 50% and 75% — the product restored binder to virgin mix quality.
Cost Savings
While road performance should be the deciding factor for any asphalt contractor, there are significant benefits that arise from the ability to use higher percentages of RAP with an additives like SYLVAROAD. Significant cost savings is one.
For a mix containing 60% RAP, there is a 25% cost reduction compared to 100% virgin mix. Even increasing the content of RAP from 20% to 40% reduces the cost up to 10%.
A per-mile cost analysis of SYLVAROAD demonstrates significant savings. For a 20-mile stretch of road made from a 50% RAP mix using the product, there is an average savings of about $1 million when compared to a 25% mix and no additive.
Lighter footprint
At a time when customers and taxpayers are concerned about environmental footprint and sustainability, higher percentages of RAP produce significantly lower carbon footprints.
There are also significant environmental benefits that come with high percentages of RAP enabled with an additive product. An independent LCA assessment by Arthur D. Little finds that cradle-to-gate, a road asphalt mix of 30% virgin materials and 70% RAP containing the SYLVAROAD additive results in a 27% reduction in CO2/ton when compared to asphalt made with 100% virgin materials.
In addition, emissions of volatile chemicals (mainly CO, NOx and CxHy) are cut in half with a 70% RAP mix compared to a 30% RAP mix or 100% virgin mix.
Driving forward
Throughout manufacturing, economic and environmental constraints are leading to increased evaluation of products throughout their entire life cycle. This could not be more true in the pavement industry. Transportation agencies are demanding top road performance at an economical price point, while other stakeholders look for sustainable processes that reduce the environmental footprint.
Contractors that take these demands to heart must think outside of the box to identify high performance, cost effective, sustainable and renewable solutions that will help customers achieve those objectives.
Raquel Silverberg is Business Unit Director, Roads & Construction, at Arizona Chemical Company.