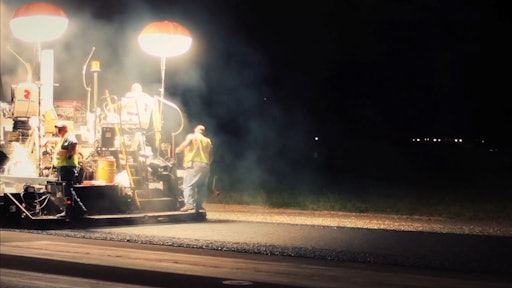 All contractors have worked under tight deadlines at one time or another, but last year's runway rehabilitation by Summers-Taylor Inc., Elizabethton, TN, of Tri-Cities Regional Airport was an extreme case. And Summers-Taylor did such a great job on the two-weekend job that the contractor was recognized by the National Asphalt Pavement Association with a 2015 Quality in Construction Award.
And while many contractors do work on airports, the nature of this job required a large, experienced contractor operating full-force during two 61-hour weekends. Even then, because of the narrow work windows and an unexpected weather delay, the outcome of the job was uncertain until the crew pulled off the site for the final time.
"This project was unique because the airport is big enough to have a good size runway but not big enough to have the redundancy of a second runway to keep it open while we did the work," says Grant Summers, fourth generation president of Summers-Taylor Inc.
The job centered on the 8,000-ft.-long, 150-ft.-wide Runway 5-23, which had a number of issues including surface cracking and drainage problems that needed to be taken care of through milling and overlay. In addition Summers-Taylor corrected drainage issues and milled and paved taxiways, constructed 25-ft.-wide paved shoulders on each side of the runway, and adjusted 350 runway lights. Ultimately Summers-Taylor crews placed 53,000 tons of mix over the two 61-hour weekends.
The project was a year in the planning and Summers says they needed all that time to orchestrate the tight logistics the job required. Had they missed the deadline either weekend the contractor would have been subject to a penalty of $10,000 for every 15 minutes it was late – a potentially catastrophic hit on the project's profitability.
"It certainly had the potential to be a profitable job, but basically it was going to be either good for us or really bad," Summers says. "If we got done what we planned to get done then it was going to be good. But if not then we were going to be paying liquidated damages of about $1 million a day and obviously we didn't want to do that."
Summers says the contractor has done a number of jobs under tight schedules—bridges and night work, for example, "but nothing like this with such significant liquidation damages, with the demands and specifications which the FAA requires. It was a certainly a challenge," he says.
But Summers-Taylor knew how to tackle it.
A turnkey highway & heavy contractor, Summers-Taylor was started in 1932 and today employs 350 people and operates four hot mix plants and six  concrete plants to serve its road, commercial and airport work. The contractor "sticks pretty close to home," working in eastern Tennessee, western North Carolina and southwestern Virginia.
"Our crews were all very excited to do a great job," Summers says. "We explained how this was really a once-in-a-lifetime opportunity and we just said 'let's show people what we can do'."
"Both weekends we started at 7:00 p.m. on Friday and 9:00 a.m. Monday we had to be off because there was a plane scheduled to land at 9:05 Monday morning," he says. "On the final Monday we pulled off the site and a plane landed almost immediately."
Redundancy & Shoulders First
Summers says the contractor began planning for the work a full year out. He says the complexity of the work combined with the narrow working window, tight FAA specifications and potential penalties required even more thorough and detailed preparation than the contractor normally makes.
One of their decisions was to begin work on the shoulders months in advance of the weekend shutdowns. But even then Summers-Taylor crews had access to the airport only five hours a night starting at midnight, so even that work had to be well coordinated.
Shoulder construction required cutting 2 ft. deep alongside the runways then filling the cuts with stone and lowering 350 lighting cans beneath grade. Lighting cans were each marked with a GPS coordinate so the cans could be located once paving was done. Then the shoulders were paved with a 3-in. surface course 25 ft. wide during the weekend shutdowns.
Another key part of the planning was to create redundancies at the jobsite. "The amount of risk involved required that we create redundancies. We couldn't afford to shut down at all," Summers says.
And the first backup was in hot mix asphalt production. Summers-Taylor ran the job out of two plants, both set up about a mile from the airport.
"The quarry we're in is right next to airport and our flagship plant is there. We also moved a portable drum plant next to our flagship location," he says. "That enabled us to run trucking from the same place and it also meant we were able to use the same aggregate throughout the job and that helped us with consistency."
He says both plants ran nonstop for 50 hours each weekend, producing an average of 300 tons per hour (portable plant) and 350 tons per hour. Two other Summers-Taylor HMA plants -- in Watauga, TN, (20 miles away) and Greeneville, TN, (40 miles) -- were ready to go in case Summers-Taylor needed mix from another source.
In addition to backup HMA plants, Summers-Taylor readied backups for every piece of equipment on the job. The subs hired also had backups for their equipment. Summers-Taylor also had its mechanics on site with a variety of the more common replacement parts, and its dealers were at the ready to provide whatever else was needed.
Milling to Specification
Because of the tight timeline Summers-Taylor front-loaded the schedule to get as much work done the first weekend as possible. "The plan always was to do all the milling and install all the base the first weekend, then pave the surface course and the shoulders the second weekend," Summers says. "It turned out it was a good plan because we got unlucky with a weather front moving in from the Gulf the second week that cost us 12 hours. Luckily we had more fluff built in for that second week."
He says a 200-person Summers-Taylor team swarmed the airport job starting at 7:00 p.m. Friday that first weekend, with milling the first step. Milling was done on the runway, on taxiway joints and on some areas of the taxiways that were cracked and past their serviceable life. They also milled across a smaller Runway 927 to make it easier to tie the two runways together.
"The taxiways were milled where areas were cracked and past their serviceable life, but mainly we just milled enough to make them flush with the runway," Summers says.
Summers-Taylor relied on a milling subcontractor, Delta Contracting Co., Haw River, NC, which operated seven Wirtgen 210 mills that cut 7 ft., 2 in. wide – just about a perfect overlap for milling a 150-ft.-wide runway. Summers says using five of the same machines provided a consistency that helped the project. He said the mills were staggered with a slight overlap. "The width just worked out with 7 ft., 2-in.-wide mills covering the entire 150-ft, width of the runway in four passes of the whole milling train," Summers says.
Three mills – each equipped with GPS – lead the way and two remaining mills followed to clean up the joint areas. The three GPS mills enabled Summers-Taylor to bring the grade to the appropriate specification.
Summers-Taylor also brought in milling specialists Banks Construction who used the Topcon system to provide an even greater degree of milling accuracy. Banks managed the satellite, base station and lasers, leapfrogging down the runway ahead of the mills to help mill operators know their targets. And a surveyor followed right behind the mills to verify that the tolerances were achieved.
One area with drainage and cracking issues required 6 in. of milling, but for the most part pavement was milled 4 in. deep. Summers says the early focus on milling set the stage for the remainder of the job, ensuring not only that the quality was there and specs were met but easing and speeding production.
"Getting the milled surface correct was a very important aspect because once you do that you can just get on with the paving and you're all set," Summers says. "Otherwise you're always chasing grade. We got a high degree of accuracy from the GPS mills in front."
Playing catch up
Once the milling was well underway the paving began. Crews placed a 2.5-in. binder course over the project the first weekend, then placed a 1.5-in. surface course the second weekend (slightly thicker in areas milled 6 in.)
Summers-Taylor opted to run four paving crews in two shifts of 12 hours each. Each crew used a Roadtec 190 paver and Roadtec 2500 shuttle buggy, which was kept fed by 850 trucks delivering hot mix to the site nonstop throughout each weekend. Planning, organization of the trucking, and use of the shuttle buggy and experienced crews enabled Summers-Taylor to keep up with the combined plants production of 650 tons per hour.
"On the second weekend we did add a third paving crew out there to pave taxiways to catch up." Summers says. "That's about the only major adjustment we had to make as a result of the rain."
He says a standard roller operation using Caterpillar and Hamm rollers was used, a three-roller rolling pattern leading with the breakdown roller followed by a vibratory roller and a static finishing roller. All rollers were vibratory (though not always used in vibratory mode) to provide added redundancy in case any roller went down. Six rollers were on the job at all times, three for each paving train.
Summers-Taylor staggered the two pavers a few hundred feet apart so they weren't crowding each other. Pavers were set up using fixed screed extensions to pave 15 ft. wide "because that gives us perfect multiples to pave 150 ft. wide." Ski poles (50 ft.) with sonic sensors were used for joint matching.
Summers says that coordination of the milling trucks and stockpiling trucks was a challenge and a lot of planning went into the logistics, scheduling and routing of trucks into, through and out of the airport. Specific entrances and exits had to be used and thus, traffic patterns had to be followed so milling trucks and mix delivery trucks didn't get in each other's way – or in the way of working crews. And trucks had to be routed so they didn't cross any recently paved areas.
Once the trucking plan was set the contractor held multiple coordination meetings to make sure trucking ran smoothly and on schedule. Summers-Taylor brought in the primary trucking subcontractor, Claiborne Hauling, to help with logistics and even to direct truck traffic on site.  
"We had a number of people working essentially as air traffic controllers for 80 to 90 trucks because that was something that could easily get out of control if it isn't taken care of," Summers says. He says the contractor conducted multiple coordination meetings with the "traffic controllers," who were upper level management with the company. "We relied on superintendents and others who we felt could handle a fast-paced operation," Summers says. "They did a great job."
"This was definitely an all-consuming job and was pretty much all hands on deck, so we didn't do other work during those weekends. During the weekend we pretty much had the whole company out there."
Only 25% of each crew changed shifts at any one time so the work never stopped. While crews were scheduled 12 hours on and 12 hours off by the second week some crew members were working 14, 16 and even 18 hours a day because we knew and they knew we had to finish the job on time. And company management caught some shut-eye for an hour or so in the cabs of their trucks.
"This is a once-in-a-lifetime project that we want to be able to point to. This is definitely a marquee job for us. We're real proud of all our guys and the vast amount of work with the high level of quality needed. They did a great job," Summers says.