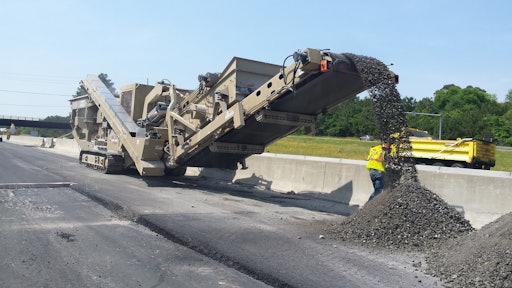 Mobile crushers are built to size hard, dense materials, including rock, gravel and slag — common elements in many asphalt mixes. This makes wear parts susceptible to excessive wear and, if not maintained properly, may cause greater damage.
"If a crusher's components do not work together, the whole production process is affected, resulting in additional expenses and downtime," says Sean Donaghy, national sales manager with IROCK Crushers.
Well-maintained equipment translates to increased uptime, increased production, and a more profitable operation, says Wade Lippert, field service technician for KPI-JCI and Astec Mobile Screens.
"Managing your maintenance allows you to budget the maintenance cost into your business plan, which gives you more control over your operating costs," he says. "And, of course, well-maintained equipment is safer for the employees operating it. Planned maintenance also creates a more positive work environment for the employees."
The best maintenance strategy is a structured plan that is simple but effective, says Lippert. This plan should include daily checks, a proactive and planned maintenance and repair schedule, a list of available spare parts, and documentation forms to record all maintenance for planning and history.
Top 5 maintenance items
Feeders
The first area of wear on any machine is the feed system. Whether it's a feeder with an integrated grizzly, or a feeder with an independent prescreen, how you feed the machine contributes to wear.
"If you feed with a loader, you have no control over the feed size, as you can't see what's in the bucket," says Paul McLaren, product support manager with Kleemann. "Whereas, with an excavator, you can see what's inside, and you have more control over the feed into the hopper."
Another point to remember when setting up and maintaining a mobile crusher is that the machine must be level. If the machine is unlevel left to right, this will cause increased wear on all components from the feeder, to the screens, crushing chambers and conveyor belts.
The standard integrated feeder is a grizzly section that is integrated into a vibrating feeder, so the feeder and the grizzly move at the same time. It's a set of tapered fingers that allows material less than the size of the opening of the grizzly to drop through, bypassing the crusher.
"These grizzly fingers are a maintenance point and must be rebuilt and hard faced to maintain the sizing of material that we are removing," says McLaren.
The action of an independent prescreen is completely independent of the feeder. It also has the grizzly fingers at the top, or punch plate, but underneath material falling through goes through a woven wire mesh sized to any product the operator wants.
"In addition to maintenance on the grizzly fingers, we must also inspect the screen mesh for worn, broken or bent wires, and the seating face and tensioning devices for the mesh," says McLaren. "As we want to obtain a screened product it is critical to maintain the mesh so to not allow our material to fall outside of the required specification."
Crushers
The largest wear part for a mobile crushing plant is the crusher itself. On a jaw crusher, wear parts include the jaw die and side wear liners. In an impact crusher, wear parts are more extensive, and include blow bars, hood liners, apron liners and apron tips.
A daily visual inspection of the crusher is recommended. Wear on this component depends on the application and the rock being crushed, therefore you need to keep a close eye on it.
Conveyors
Conveyors move material out of the crusher and include wear parts such as belting, skirt flashing and belt cleaners, and cleaner blades.
"With conveyors it's really important to ensure it's tracking in the correct path, and not all the way over to one side, rubbing on the chassis," says McLaren. "Make sure there's no build-up underneath that can drag against the bottom of the conveyor, or catching on it and being dragged into the machinery."
There are several signs a belt needs to be replaced, including worn rubber, patches of rubber that have been dug out, leaving holes in the belt where material gets caught, pieces torn off the edge of the conveyor belt, and tracks running the length of the belt.
Screens
Screens are a vital part of the crushing and screening operation. A standard woven wire mesh has a certain wire diameter, a square woven mesh with a crisscross pattern. As it wears, the openings will become greater. As the wire diameter gets smaller and smaller, the mesh becomes weaker and weaker, and is more prone to breaking.
Look for worn and broken wires, and damaged crimps within the wire that are causing the screen mesh to move and allow larger material to pass through it.
Check the tension of the mesh. If the mesh is not tensioned properly, material will bounce around inside the screen deck, and cause damage to the mesh itself and the surrounding screen box.
Engines & Hydraulics
Regular engine maintenance also prevents small operational issues from becoming larger problems. Operators should ensure all fluids, such as oil, coolant and hydraulics, are full, and should check and clean out any debris near the engine and radiator. Also, stick to the manufacturer recommended maintenance schedule.
The importance of daily inspections
Understanding that small imbalances can lead to substantial and expensive problems is the first step to maintain your mobile crushers. System inspections should be completed daily, to make sure all of the major wear parts are properly secured and lubricated.
"By paying proper attention to these areas, such as the liners, crusher anvils and blow bars, and adjusting as needed, the operator can assist the machine to run at peak performance, providing ideal flexibility and efficiency," says Donaghy. "Otherwise, you'll be paying for it in the future through increased repairs and downtime, resulting in less profit."
When performing daily inspections on your crusher, there are several areas to examine before use, starting with the bearings. Roller bearings should be inspected daily and replaced as needed. Operators should inspect and clean out the crushing chamber to check for any loose or worn parts. After they should examine the screen cloth for any debris and clean it out as well.
When an operator is inspecting a conveyor, they should assess the belt scrapers and skirting to make sure it does not require any adjustments or repairs. Key conveyor components, such as rollers and bearings, should be thoroughly inspected to ensure they are not loose, damaged or broken, which could cause additional expenses and downtime.
"By keeping your unit serviced, such as greasing the bearings every day, you can receive several years of use before replacing," says Donaghy. "A crusher typically lasts 15 to 20 years, provided it's serviced regularly. A well-maintained crusher gives you several more years of service and profit when it comes time to resell."