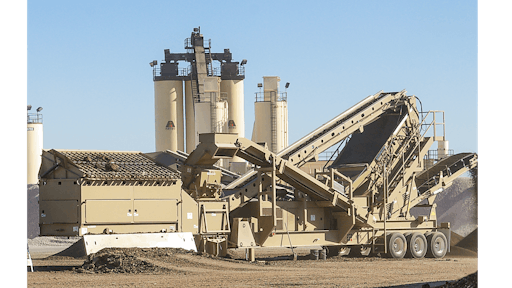 With the demand for recycled materials increasing, a portable asphalt recycling plant can be an important part of your equipment fleet. Selecting the right unit will mean optimum production and efficiency for your operation.
According to industry manufacturers, there are three main areas to consider when it comes to selecting the right portable asphalt recycling plant: portability, production and maintenance.
Portability
It's critical for contractors to consider portability and the time involved in setting up the asphalt recycling plant.
"Ease of set-up is extremely important because downtime is incredibly costly for the producer," says Patrick Reaver, product development manager for KPI-JCI and Astec Mobile Screens. "You want to be able to move into a jobsite, set-up quickly and begin crushing and screening almost immediately."
Some plants are very labor intensive and take days to set up, but with fully hydraulic models, it may only take contractors about an hour. This is because hydraulic systems help reduce the need for contractors to use cranes for moving equipment in place.
Contractors also need to consider Department of Transportation (DOT) regulations when considering portable asphalt recycling plants.
"Due to the weight of portable units, contractors transport the hopper feeder separately to meet weight regulations, which requires additional lifting and transporting equipment," says Sean Donaghy, national sales manager, IROCK Crushers.
IROCK's optional Hydraset Hopper for the RDS-20 reduces this hassle for contractors, says Donaghy. "A single operator can remove or install the hopper in minutes, which makes it easy to set up. This benefits operations that don't have lifting equipment and additional workers on site."
Size also relates to the portability of a unit. "In urban areas, there is likely to be very little available real estate to devote to the crushing equipment," says Jay Giltz, Eagle Crusher sales. "Smaller units, like our E-Plant that can both crush and screen, are usually key to operating in these areas. But even operations in rural areas may be constrained similarly and require compact units versus larger, multi-unit setups sometimes seen on jobsites."
Production
What kind of production can you expect to receive from the plant? "For all jobs, you must have the equipment on hand to meet, if not exceed, the requirements of the job," says Giltz.
To understand how much production is needed, a small calculation is needed. Production rates are generally measured in tons per hour (tph). From there, calculate the number of days per week the plant will be in operation to determine the total output.
For example, if a company needs 500,000 tons per year, its plant should produce just short of 42,000 tons each month, says Donaghy. If the plant is set up to run three days per week — approximately 13 days per month — for eight hours per day, the operation will need to process 400 tph.
Understanding how much production is critical to determining which size machine is needed.
"Buying too large or too small of equipment is harmful to production rates," says Donaghy. "When plants are too small, they become incapable of meeting production goals. If plants are too large, extra costs grow from maintaining a plant that isn't maximizing its production potential."
When considering size, it's important to review business plans, calculate short-term growth initiatives and buy a plant sized to allow for that growth while still maximizing efficiencies, says Donaghy.
Maintenance
Ease of maintenance is one of the most critical factors to consider when selecting your portable asphalt recycling plant.
"Processing recycled asphalt pavement (RAP) creates a very, very dirty environment," says Reaver. "Producers should seek an asphalt recycling plant that can handle this severe environment. Production numbers are useless if material builds up and shuts the machine down."
KPI-JCI and Astec Mobile Screens has specifically designed its machines to make maintenance as easy as possible for the producer to avoid a situation where the sticky RAP builds up and shuts the machine down, says Reaver.
"For example, all of the cross members inside our screen boxes are rounded so material doesn't build up," he says. "We also use a remote-mounted radiator on our ProSizer 3100 so you can get to both sides easily and clean the radiator."
The important thing to keep in mind is that producers should really seek equipment that is specifically designed with the asphalt environment in mind. "Many producers attempt to use traditional aggregate equipment for recycling asphalt, and these machines weren't designed with RAP in mind," says Reaver. "When seeking out new equipment, producers should avoid tight, compact machines that can't be serviced very easily, as well as standard radiator packages that do not offer pre-filtering."
Screen time
With portable asphalt recycling plants, the screening component is one of the most important features. Manufacturers are evolving this feature to take it to the next level of efficiency and production.
"When it comes to recycling asphalt, producers need a very efficient screen so the crusher can do its job," says Reaver at KPI-JCI and Astec Mobile Screens. "We believe the way to be the most efficient and productive is to combine a horizontal shaft impactor with a high frequency screen, and I believe you are seeing more manufacturers turn to the horizontal shaft impactor for their asphalt recycling plants.
"The more efficient you are, the fewer fines you generate and the less coating you take off the rock, which is key," he explains. "The goal is to keep the rock still coated in oil and simply break it apart. You don't want to grind all of the coating off the rock by over-crushing it."
Adding screening decks also allows efficiency to increase. IROCK's RDS-15 and RDS-20 plants feature a double-deck screen and a conveyor that returns oversized materials from both screens.
"Reducing the amount of manual work involved in the recycling process significantly improves productivity," says Donaghy. "While it might sound like a simple task, returning material from both decks via a return conveyor can reduce expenses and boosts production by as much as 20%."
Eagle-Crusher has recently developed its E-Plant that offers a third screen deck, allowing the top and middle decks to be returned for crushing and by putting more emphasis on screening material before crushing.
"The inclusion of triple-deck screens and grizzly pre-screens mean more material can be processed faster and at less cost," says John Powell, Eagle Crusher sales. "On the E-Plant, material that is already close to spec can be screened away before crushing and the triple-deck screen means more material can be screened. This reduces screen blinding. Only after near-spec material has been screened does it go for crushing.
"All of this means that less material is actually crushed," he continues. "This reduces costs on wear parts and reduces downtime required to replace worn-out parts."
Giltz says the future will likely bring tighter specs for material, meaning changes will need to be made in screening to continue to meet the necessary tons per hour.
"Tighter specs will likely result in the development of a cross between traditional vibrating screens used today and high frequency screens," he says. "Something that allows for higher speeds and increased screen angles to increase efficiency, especially on portable plants."
Donaghy also sees a trend in customers demanding smaller-sized material for reclaimed asphalt pavement (RAP).
"We're seeing this demand because the finer material is flexible in terms of placement and results in a smoother surface," he says. "With this, plant technology needs to incorporate additional screen decks so contractors can produce multiple sizes of material.
"As customer demand increases for smaller-sized material, manufacturers also need to make adjustments to screen boxes that allow for this without compromising production rates," he continues. "This means designing larger screen boxes to allow more material to pass through."
Take all of these considerations into account when selecting a portable asphalt recycling plant for your operation. But keep this important feature in mind: reliability.
"While there is emphasis on new technology, especially computer-controlled crushing systems, reliability is still the most important thing," says Giltz at Eagle Crusher. "It doesn't matter if the crushing system should be able to do 500 tph, if the computer system fails, it will do zero tph."