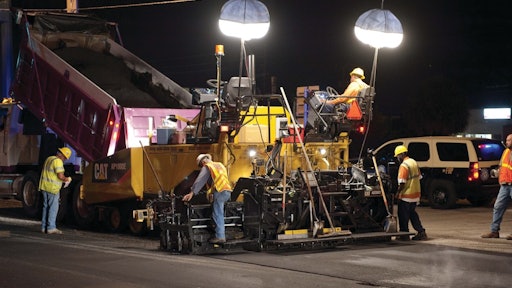 In a recent survey conducted by the Asphalt Pavement Alliance, eight out of 10 drivers said they preferred that road maintenance be performed during off-peak hours. It's one of the reasons most road building contractors work at night. Traffic coming through your work zone is also reduced at night so productivity can increase dramatically. What decreases, however, is your visibility and the visibility of any drivers that do end up near your work zone.
This is why it's imperative to develop a lighting plan for each job and always properly illuminate your work zone and your employees. Proper and adequate work zone lighting, along with proper reflective PPE, can help make your workers, and the traveling public, safer in these conditions.
Create a Safe Environment
Obviously working at night is more of a safety challenge because of the lack of visibility, but manufacturers have created tools to help illuminate the work zone to imitate daytime lighting conditions.
"When working at night, contractors need to have exactly the same work environment that they have in the daylight," Angel Nieto, product manager, power & light at Atlas Copco says. "We want them to have the same safety conditions, the same productivity and efficiency and we want the work to have the same quality and performance that it would during the day."
To achieve a safe and well-lit work zone, contractors need to develop a lighting plan. For a road construction site, that plan needs to take mobility and length of project into consideration.
"As a minimum the plan should ensure that all DOT specs are met on the construction site," Ingmar Hansen, vice president of POWERMOON Enterprises Ltd says. "Then it should evaluate the need of stationary as well as portable lights. Stationary lights are lights on tripods or conventional light towers which tend to stay in one place. Portable lights are lights that usually move along with the construction site on for example machinery. In all cases balloon lights are a great option."
And while a lighting plan can sometimes get pushed to the side, a few hours of planning can offset a lot of time bringing in lighting later on in the project, eliminating inefficiencies.
 "Having a lighting plan saves time during set up and avoids redo's and equipment shortages," Eric Bernier, national product application & training specialist, (generators, heat, lighting, pumps) at Wacker Neuson says. "Jobs are easier to budget when there is a lighting plan. When getting quotes for job site lighting, best practice is to specify the required Illumination Intensity desired in either Foot Candles (imperial units) or LUX (metric units) along with providing the size of area to illuminate. Otherwise, the lowest lighting bidder may not supply enough lighting equipment for safe illumination of your job site."
Power Up
Once you have a lighting plan, you have to consider how those light sources are going to be powered. Will they be using site power from the grid or from generators?  If they are light towers, is there a clear path to reach them for re-fueling? Considerations should also be factored in for overlapping the beams from different light sources to eliminate shadowing from the workers themselves.  Operators are trying to avoid a loss of productivity due or accidents resulting from having dark zones on the work site.
Avoid the Glare
And while mobility and a power source are a challenge for lighting, avoiding glare is paramount to safety.
"Contractors are trying to get maximum area illumination at required intensity with fewest pieces of lighting equipment," Bernier says. "At the same time, they are trying to positioning lights close to work site without getting in way of moving equipment and minimize glare and shadow zones."
"High foot candles, while often considered to being absolutely crucial, can contribute to more accidents when connected to blinding glare," Hanson says. "The "right" mixture of lumen levels and glare free qualitative light will do the best job."
To minimize glare, lamps should be aimed across traffic zones (perpendicular) and they should not be shining into a restricted area in the background.
Aiming lamps downward (like street lamps) is another option, but this will reduce size of illumination area.
LED lighting can be used in small, critical, no glare zones
"A proper lighting plan will show the quantity of lighting equipment, positions and how to aim lamps for maximum illumination coverage and minimum glare," Bernier says.
"Balloon lights minimize glare and shadows around 90% compared to regular conventional floodlights," Hansen says. "Because balloon lights open and close with a mechanical umbrella style mechanism instead of air inflation, they are designed to be used in rough work environments (NO accidental deflation). Also, these units are highly portable and can be mounted and operated on moving machinery. They can though also be used stationary in fixed spots on either our water tank systems or mounted to conventional light towers."
Also available are directional floodlights. "These lights are equipped with glare shields and light diffusing glass," Hansen adds. "This keeps light away from traffic and the emitted light is still comparably friendly to the eye."
Companies in this article