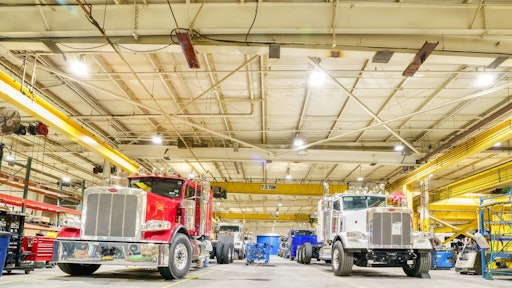 Dialight
In a competitive construction market and tight economy, clients are looking for both the right price and the right partner—a contractor who's concerned about their long-term satisfaction and return on investment. For construction companies, this means prioritizing the customer's long-term needs, that go beyond when the job is done.
For example, when it comes to specifying materials and fixtures, cheaper isn't always better. While lower costs might keep the project bid lower, it could cost your client more in the long run.
That's especially true when it comes to lighting. Illumination is one of the most underrated components of any project—unless there are specific functional needs or design preferences, lighting is merely a necessity. Rarely is it considered a value proposition for the contractor or the client.
However, modern industrial-grade LED lighting is proving to be a game-changer and a much smarter investment than conventional lighting like incandescent or fluorescent. Even when the upfront cost is higher, LED lighting offers a much better total cost of ownership (TCO) over time as a result of less need for maintenance or replacement over the fixture lifespan, which increases the return on investment for the project. Beyond that, it also positions your company as innovative, future-looking and as a long-term partner in your clients' overall success.
Even when budgets are tight, there's many benefits LED lighting can bring to your projects and reputation as a contractor on the cutting edge.
1. Better Long-term Investment
As a construction pro, your commitment to the client shouldn't end when you turn over the keys. You want to ensure the best possible experience for many years to come, and that means looking beyond the initial profit-and-loss on the project.
LED lighting lasts much longer than conventional options—up to a decade or more in most conditions. That long-life performance means substantially less maintenance for the customer, and with zero replacement bulbs to worry about, much fewer consumables to buy and dispose of, as well. Even better, many products are covered by extended warranties that guarantee long-life performance and reliability.
Presenting LED as the best long-term option demonstrates that you have the customers' future interests in mind.
2. Enhanced Facility Safety
Accidents and injuries due to poor visibility are not only terrible for the affected person, but also enormously expensive, costing companies $167 billion a year. And most are completely avoidable with improved illumination.
With its crisp, white light and precision optics that allow light placement precisely where it's needed, LED lighting makes for a much brighter, better-lit facility. This enhanced visibility reduces safety risk and is proven to help people spot tripping hazards and identify color-coded safety placards faster and easier. This reduces the risk of accidents and saves the client money every year by reducing the risk of lost time, workers compensation claims or potential lawsuits.
3. Ease of Installation
Conventional fixtures are heavy, cumbersome and delicate, often requiring more than one person to install. This drives up project costs, sometimes doubling manpower, and can be dangerous when working at excessive heights.
LED fixtures, on the other hand, can be much lighter, more durable and don't have delicate components that break easily. That makes them much easier to handle and faster to install (in as little as 15 minutes each), even for one person, which reduces project labor costs and the risk of injury. In addition, because LED fixtures are brighter and offer precision light placement capabilities, that often means it requires fewer fixtures to light the same space, which also reduces installation manpower requirements, as well as upfront costs for the client.
4. Energy Efficiency
Lighting is often overlooked as a potential target for sustainability – too often, lights are viewed as a necessity and therefore the electricity they consume is an unavoidable cost. While illumination is essential, it doesn't have to be costly.
LED lighting is at least 75% more efficient than conventional lighting, making it much more eco-friendly and less expensive to operate. In one new assembly facility, tow truck manufacturer Miller Industries saw a 15% reduction in their energy costs in the first year alone from choosing LEDs. That increased efficiency quickly adds up to both immediate and long-term savings for the customer, not to mention provides a greener solution to help meet any client's sustainability goals.
5. Automation Capabilities
One of the biggest challenges with conventional fixtures is that they take time to warm up and come up to full output. You've probably witnessed this many times but didn't give it much thought. In a commercial or industrial setting, it becomes a safety hazard. That's why, in many instances, the lights will be left on 24/7 even when they're not needed. That, of course, adds to the operating costs.
The use of lighting controls and automation systems has proven to substantially increase the energy efficiency of lighting by reducing usage to when it's absolutely necessary. Things like daylight harvesting sensors that adjust lighting to take advantage of natural ambient light, occupancy sensors or programmable schedules that turn lights on only when needed can cut burn time by 50% or more, saving your clients money.
Only LED lighting is compatible with these types of systems, thanks to their instant-on capability. The restrike/warm-up period of conventional lighting renders them useless with these modern lighting automation controls.
By specifying LED lighting during construction, even if controls are not part of the initial installation, you give your clients the option for future upgradability. This once again demonstrates that you're looking ahead to the long-term opportunity.
6. Aesthetics
You've built an outstanding facility for your client, and you want the end result to look great. It's important to showcase the quality and craftsmanship of your work and make a satisfying impression on both the customer and everyone who enters the facility. So, why would you illuminate it with antiquated lighting that casts dark shadows or distorts colors?
The color accuracy of lighting is measured on the color rendering index (CRI), which indicates how well a light accurately depicts colors relative to sunlight. The higher the CRI, the more closely it displays how those colors would appear in natural light.
LED lighting has the highest CRI of any artificial light source, providing the most vibrant, accurate color depiction of any fixture on the market, mimicking natural daylight. As high-end business jet manufacturer Duncan Aviation discovered, this enhanced CRI can truly make your work "pop," create an eye-catching environment and enhance the client's first impression on visitors as well.
In most construction projects, illumination isn't a primary feature or something the client has even thought about. But as a contractor, specifying the right lighting can add tremendous value for your client in terms of long-term ROI and TCO. It not only positions you as a strategic partner, rather than just a service provider, and also grows your reputation as a thoughtful, reliable contractor. Choosing LED lighting also sheds the best possible light (literally) on the outstanding quality of your work.