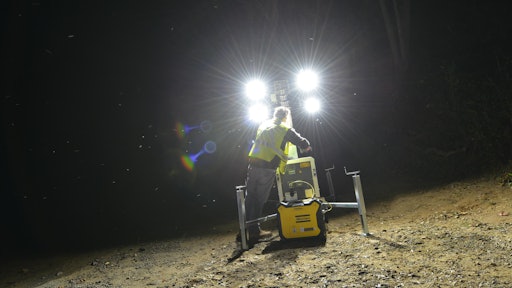 Atlas Copco Power Technique
Light tower technology has come a long way, and the rental market is slowly adopting LED technology over metal halide. And, while LEDs certainly offer several advantages over its traditional counterpart, the rental decision between the two is not always completely transparent.
Currently, the general rental business is more often demanding a basic, price competitive light tower. Fuel autonomy is becoming a highly requested feature. This, combined with a light tower's fuel consumption, has a major influence in the end user's operational cost. When it comes to renting, the first thing an end-user should do is assess the jobsite. This includes three factors: 
The 

area to be covered and the light intensity (this will determine the number of light towers needed) 

 
Utilization

 of the light tower, including fuel efficiency and total running hours
Once these factors are determined, the end user can figure out what machine is the best fit between metal halide and LED, in addition to choosing how the light tower is powered from diesel to battery and electric.
Lights, Camera, Action: Metal Halide vs. LED Light Towers

 
The Lights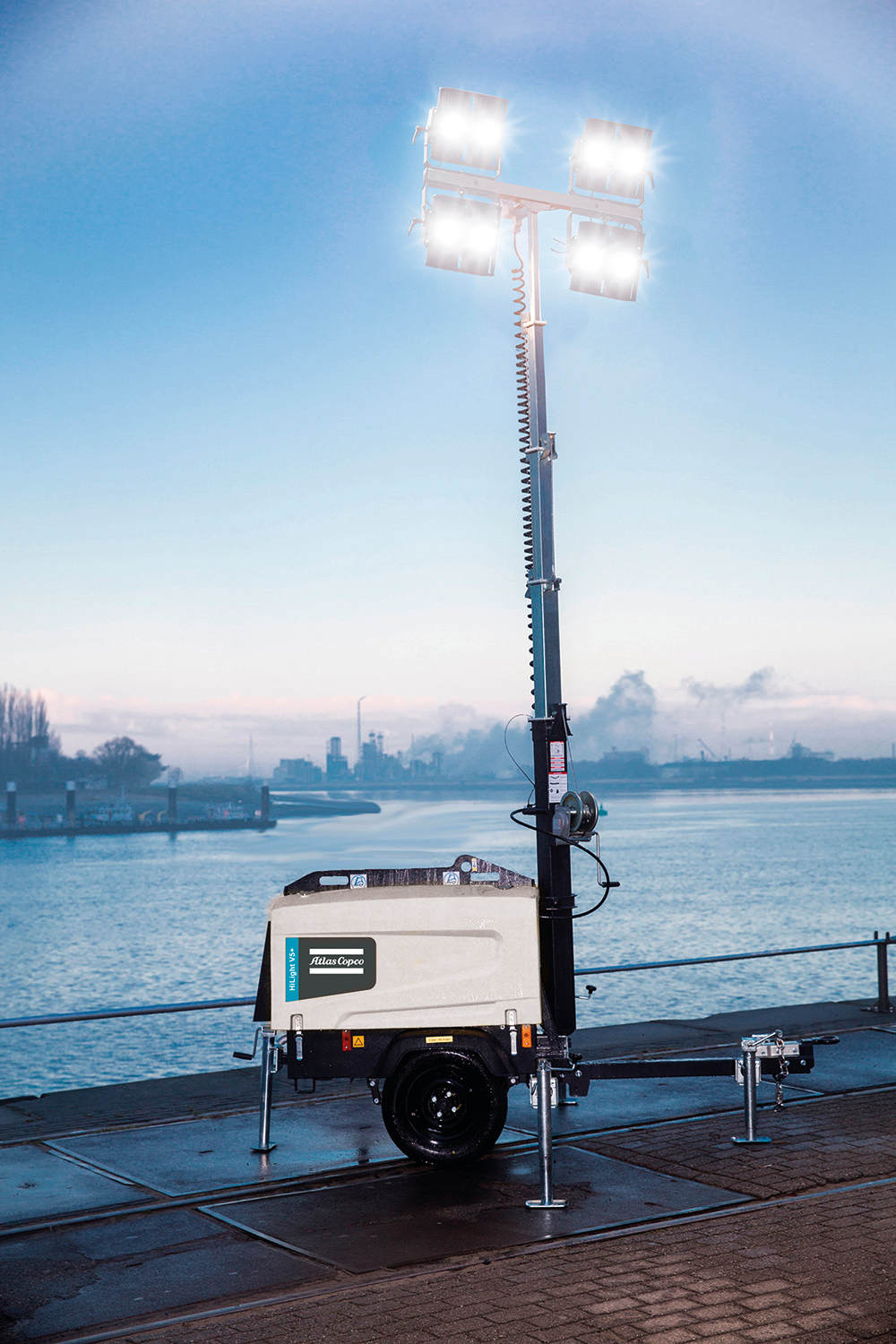 The Atlas Copco HiLight V5+ LED light tower will be able to run for 150 hours without a need to refuel, three times longer than the V4 model.Atlas Copco Power TechniqueThe construction and rental industries require durable products in the toughest conditions. In that sense, LED lamps contain no filaments, which makes them more resistant to vibrations and impact than traditional lamps.
Metal halide bulbs typically last up to 6,000 hours,  but given how fragile they are and how heat affects the bulb, their life expectancy is usually much lower depending on how the light tower is treated. An LED bulb will last well above 10,000 hours at its full light output, reaching up to a 50,000-hour lifespan, while metal halide bulbs will lose a large percent of their light output within the same timeframe.
In addition to being nearly unbreakable, LEDs offer a brighter, more natural light (or a higher color rendering index) compared to traditional light towers, which have a duller yellow glow to them. This is an advantage in color-critical applications.
When it comes to lights, one light tower simply is more time efficient. Because they require intense heat to function, it can take up to 10 minutes to reach full luminosity for metal halides. In the event the light tower is moved, metal halides also require cool down time, otherwise the lights are susceptible to breaking. Then it will take no less that 20 to 25 minutes to reach full luminosity again. On the other hand, an LED can be flipped on and off like the light switch in a house.
Fuel Efficiency

 
Just like a house with LEDs versus a house with standard bulbs, the LEDs are going to provide a much more energy efficient solution. With light towers, a significantly lower energy usage greatly impacts fuel consumption.
Take, for example, the Atlas Copco HiLight V5+ LED light tower and the metal halide HiLight V4. Both feature a 28-gallon fuel tank, but the V5+ will be able to run for 150 hours without a need to refuel, three times longer than the V4 model. 
The LED light tower may cost more to rent, but depending on utilization, it can more than make up for it in fuel savings alone. For end-users needing a fleet of light towers, metal halide can quickly run up the fuel costs for longer projects.
Upfront Costs

 
Though LED technology typically has a high upfront cost compared to its conventional counterpart, the increase in popularity of LED is bringing down the costs and is making these light towers increasingly affordable.
Transportation

 
Metal halide bulb breakage does not only occur on the jobsite; it's even more common in transportation. The end-user should consider how much transportation will be needed as LEDs are much more durable when traveling from site to site.
Safety Hazards

 
Metal halides can also be a hazard on the jobsite. Injuries can occur if the operator doesn't allow the unit to cool completely when providing maintenance. During that time, the machine also needs to be shut down completely to avoid electrocution and other injuries. When it comes to safety, LED lights offer another advantage since they work at a lower temperature and lower working voltage.
Power On: Electric, Diesel, and Battery 

 
The low consumption of LEDs has opened new opportunities to alternative power sources such as solar and battery powered light towers. And deciding the type of light tower is as big of a consideration as first choosing between LED or traditional bulbs. By assessing the work site, the power source can be selected accordingly to save money.
It's Electric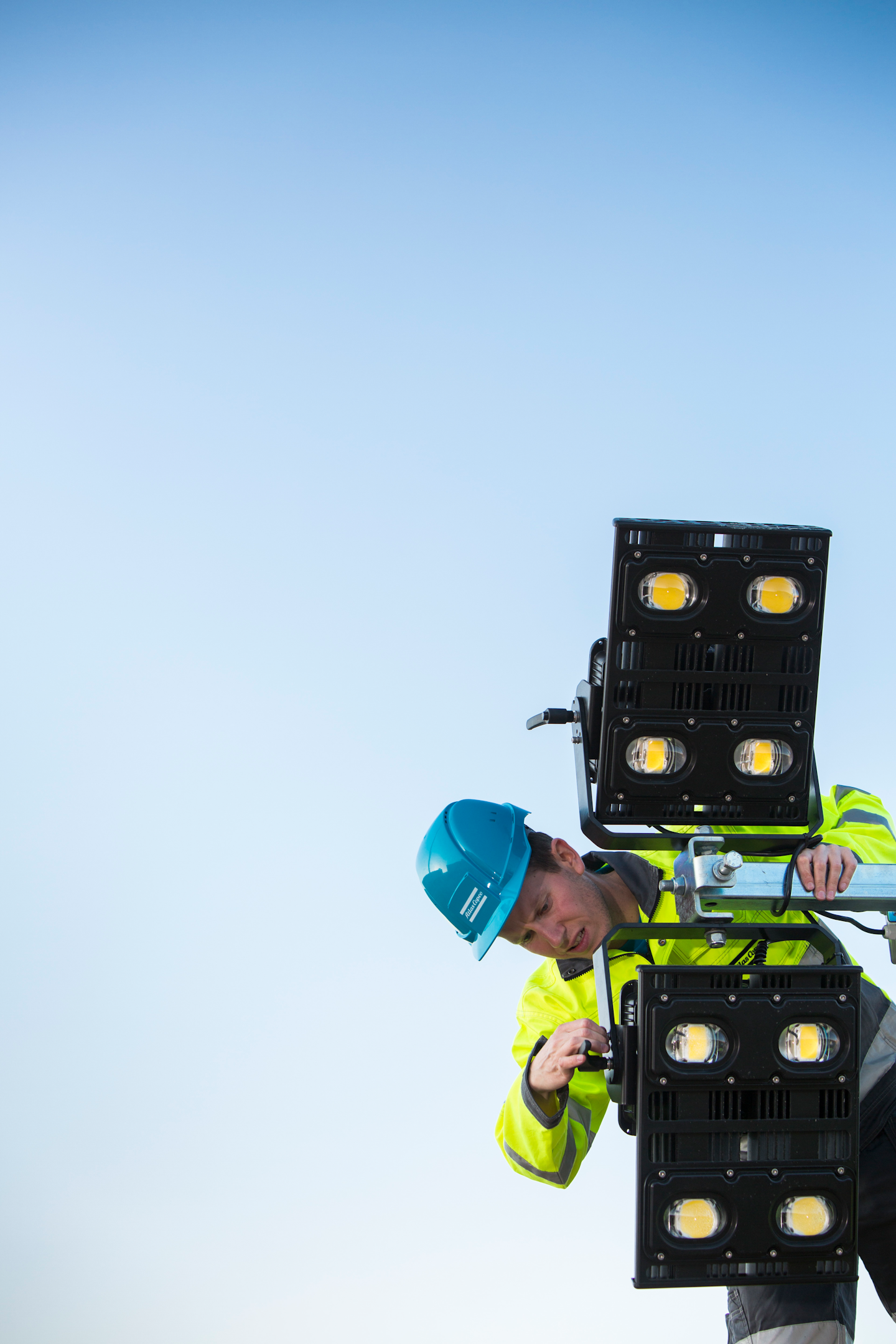 Though LED technology typically has a high upfront cost compared to its conventional counterpart, the increase in popularity of LED is bringing down the costs and is making these light towers increasingly affordable.Atlas Copco Power TechniqueSay the end-user is working indoors and has access to an electrical power source. An electric light tower would be ideal over a diesel option and has a lower upfront cost. Electric models also do not require interruptions for refueling or maintenance. Electric units are quiet and environmentally friendly for applications that do not allow flammable fuels, events, indoor use, noise sensitive areas, emergency response, etc. These machines can also be easily daisy chained to increase light coverage.
Diesel: The Old Standard

 
When working in remote locations, diesel is typically the best option. It still is important to consider models offering low fuel consumption to avoid constant refueling. Out of the three options of electric-, battery and diesel-powered, diesel units are able to cover the largest amount of area with the best illumination.
The Newcomer: Battery

 
Battery powered light towers are starting to come into the marketplace. They offer similar positives to electric-powered with zero noise during operation and no engine emissions. Unlike electric light towers, battery powered units are able to operate off the grid, making them more versatile in the market.
Communication is key when figuring out the option(s) that would best fit your application. Additionally, there are apps that can help calculate the correct number of light towers needed for a project in any condition. With an increase in night projects, light towers are more critical than ever. And contractors now have more choices than ever. Choose wisely.