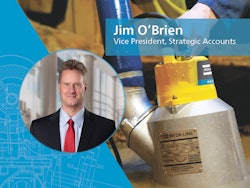 Atlas Copco
Atlas Copco Power Technique has announced Jim O'Brien as the vice president of strategic accounts, effective immediately. O'Brien has been a part of the Atlas Copco group since 2000.
Originally joining the Atlas Copco group 21 years ago, O'Brien started his journey as a key account manager for general motors with CPT Chicago Pneumatic/Techmotive. There, he was responsible for business development, and maintaining and growing market share within vital automotive accounts, managing growth by working in conjunction with high-level management at client locations including technical centers, advanced project engineering, and purchasing. 
In 2007, O'Brien was promoted to global key customer manager for portable energy, working for Atlas Copco Airpower N.V. in Belgium. He later became the regional marketing manager for China Southeast Asia and Oceania in March 2010, stationed in Shanghai. 
"We believe Jim has the skills and experience needed for challenges that require a seat at the table for the senior executive team," says John Davis, vice president, business control, at Atlas Copco Power Technique.
In March 2013, O'Brien returned to the U.S. to serve as the integration manager for American Pneumatic Tools. He was promoted to vice president, business line management for construction tools, and in 2017 to the position of vice president, business line management for power and flow at Atlas Copco Power Technique.
"Jim will focus on the critical importance of our key accounts, and elevate its status in the organization to the direct management team," says Davis. "We're happy to have him on board."
With O'Brien's background and experience in sales, business development, and customer relationship management, he is a strong fit for this newly created position.
Meadow McClureAtlas Copco
Along with O'Brien, Atlas Copco Power Technique has welcomed Meadow McClure as the strategic accounts specialist, assisting designated strategic accounts with Power Technique product and aftermarket to help maintain and grow customer share within current accounts.