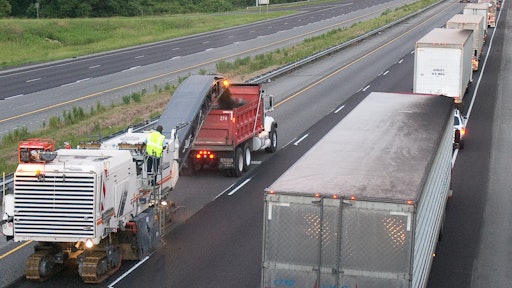 The national safety research council has estimated that a single human life is valued at over $8 million, but preventing a work zone fatality is priceless to that worker and their family. And while you can't control the traveling public, there are steps every company needs to take to keep their workers as safe as possible during construction.
Each year, more than 50 highway workers are killed and thousands more injured when struck by vehicles or equipment at road construction sites. This is why it's so important to have a traffic control plan and always be diligent in finding ways to prevent work zone intrusion.
TTCP
Unless you're extremely lucky, work zones require alterations to existing traffic control operations so that safe driving operations may continue while the needed work is performed. These work zone environments provide a challenge in terms of both safety and mobility for many state, local and other agencies that perform construction and/or maintenance work on public highways.
Unless road user have received advanced warning, they are generally unaware of the upcoming changes in their travel environment until these work zones are visible to them. This is why temporary traffic control plans (TTCPs) are used to assist road users by providing appropriate visual cues and guidance.
The work zone traffic control must be implemented with standard treatments to consistently satisfy the expectations of the traveling public. And while every work zone is different and requires a plan that's specific to those needs, there are some general components to a TTCP.
The type of work you're doing will define exactly which type of traffic control plan you need and the Manual on Uniform Traffic Control Devices (MUTCD) provides for uniform design and setup of highway work zones and includes guidance for the development of TTCPs that determine the flow of traffic through the work zone. However, these principles will help promote safe and efficient movement through and around every type of work zone while protecting workers and equipment. 
1.     Plan: Make traffic safety and temporary traffic control an integral and high-priority element of every project from planning through design, construction and maintenance. Make sure the traffic control is set up within a reasonable time prior to construction so motorists don't become complacent and ignore warning signs when work begins.
2.       Traffic: Inhibit traffic movement as little as possible and inspect traffic control elements routinely, both day and night and make modifications when necessary. Evaluate any near misses (skid marks, damaged barricades) and re-design the plan accordingly. 
3.   Awareness:  Provide clear and positive guidance to drivers, bicyclists and pedestrians as they approach and travel through the TTCP. Keep the public well informed with real time information on travel boards and warning signs. Cover or take down the signs when workers are not present and keep the length of the work zone appropriate to the work in progress so that motorists do not increase speed after passing through a long stretch with no sign of work activity.
4. Safety: Pay increased attention to roadside safety in the vicinity of temporary traffic control zones: Increase taper length and install positive protective barriers to shield workers from intrusion. Consider additional measures such as sensors, handheld radios and intrusion alarms to keep workers safe. Also be sure workers are wearing all appropriate high-visibility safety apparel and properly illuminate the jobsite if working at night.
5.       Comply: Train all persons that select, place and maintain temporary traffic control devices. Road builders should assign a traffic control supervisor who is knowledgeable in traffic control principles.
6.       Enforce: Establish proper legislative authority to implement and enforce needed traffic regulations, speed zones, parking controls and incident management. 
ITCP
While having a TTCP is important, it's also important to address an internal traffic control plan (ITCP) as an equal number of workers are killed or injured by activities inside the work zone.
An ITCP helps to protect workers on foot in the work spaces of the work zone. Because workers must often work close to large vehicles and equipment, the movements of workers, equipment and vehicles must be well coordinated. 
ITCPs also help reduce risks for operators by identifying hazardous locations like drop-offs, power lines, etc. 
An ITCP starts with a diagram showing the layout of the work space and the movement of personnel and construction vehicles within the work space. It will include access and egress points as well as symbols for where dozers, spotters, dump trucks, etc. will be located. 
ITCP notes should include safety points, injury reduction measures site-specific provisions and duties of various personnel. 
There are 8 basic steps to help develop an ITCP:
Identify project and ITCP scope: The ITCP should be considered from the very beginning of the project as the size of the work area will dictate things like the amount of right-of-way available and the number of lanes that will be closed. The ITCP designer should determine the limits of the project and assess the amount and speed of traffic that will be passing by the work zone. Equipment and material staging areas, batch plants, etc, should be included as well and hazardous areas should be identified at this time. 
Determine the construction sequence during the project: In this step, major work tasks or operations should be identified. The overall space requirements for each operation during a particular work shift should be estimated as should the frequency with which these operations move. Any significant sub-operations should be identified as well. Finally, the types of vehicles and equipment required for each operation should be listed, along with an estimate of the number of workers that will be on the ground. 
Determine the locations and safe movements for vehicles, equipment and workers with each operation and draw the basic work area diagram(s): This step is where the actual planning and design of the ITCP begins. For each operation and sub-operation that on the project, the following should be noted on a site drawing:
·         Layout of each vehicle and equipment used
·         Typical location of each within the operation
·         Typical range of movements
·         Equipment swing radii
·         Potential pinch points between work vehicles and equipment during work activities
·         Blind areas around each piece of equipment or vehicles. 
Since most equipment is large and has a cab, blind spots can be very large so indicating where the equipment operators can't see and avoiding workers on foot in those areas is paramount. Workers on foot should be located as far as possible from vehicle paths. Parking and break areas should be staged away from conflict points. ITCP designers can find blind spot equipment maps on the NIOSH website at: https://www.cdc.gov/niosh/topics/highwayworkzones/BAD/imagelookup.html  
Once the vehicle layout is determined, the designer can create "worker free zones" around hem on the ITCP. These zones will include pinch points between vehicles, locations within equipment turn radii and equipment blind spots. 
Determine vehicle and equipment movements to and from each operation: Access to and egress from the work zone and to each operation is the next activity to consider. Once the vehicles enters a work zone, the ITCP should illustrate how vehicles are to progress to the operation destination. 
Determine safe movements to/from and within each operation: After determining vehicles and equipment locations and movements within each operation and the travel paths to and from the operations from the work zone access and egress points. Consideration should be given to how workers will move on the ground. Therefore, the ITCP drawing should include location of worker parking, the path the workers will take from there to the work operation, the location of portable toilets and break areas and also staging areas. This will help ensure that workers will not cross active work vehicles and equipment paths.
Assess and resolve potential internal traffic conflicts: After all work operations, equipment paths and worker movements have been laid out, the next step is to identify and resolve potential conflicts. Many operations move along the project and others occur at fixed locations so determining how work will progress will determine potential conflict times and locations so adjustments can be made. 
Identify individuals who will need to understand and use the ITCP: Since the ITCP is an integral part of the projects safety plan, if your company has a safety professional on staff, they should lead in the creation of the ITCP and the site supervisor will oversee the implementation. Project managers, foremen, supervisors and other lead personnel may need to work together to come up with a safe ITCP if no safety professional is on hand. 
Develop the ITCP communication, monitoring and enforcement plan: The final step is to see that the ITCP is effectively implemented and enforced.
An effective communication plan will include:
·         Note regarding safe and unsafe zones on the ITCP diagrams
·         Statements to the consequences of violating the ITCP
·         Statements on how violations will be identified and reported
·         Notes ons are backing requirements, such as how workers will communicate with drivers
·         Rules for workers to follow if they do have to cross the path of equipment
·         Chain of command review that will be followed if ITCP changes are needed
·         Method to assess how well the ITCP is working and steps to adjust
During this step, responsibilities are assigned and the staff is educated. Workers are provided training in both overall ITCP concepts and the specific elements for their assigned work areas. To function properly, the ITCP must be reviewed and modified before each shift so employees can receive instruction on how it will be implemented that day. 
Just because a crash hasn't happened, doesn't mean the risks for one aren't the same. Prepare your crews the best way you can with traffic control plans properly designed to help keep them safe. Understanding the hazards faced by highway workers and raising awareness of the dangers you face every day can help generate measures to reduce work zone incidents.