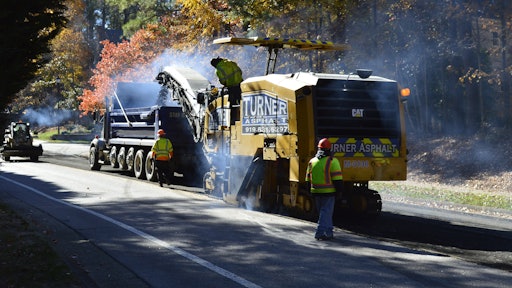 OSHA's Silica Rule or Permissible Exposure Limit (PEL) was finalized and implemented for the construction industry in 2017. The rule goes into effect in June 2018 for "General Industry" which includes asphalt pavement construction contractors and mix facilities. 
The asphalt pavement industry has been proactive in understanding and implementing the necessary control equipment for road construction activities and has been reviewing the types of controls that may be needed at a mix facility. But will you be fully compliant by the deadline?
"The new silica rule forces asphalt contractors to implement engineering controls to reduce the amount of respirable silica dust on construction sites to meet the new PEL of 50 μg/m3 (micrograms per cubic meter) which is 5 times less than the previous standards," Kat Murray, marketing director at Chemtek says. "The new rule will ensure a safer work environment for all on-site personnel."
The rule references Table 1 which outlines specific controls for each construction activity. Depending on the activity, either a vacuum system (to suck up the dust) or a surfactant (to suppress the dust) are now required depending on the construction activity. 
"Silica dust exposure and the resulting health hazards has been a very real problem on construction sites for years and the new OSHA rule is finally addressing that problem," Murray says. "It is now the contractors' responsibility to ensure a safe working environment in order to be compliant. To ensure compliance, contractors either have to complete exposure testing to ensure PEL levels are below the new required limit or implement the controls outlined in Table 1 of the rule."
Limiting Exposure
Crystalline silica refers to a group of minerals composed of silicon and oxygen found in asphalt, concrete and rocks. Respirable refers to the silica being small enough to easily inhale. 
"In the road construction, paving and asphalt production industries, the primary source of airborne crystalline silica exposure occurs from fracturing aggregate or rock," Murray says. "This occurs during milling, sawing, crushing and transporting of asphalt, concrete and rock." As mentioned, there are two primary ways of limiting exposure – vacuuming up the dust or suppressing it with spray down system that utilizes a surfactant. The asphalt industry has been discussing limiting silica exposure since 2003, when the National Asphalt Pavement Association (NAPA) led the formation of a Silica/Milling Machine Partnership to evaluate milling machines and silica exposure hazards to protect workers surrounding these operations. This led to a redesign of the water system in the machines. Some time was spent trying to figure out how to redesign the nozzle systems internal to the machines to get at the source of the dust. 
While some new equipment is already set up with a vacuum system, most existing equipment will need to be up-fitted or have a dust suppressing surfactant added to a water spray down system. Up-fitting dozens of pieces of existing road construction equipment with a vacuum system however is unrealistic and costly for most companies so going the dust suppressant route makes the most sense in the short-term. 
"We have found that the safest way to operate is to utilize a combination of the vacuuming and suppressing the dust and to ensure an effective surfactant is used," says David Elam, NeSilex product manager who has been involved in the development and field testing of the product from the beginning. "At Chemtek, we have focused our efforts on creating a silica dust suppressant specifically designed for the road construction industry to add to existing spray down systems. Initial testing has proven that our product, NeSilex, when used at proper dilution can decrease respirable silica dust exposure by up to 100%. Most milling machines and many sweepers already have an integrated water spray-down system. Simply adding NeSilex to the water tank can limit respirable silica dust exposure and in many cases, ensure OSHA compliance."
Mix Producers Not Immune
Asphalt plants and rock quarries fall under the OSHA rule for "General Industry" and a medical surveillance program is required for all General Industry employees who are exposed at or above the Acceptable Limit for 30 or more days per year. 
The General Industry rules will be phased in as follows: "medical surveillance requirements for those employees exposed at or above the PEL must be met by June 23, 2018, and medical surveillance requirements for employees exposed at or above the AL, met by June 23, 2020. Compliance with engineering control requirements is set for June 23, 2021. All other elements of the General Industry Rule must be implemented by June 23, 2018.1"
"Asphalt plants and quarries need to be proactive in implementing engineering dust controls now," Murray says. "They will need to set up water spray systems in areas where silica dust occurs and use a dust suppressant to control the dust. It is also possible that they may have to require their exposed employees to wear masks that will limit their exposure. OSHA will speak more concerning "General Industry" in the future."
Exposure Control Plans
OSHA guidelines also require companies to develop and maintain a written silica exposure control plan under 29 CFR 1926.1153(g)(1). A written exposure control plan will include, at a minimum, the following elements:
A description of the tasks in the workplace that involve exposure to respirable crystalline silica;
A description of the engineering controls, work practices, and respiratory protection used to limit employee exposure to respirable crystalline silica for each task;
A description of the housekeeping measures used to limit employee exposure to respirable crystalline silica; and
A description of the procedures used to restrict access to work areas, when necessary, to minimize the number of employees exposed to respirable crystalline silica and their level of exposure, including exposures generated by other employers or sole proprietors.
Also, under 29 CFR 1926.1153(g)(2-4), employers must:
Review and evaluate the effectiveness of the written exposure control plan at least annually and update it as necessary.
Make the written exposure control plan readily available for examination and copying, upon request to covered employees, their representatives, OSHA and NIOSH.
Designate a competent person to make frequent and regular inspections of job sites, materials, and equipment to implement the written exposure control plan.
For additional resources related to OSHA silica regulations, visit www.AsphaltPavement.org/silica.
"Exposure to respirable silica dust is extremely hazardous and can cause cancer, COPD and Silicosis, an incurable lung disease," Murray says. "It is not only important for contractors to implement these Table 1 controls to be exempt from employee exposure testing, it is important to protect the companies most valuable asset – their employees.  Employers should go above and beyond the engineering controls and take an extra measure where possible to reduce exposure."
References: 
J. Lindsay Cook, CIH, CSP, Mar 24, 2016, OSHA Announces New Final Rule on Crystalline Silica – Effective June 23, 2016