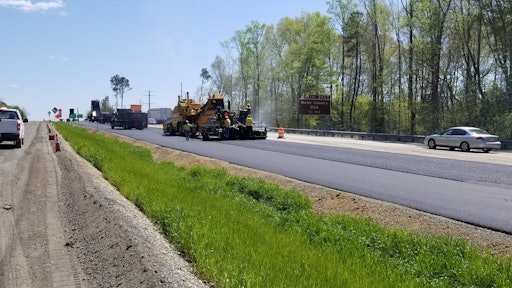 The Virginia Department of Transportation (VDOT) is in the process of widening 21 miles of I-64 in the Hampton Roads region. The work was broken into three segments, with construction starting in 2015 and scheduled to finish in 2021.
The Interstate 64 Widening Project in York and James City counties and Newport News will improve safety, increase capacity, and reduce congestion along this regionally significant interstate on the Virginia Peninsula.
"The existing four lane interstate was experiencing significant congestion and future projections for traffic volumes indicated an increased demand in the future," Brittany McBride Nichols, communications specialist for the VDOT says. "The significant traffic volumes utilizing this corridor, coupled with the age of the roadway structure made improvements to the roadway necessary and appropriate."
The improvements will provide more lanes for evacuation and improve the vehicular level of service. It will also bring portions of the interstate up to current design standards to help improve the existing roadway conditions.
These updates also provided VDOT the opportunity to implement the use of recycled materials and sustainable construction processes on the project with the hopes of achieving cost savings. And so far, they have accomplished that goal to the tune of $15 million in savings with more adding up every day.
Recycling on I-64
VDOT is currently working on Segments II and III of the rebuild and is using sustainable methods like full depth reclamation (FDR) and cold central plant recycling (CCPR) to complete the reconstruction of the existing pavement as well as the roadway widening work.
"This is the largest pavement recycling project happening in the country right now," Brian Diefenderfer, Ph.D., P.E. with the Virginia Transportation Research Council says. "There are two recycling processes being used on Segment II and Segment III; FDR and CCPR. FDR is being used to provide a foundation for the pavement system and the CCPR material is being placed as a base layer."
The total design of the section is 12-in. of FDR, a 2-in. asphalt open graded drainage layer, 6-in. of CCPR and 4-in. surface course of stone matrix asphalt (SMA). 
This project is unique in both its size and the fact that FDR and CCPR are not often used on the interstate system, whether combined or separately. Diefenderfer says this project is likely one of the highest traffic locations where these processes have been used on the interstate system to date and one of only a few projects where they are being combined in this way. Another was a project on I-81 south of Staunton, VA that included FDR and CCPR in the right lane and was completed in 2011.
FDR Foundation
Another unique element is the way VDOT is using FDR on the new lanes. 
"To the inside of the existing lanes, we're adding a full width travel lane and a full width shoulder, so 24 feet to the inside in each direction," Diefenderfer says. "The use of FDR is unique here because we're not recycling existing material, but materials from other projects."
The contractor on the project, Allan Myers, had the option to use recycled concrete aggregate or recycled asphalt pavement (RAP) and they chose the concrete in this case.
"Recycled concrete was more readily available in market close to the project," says Shannon Moody, public relations manager at Allan Myers. "The CCPR for the project also requires a significant amount of RAP that we were not interested in taking from our RAP supply for the FDR."
Instead, they took demolition material from old concrete projects, crushed it, screened it, graded it and brought it to the jobsite to be placed using the FDR process, creating the foundation for the pavement. This FDR process is helping to build the new 12 foot lane and a new 12 foot shoulder to the inside in both directions for 7.08 miles on Segment II.
On the existing lanes, the concrete pavement is also being removed and that foundation will be rehabilitated with the FDR process as well.
FDR will be done on 345,000 sq.yds. of existing lanes on Segment II and on 229,000 sq.yds. on Segment III.
For the new lanes, 146,000 tons of recycled material is being used on Segment II and 201,000 tons of recycled material will be used on Segment III.
Why CCPR?
After FDR is completed to stabilize the base of the pavement on Segment II, Allan Myers will complete add a 6-in. layer of CCPR.
Cold central plant recycling is similar to cold in place recycling in that recycled material is used to create a revitalized asphalt material from what already exists. With CCPR however, contractors do not have to recycle the material in place but can use existing reclaimed asphalt pavement (RAP, or millings) from previous jobs and RAP stockpiles are in abundance in Virginia. For this project, the CCPR is produced using 85% RAP and 15% #10 screenings; the screenings are a co-generated product resulting from the production of clean stone materials.
"The Virginia Asphalt Pavement Association estimates that we have over 10 million tons of RAP stockpiled with contractors in the state," Diefenderfer says. "That's a resource we can use with this process without requiring extensive amounts of virgin materials."
Allan Myers purchased their Wirtgen KMA 200 Cold Recycling plant in 2017 to fill a need in the market.
"Allan Myers is always looking for innovative ways to do business," Moody says. "The CCPR innovative process and technology was an expertise we were interested in developing for the I-64 Segment II project and future work. In addition, recycled material is advantageous for the environment and economical."
Wirtgen experts met with operators, quality assurance technicians and superintendents at Allan Myers to train them on the KMA 200 over multiple days. Wirtgen will also send personnel as needed to refresh training and monitor the performance of the equipment to ensure its operating correctly.
"The CCPRM plant is set up 14 miles from the I-64 Segment II project at our existing asphalt plant which houses the raw materials," Moody says. "The material is loaded into and transported to the job in dump trucks, same as asphalt."
On Segment II, the bid quantity for CCPR is 168,000 tons and Segment III its 196,000 tons with all the RAP materials coming out of existing stock piles.
Learning Curves
As with any new piece of equipment and a relatively new process, there are bound to be challenges that you may not see on your typical paving job. 
A CCPR mix can only be produced in temperatures greater than 50º. If too cold, the foam can cool too quickly causing "stringers". If this happens, compaction cannot be reached and the quality of the roadway is threatened. This means the amount of time when the material can be placed is limited versus ordinary base mix.
"CCPR material also cannot be placed at the same speed as traditional mixes," Moody adds. "The speed of the paver is greatly reduced to an average of 13-ft. per minute which differs from hot mix.
"The moisture reduction requirements on CCPRM are not required with hot mix," she continues. "The reduction needs to be met in order to place the fog seal and subsequent lifts of asphalt."
Allan Myers was able to use all the same equipment they would normally use on a hot mix paving job: 
CAT AP655F model paver with SE50V Vibratory Screed set at 2600
CAT AP1055 model paver with SE60V XW Vibratory Screed set at 2500
1 CB54B model CAT Asphalt roller and 1 CB64B Asphalt Roller with the drums on each set at high. 
For the SMA layer, a hopper was installed into the paver and Allan Myers also used a Weiler E2850 Remixing Transfer Vehicle. 
Cost Drives Change
With any new process, there can be both a hurdle to acceptance and a learning curve to widespread implementation.
The biggest hurdle for us with this project has been change," Diefenderfer says. "But we have a great agency and industry team working together to do something different than what we normally do. We've had recycled materials perform well and are monitoring them every year and that performance gives us confidence."
The language that everyone speaks however is money and money definitely talks on this project.
"Based on my calculations on segment II and segment III we're going to see about $15 million in cost savings by using recycled materials," Diefenderfer says.
To calculate these savings, he used as awarded material prices for the recycling design compared to a conventional design and it's clear which design is more budget friendly.
"Individually, pieces of these two projects could be some of the largest recycling projects in the country and combining them has been a whole different animal for us," Diefenderfer says. "We're pushing the envelope with pavement recycling and we're doing and trying to always do the best job we can."