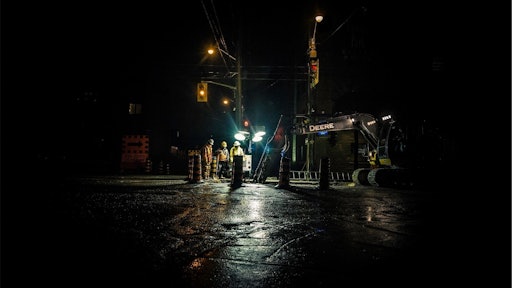 The construction sector can be a dangerous one and when working on roads, oncoming vehicles produce an extra hazard that contractors need to prepare for. Road work is usually carried out at night when the roads are less busy, to try to reduce disruption and lower the risk of vehicle related injuries on workers. But when it's dark, low visibility can cause even more of a hazard for those working on the roads.
For this reason, road workers should invest in quality personal protective equipment (PPE) to keep themselves safe on-site. Here is a beginner's guide to the essential pieces of PPE that all road workers should have.
Initial PPE Responsibilities
Before any work is carried out, project supervisors should conduct an in-depth risk assessment of the site to indicate any hazards that could arise, and the safety equipment needed to reduce them. You should ask yourself if the source of the hazard can be avoided completely, or if steps need to be taken to reduce the likelihood of harm, such as providing protective clothing.
All safety equipment should be provided for free by the employer to those who need it. These individuals should be fully trained and aware of how to use the equipment safely to reduce the risk of harm to themselves and others.
All clothing and equipment should be assessed for damage before use and any faults should be repaired immediately. For health and safety reasons, all clothing should be kept clean and hygienic, and employers should provide staff with adequate storage facilities — free of damp and direct sunlight — when equipment is not in use.
Essential Safety Equipment
All construction workers should be equipped with the appropriate tools and safety supplies needed for the job. The essential equipment includes cut-resistant and heatproof gloves, goggles or face shields, hard hats, earmuffs or earplugs, protective footwear and face masks. Workers should also be provided with high visibility clothing of Class 2 or 3, which means the area of the reflective surface is larger than that of Class 1. You should be able to check the class of the garment on its label.
At night, extra equipment may be needed to improve visibility and to ensure that all individuals can see what they are doing and where other people are. This night-time equipment should include head torches and floodlights to ensure that the site is well lit, and everyone can see clearly. Having this equipment also means that drivers are more likely to see the work being carried out and can avoid it.

When operating on cold nights or in the winter, workers should also be equipped with thermal layers and fleece-lined boots.
Traffic Management Systems
Even when working at night, the risks associated with vehicles on the road are still present, which is why supervisors should adopt effective road management solutions to avoid anyone colliding with the site. These systems should include reflective barriers and traffic cones, temporary traffic lights or stop and go signs, and road closure signs. Individuals should also be fully aware of how to redirect traffic around the site if needed.
Although there is no way to provide complete protection against hazards, by conducting accurate risk assessments, adopting safety equipment and clothing, and managing traffic, you can control and reduce the likelihood of harm to workers. 
Kelly Friel is the digital product manager at industrial tools supplier Zoro