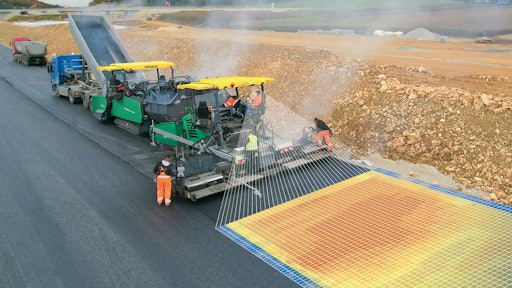 Every asphalt contractor has been on a project that requires them to use some form of new technology they aren't familiar with in order to meet the job specifications. Most workers will manage to get through the project doing what is required of them and move on to the next job, forgetting how the technology helped improve their daily operations and ultimately the performance of the job. 
This is the primary issue with technology adoption in the construction industry. Workers won't use new options available to them unless they are forced to and then they regress back to what they've always done. Unfortunately, this is causing the industry to fall behind and contractors to miss out on new work. Those companies who have been early adopters of this technology however, are well-positioned to excel and therefore win more bids. 
"The key to technology adoption for long-term use is getting them trained properly on how to use it correctly,"  Tim Kowalski, HAMM application support manager at Wirtgen America says. "Those that end up doing the training and finally understand and realize that it's a real benefit for them, whether it be intelligent compaction or thermal imaging, after they use it they start becoming a super user. They realize that it's actually helping them out do a better job."
At CONEXPO 2020 in Las Vegas, Kowalski will present to contractors the keys to using technology in asphalt paving. Here's a look at what attendees will learn. 
Technology Doesn't Have to be Scary
While technology is sure to change the way asphalt contractors complete their daily tasks, it doesn't have to be perceived as a negative change. 
"The biggest problem I see in the industry with technology is that contractors are are afraid of it," Kowalski says. "Most of the time when they start using it, it's only because the states require certain things and then forced to use it."
However, once properly trained, there's no stopping where they'll take this technology.  
One technology contractors have become familiar with mostly through state mandate is intelligent compaction (IC). IC works by using modern vibratory rollers equipped with an integrated measurement system, an onboard computer reporting system, Global Positioning System (GPS) based mapping and optional feedback control. IC rollers facilitate real-time compaction monitoring and timely adjustments to the compaction process by integrating measurement, documentation and control systems. 
While the technology has been widely used in the industry, it's still not widely accepted on a dy to day basis by many contractors and manufacturers want to change that. 
"We want the software to be more user friendly and adaptable to download information," Kowalski says. "Manufacturers are working on like the next generation based on what people are asking for, what states are looking for, etc. We want to know how we can make it simpler and easier to use. We're all developing something to update from the versions we have now."
Another emerging technology trend asphalt contractors need to continue to familiarize themselves with is the IR bar or a paver-mounted thermal profiling scanner. These devices use either a scanner or camera to measure and detect temperature differences that could be caused by segregation. 
"These devices actually show you where you might have possible segregation issues based on the temperature differences," Kowalski says. "Whether it's identifying it as a trucking issue or a loading issue into the paver, or maybe possibly something with the paver and how the material is flowing through the paver. If you have just individual spots, and they're consistent, it's probably maybe a truck dump that's the issue and we need to look at how we're going to resolve that. If it's just a streak in the mat, then maybe it's something to do with the paver and we can identify it that way.
"Once we can identify those issues, we can fix them while we're doing the work," Kowalski continues. "Before if you didn't have that, you didn't know the problems until after you've finished paving and then a couple years later, you see all these issues come up."
By identifying those kind of issues and correcting them, contractors can have a more consistent temperature map and a more consistent density. This leads to longer lasting roads and better rideability. 
Not only will using these technologies improve the roadways you pave, they will also help contractors obtain more state work and achieve higher bonus incentives. 
"There's are more states that are looking at doing bonuses, and when there's a bonus, crews are more conscious of doing a much better job and having the right tools to do that job helps them get that bonus. Whether it be rideability or density-based," Kowalski says. 
Training Makes the Difference
While the reasons to use new technology are clear, many contractors are still hesitant to deploy it every day on their jobsites and that's mainly due to lack of training. 
"Customers think that well, we'll just put it on the machine and it works. That's not how that happens, not with intelligent compaction and not with thermal imaging," Kowalski says. "There's definitely a training portion that needs to be done and we can't stress it enough. A lot of times people think, well, I'll train this month, but I'm not going to use the technology for three months down the road. That's not how that works because people are going to forget 90% of what you just told them by then and then you have to go back and do the training again.
"That's why we like to do just in time training as it needed so they it's fresh in their mind when they use it," Kowalski adds. "If they are trained properly, they aren't just going to use it on places or locations that it's required, but they are going to use it on more locations because now they're a super user and they can do a much better job on all their projects"
And with the new technology that's coming out, Kowalski says it's also important to hire the right people with the right mindset for change.
"The contractor needs to realize they need more educated people to understand the technology so that it becomes easier for them to use," he says. "If you have an operator that's 65 years old and if they don't want to learn it, they're not going to learn it. When you get a younger person in there that understands the technology and realizes that that can help them become a better operator, now, they're going to want to use it. Just like anything else eventually, if you keep using it, you're not going to want to do anything without it."
Once contractors learn the technology properly, Kowalski says there's not returning to the old days and that not only benefits the life of the roadway, but the future success of the company as well. 
"There are some contractors that are not going to use new technology unless it's mandated to use it," Kowalski says. "Then there are other contractors that are using it before the state's mandated so they can get ahead of the game and understand it, using it to its full potential. Those are the ones that are going to be the leaders in the industry, for just about anything when it comes to technology. They're the ones that figured out that if you don't want to get on a technology bandwagon, you're going to be behind everyone else. So a lot of a lot of contractors that are already using it before the states are requiring it, they have a good handle on it, they're not the ones that are the issues or have any problems with it and they see the advantages. What's more, is that they're not just using it on state work where it's required, they're using it on other projects and also as a training tool to help their crews become better at what they do for the long run."
If you're attending CONEXPO in Las Vegas, be sure to attend Kowalski's education session: "Using New Technologies in Asphalt Paving." This session is scheduled for Tuesday, March 10 from 3 p.m. to - 4 p.m. More information can be found at www.conexpoconagg.com.