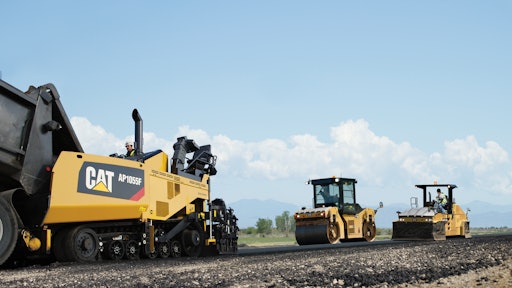 The basic components of asphalt paving have not changed much in the past few decades, and still involves the use of durable, specialized machines. But with the emergence of technology to improve productivity and quality of results, it is transforming operations, creating greater efficiencies and having a real-time effect on each stage of the operational chain. 
Technology is also helping to shape the future of the paving industry, from telematics, process monitoring systems, 3D paving control technology to thermal mapping and intelligent compaction - all contributing to getting the work done faster, smarter and safer. 
Efficient Material Planning & Delivery
Eliminating paver stops is dependent on the ability to balance laydown with delivery, and it is key to smooth, consistent paving and keeping jobs on track. Previously, this involved planning, using a paper ticket system with little communication between the plant and jobsite, as a result, visibility and estimated delivery time were a guessing game. 
Telematics and process monitoring solutions are allowing material to be delivered exactly when it is needed and allows contractors to see the real-time delivery from plant to site along with tonnage. These new technologies can be linked with Apps where site managers can view each cycle time of the truck, whether it's waiting for pick up, what route it's taking and if any delays are expected so they can proactively make changes to the paving rate when required. 
3D Paving Gets it Right the First Time
3D paving control is the next step in technology and can help achieve the highest smoothness and accuracy levels. For years this technology has been commonplace on many construction sites and utilized for larger paving jobs such as airports, highways and race tracks, given the tighter tolerances required for these types of jobs. For the rest of the industry it has been a slower adoption rate. 
Basic 2D technology has been a standard for decades and provides a guidance system to achieve the right grade and slope for asphalt pavers. The equipment requires extreme accuracy, ensuring each asphalt layer is paved with the right amount of material. Errors are not an option. While 2D grade control continues to be used for most work, customers are starting to demand more. 
3D technology is continuing to evolve and is starting to see greater adoption in the industry, driving improved machine control at each stage of the construction process. Instead of traditional paint marks on the road surface to indicate the grade and slope on a proposed site, paving control systems use a 3D design to guide the screed from the start of a project to the designed elevation and slope. Enabling paving operators to not only improve efficiency and productivity by eliminating string lines, but resulting in a smoother surface and greater accuracy, particularly on larger and more complex designs. 
Utilizing Intelligent Paving Systems
Thermal mapping monitors the surface temperatures of the asphalt using an infra-red camera and a global navigation satellite system. Viewing real-time temperatures, contractors can use devices to identify variations and take action to manage the plant to paver delivery process, fine-tuning their work for more uniform lay-down temperatures. 
Thermal mapping uses an infrared camera mounted directly to the machine to monitor pavement temperatures behind the screed and provide real-time information on temperature, which can be stored as data for documentation and future analysis. Material with large temperature variations across the surface, will not yield consistent density after compaction. Monitoring lay-down temperatures in real-time gives contractors the ability to address thermal segregation issues by changing their paving practices or making necessary adjustments to the equipment. 
Paving at the wrong temperature doesn't just lead to bad results but can impact driving safety and road durability. As a result, this technology is continuing to improve, helping to build durable, longer lasting roads that can properly handle heavy loads and high traffic volumes. Regulations vary depending on geographical region but the industry is starting to see thermal regulation and mapping becoming standard on many projects.
Keep Workers Safe & Manage Distractions
Paving remains one of the more dangerous professions in the construction industry. There are many factors to consider on a project, from various pieces of equipment operating all at once, to live traffic and often small working areas, they all need to be managed to keep workers safe on site. 
Machines are now coming equipped with 360 degree vision systems for a bird's-eye view of the equipment's surrounding. The transmitted view is put together by stitching multiple camera images into an all-round view for the operator. This can be helpful in reducing blind spots and displaying obstacles that may not usually be in direct vision. 
Object detection cameras are now available on equipment direct from the factory, providing operators with a view of what's happening around their equipment and alerting them of any potentially hazards with proximity warnings and avoidance zone notifications. 
Another option for detecting ground personnel are proximity systems. They have high accuracy and repeatability and alert the operator with a visual and audible alarm. Proximity detection systems for personnel work through radio frequency identification technology (RFID) and RFID tags can placed in protective equipment such as hard hats and safety vests and communicate via an antenna on the equipment. 
Smart Bands are also becoming more common, used to track employee sleep, syncing to a software program as soon an employee begins their job. It can help model and predict upcoming fatigue risks at the start of a shift, ensuring site managers are aware of individuals operating machines on insufficient sleep. 
Safety training can also be customized for paving applications in a controlled and safe environment through virtual reality (VR). These solutions immerse the trainee into a virtual construction site, so the employee learns to interact with coworkers and identify hazards before working on the jobsite. VR provides a proactive approach as a safe alternative to real world training. 
Training and technology go hand-in-hand. It is the key to smooth and safe operations on a paving site, and contractors who see it as an investment in both training and safety will experience greater success in the long run. With the long downtime between seasons, there are plenty of opportunities for operators to tighten their skills, gain confidence, and test new technologies they may have previously been reluctant to try. 
Having the right equipment partner is also key. Not only can they help you get the right training for your operators but they can also provide you with insights on the best technology to get the job done. 
Eliminate Productivity Concerns
Despite its benefits, many paving contractors are still reluctant to use the technology available to them. But things are slowly starting to shift. Real-time data and telematics are enabling contractors to successfully complete projects using greater accuracy. There is also starting to be more of a focus on ways to attract a younger generation of workers, those who understand that technology can serve as a tool to help them become a better, more efficient operator. 
Advancements in GPS, telematics and automation have resulted in projects being built safer, faster, more efficient, with less cost and less risk. Embracing technology results in successful project execution, improved customer satisfaction and in many cases, more business wins. 
Sheldon Allan is the paving and compaction product manager at

Finning.