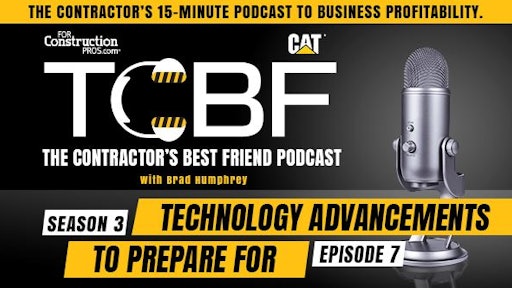 Be open to the cutting edge
Equipment technology is advancing at a rate we have never seen before — from intermittent wipers, telematics or driver-less vehicles, which all of these have come full circle to the construction industry. However, you have to keep in mind your 3-5-year plan as well.
Brad Humphrey and Caterpillar's subject matter experts discuss where the industry is headed in terms of technology advancements and what we should be expecting as contractors in the coming years.
Moderated by: Brad Humphrey, The Contractor's Best Friend, Pinnacle Development Group - Founder
Brought to you by:
Jason Hurdis, Caterpillar Inc, Global Market Professional – Quarry & Aggregates Industries
Lonnie Fritz, Caterpillar Inc, Market Professional – Construction Industries
NEW EPISODES EVERY OTHER WEDNESDAY
Subscribe on iTunes: itunes.apple.com/us/podcast/the-c…d1406479825?mt=2
Listen on Stitcher: www.stitcher.com/s?fid=205707&refid=stpr
Leave a review: itunes.apple.com/us/podcast/the-c…d1406479825?mt=2
Tell us what you think of the podcast series, take our survey: www.surveymonkey.com/r/DSVVLX9
Listen to more construction news on the Construction News Tracker at www.forconstructionpros.com