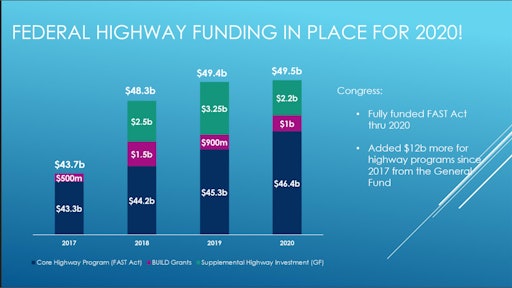 Because of shovel-ready projects and federal funding already in the pipeline, the asphalt pavement industry was primed for a successful 2020, according to Jay Hansen, executive vice-president – advocacy at the National Asphalt Pavement Association (NAPA).
Speaking during a March 26 NAPA webinar "2020 Outlook for Asphalt Pavement," Hansen cautioned that the figures and forecast were developed prior to the coronavirus pandemic so they could change. But as of March 24, he said, work on most road and highway projects and in almost all states was ongoing.
He said U.S. asphalt pavement tons produced annually has grown steadily but slowly with 2019 showing a 1% increase to 393 tons over 389 tons in 2018. He said NAPA expected increased tonnage to be produced in 2020 partly because the federal funding for 2019 wasn't released until February 2019 -- late for many projects so many of those 2019 projects are still to be completed. In addition, 2020 funding was allocated in December 2019, so essentially 2020 could be fueled by two years' worth of funding.
Other factors Hansen highlighted that could spur growth include:
BUILD and INFRA Grants Since 2017
FAA Airport Improvement Program (AIP) grants issued in 2019 for airfield improvement projects
State Legislature approved bills
Voter approved initiatives
Proposed funding under America's Transportation Infrastructure Act of 2019
Hansen's insight into the 2020 asphalt pavement market pointed out that contractors and producers need to be aware of more than the source of the funding the industry receives. NAPA research indicates that 65% of the asphalt pavement market is fueled by federal, state and local highway and road funding, while another 35% of the asphalt pavement market is fueled by the more volatile commercial and residential market.
Hansen said the source of the funding is not always the agency that determines how those funds are spent. He noted that in recent years federal highway funding, for example, has been given to the states to allocate and in many cases the states have allowed local governments to determine how that money is spent. The point being that even federal funds can be spent on local projects, so it's important for contractors to monitor work at all levels of government.
He also announced the availability through NAPA of state-by-state fact sheets that condense a broad variety of road and highway construction information into one resource for each state. The fact sheets can be accessed through the NAPA website.
NAPA Reacts to COVID-19
Prior to Hansen's presentation, Audrey Copeland, NAPA president and CEO, outlined NAPA's response to the coronavirus. That response includes a special page at www.asphaltpavement.org/coronavirus which includes health and safety resources for employers and their employees. The site also includes state-by-state reports on the status of road and highway construction projects that are kept up to date by participating state associations. She said that as of March 24 only two states, Pennsylvania and Washington, have halted road construction programs and none of the states had reported any supply issues.
She said as a result of less traffic on roads and highways, some states are allowing work scheduled for night to be done during the day and others have moved up work that was scheduled for later in the year.
Copeland said NAPA has identified three priorities on which it will focus.
1.    The health and safety of the workforce and preventing the spread of COVID-19
2.    Working to ensure that highway and road construction is viewed as an essential industry/function. She said highway and road construction is essential not just for transportation but because of the jobs it provides and the fact that the construction industry can hire laid-off workers.
3.    Increased infrastructure investment to provide immediate and long-term benefits to the U.S. economy
She encouraged contractors to visit NAPA's coronavirus page and to click on the Health & Safety link at the top where they can find "Construction Industry Safety Coalition Recommendations: COVID-19 Exposure Prevention, Preparedness, and Response Plan for Construction," which she said outlines steps employers and employees can take to reduce the risk of exposure to COVID-19.
She and Hansen said that key to the success of the asphalt pavement market this year will be that road construction be considered an essential service that can't be disrupted by COVID-19. She encouraged those in the asphalt pavement industry to reach out to encourage their state governor to declare construction as essential. The link https://construction-joint-essential-service.mmp2.org/engage/essential-service provides guidance and makes contact each governor easy.
She also urged those in the industry to contact Senators and Representatives to include a multi-year surface transportation investment package in stimulus measures. The website for that is: https://www.votervoice.net/AsphaltPavement/campaigns/72736/respond.