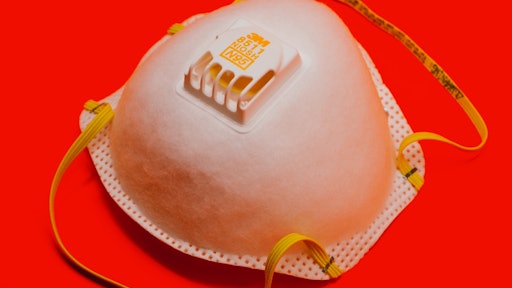 Photo by visuals on Unsplash
The construction industry has never shied away from a challenge or a crisis and the coronavirus and COVID-19 pandemic are no different. We'll be sharing a running list of how the industry is lending a hand wherever and whenever needed. Be sure to share your stories with us at bschultz@acbusinessmedia.com or visit the Equipment Today Facebook page so we can add them to the list, as well!
------------------------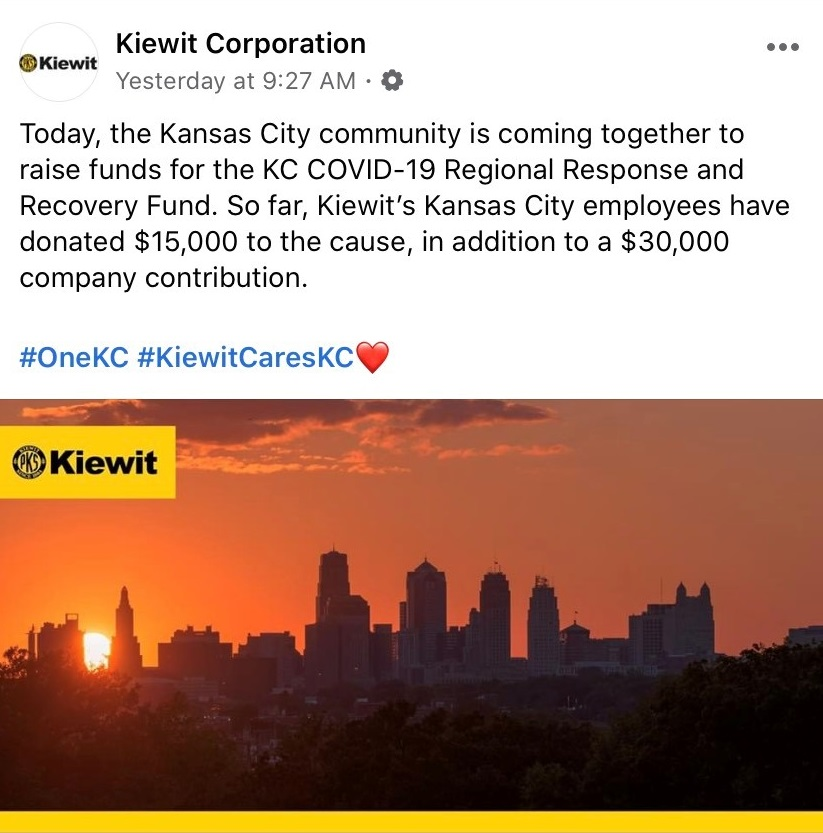 In addition to a $30,000 company contribution, Kiewit Corporation's Kansas City employees have donated $15,000 to the KC COVID-19 Regional Response and Recovery Fund. The company and its subsidiaries also have donated personal protective equipment, such as masks, to health care facilities in the communities where it operates. This includes a donation by Kiewit Offshore Services of 2,500 Tyvek suits and 500 masks to Driscoll Children's Hospital in Corpus Christi, TX.
------------------------
Three Rivers Corporation and Arnold Center, Inc. partnered to produce medical standard face shields for distribution to health systems across the state of Michigan. This unique partnership brings together the resources of one the region's largest construction companies with the assembly capabilities of one a top community rehabilitation organization. So far, the partnership has delivered 2,000 face shields to frontline personnel.
------------------------
When Habitat for Humanity La Crosse was forced to stop construction on the home for a local veteran due to Wisconsin's safer-at-home order, Brickl Brothers stepped in, offering a construction crew free of charge to finish the framing of the home. Because the company is able to complete work in a week that would have taken volunteers an entire month, the family will be able to move into their new home – and out of their current unsafe one – as planned.
------------------------
McCarthy Building Companies, Inc.'s Southern California team donated 192 Honeywell P100 reusable masks to local healthcare facilities. In addition, McCarthy employee Eric Warner, quality director in Newport Beach, helped Keck Medicine of USC, Cedars-Sinai and other area hospitals by producing 3D-printed face masks and face shields, sewn face masks and aerosol protection intubation boxes. He also made the specs and details used available to others with 3D-printing capabilities to expand the effort.
------------------------
JE Dunn Construction took part in providing lunch to the ER crew at UC Health with plans to do the same for the St. Anthony North Health Campus. The company also led the charge to turn a hospital floor at CoxHealth into a 51-bed coronavirus care center.
------------------------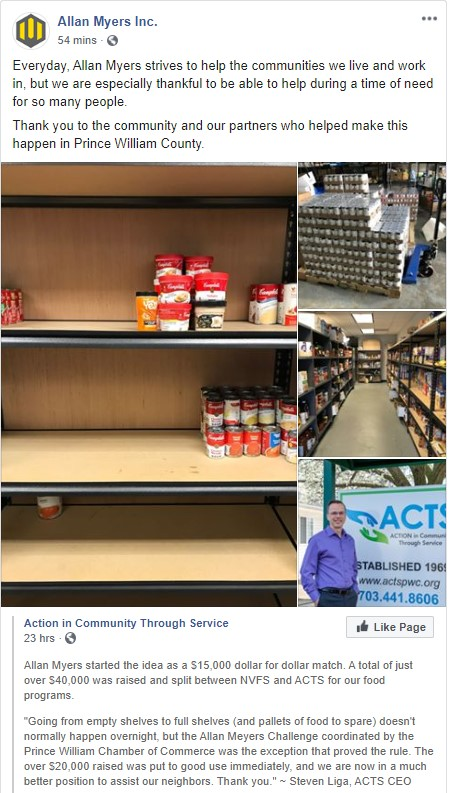 The Prince William Chamber of Commerce and Allan Myers Inc. led an effort to raise $40,000 to support two local food banks - Action in Community Through Service (ACTS) and Northern Virginia Family Services. Amazon Web Services, Iron Mountain Data Centers, Northern Virginia Electric Cooperative and others also supported this vital effort to support those most in need during these challenging times. The idea was started by Allan Myers as a $15,000 dollar-for-dollar match.
------------------------
Keller, Inc. provided front desk staff at Women's Care of Wisconsin with clear shields to create a safe barrier between staff and patients during their appointment check-ins.
------------------------
A project engineer at Absher Construction Company jumped into action when alerted that others were printing medical PPE on their home 3D printers. He has since printed and shipped 40 face shields with another 40 set to be printed.
------------------------
The International Brotherhood of Electric Workers Local 103 donated over 20,000 protective masks to the Massachusetts Nurses Association for frontline workers.
------------------------
The Chippewa Valley Home Builders Association (CVHBA) hosted a LEGO contest to inspire future builders stuck at home due to school closures. The event went viral with the CVHBA receiving over 500 entries from kids ages 3 to 17 and awarding more than 100 prizes.
------------------------
The Swinerton Foundation, the charitable arm of the Swinerton company, is donating $170,000 to local food banks. According to its Facebook post, as the COVID-19 pandemic continues, the health and well being of those across the U.S. who rely on food assistance has become an increasing concern. Consequently, the Foundation will be donating $10,000 to a local food bank at each of its 17 office locations across the country. It is also matching employee donations through the Swinerton Cares program. 
The Foundation also announced it is partnering with the American Red Cross to donate $63,000 for the nonprofit's efforts on the front lines of the coronavirus outbreak. The Foundation is also donating $50,000 toward disaster relief and $13,000 for blood services.
------------------------
Team Rubicon has been volunteering its services through the U.S. during the COVID-19 crisis. It announced that PepsiCo was contributing $3 million to expand its COVID response efforts. The funds will enable Team Rubicon to continue filling the volunteer void at food pantries across the country, including work with Meals on Wheels America, Feeding America and other partner organizations.
The organization also teamed up with Chicago's United Center to host a PPE drive that brought in 60,000+ gloves, 13,000+ N95 masks, 60,000+ surgical masks and 1,500+ hand sanitizer bottles so far.
------------------------
Walsh Construction is leading the temporary conversion of a portion of Chicago's McCormick Place Convention Center into an Alternate Care Facility for COVID-19 patients. The facility will have the capacity to treat up to 3,000 patients. Construction on the first 500 beds was completed on April 3.
------------------------
Skanska crews worked diligently for eight days dredging the berth for the hospital ship USNS Comfort to arrive in New York City. 
Members of Skanska's Houston team deliver 1,200 meals to healthcare professionals at Harris Health System.
------------------------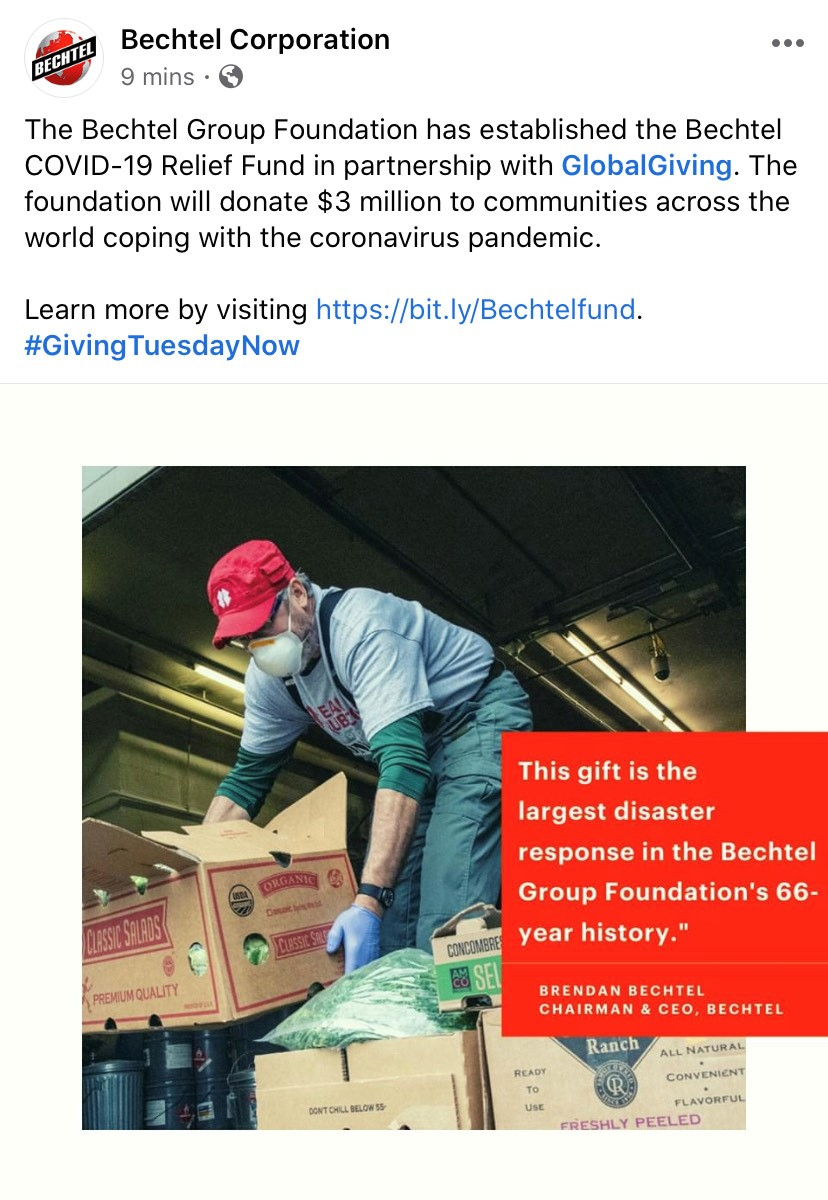 Bechtel Corporation has donated 16,500 N95 masks to hospitals and first responders in many of the communities in which it works. To date, donations have been made in New York, Ohio, Maryland, Washington, California, Kentucky, Georgia, Pennsylvania, Texas, Louisiana and Chile. Most recently,  in cooperation with the Tridec – Tri-City Development Council, it delivered 1,000 N95 masks to TriCities emergency and healthcare providers. The donation was made in connection with a community drive Tridec launched in March to collect PPE.
The Bechtel Group Foundation announced it is establishing the Bechtel COVID-19 Relief Fund in partnership with GlobalGiving. The Foundation will donate $3 million – the largest disaster response in the Group's 66-year history - to communities across the globe coping with the coronavirus pandemic.
------------------------
Contributions come in all different forms. For example, C.D. Smith launched the 2020 Kids at Home Construction Contest to encourage a fun and creative activity for children faced with school closures. The contest, which has been extended through April 17, asks students under age 18 to design a construction project and share it via a photo or short video. Entries will be judged via a voting contest for the title of "Best Home Construction Project." Learn more about the project at www.cdsmith.com/constructioncontest.
------------------------
Canadian firm PCL Construction donated 29 boxes containing more than 800 N95 masks to Alberta Health Services. It also donated 500 N95 masks to help healthcare workers at The Ottawa Hospital - L'Hopital d'Ottawa.
PCL also donated negative air machines – used for creating negative pressure isolation rooms to treat patients with airborne infections – to the Riverside Campus of The Ottawa Hospital. Its Denver location also donated and delivered several negative air machines to UC Health.
In addition, the company is partnering with WZMH Architects, Microsoft and Camillion Corp. among others to bring smart screening testing pod prototypes from concept to completion in just a two-week time frame.
------------------------
According to the National Asphalt Pavement Association, Anderson Columbia is one of many road construction companies offering multiple jobs to those who have lost employment due to COVID-19. 
------------------------
Balfour Beatty's Northwest team donated 250 N-95 masks to Providence Regional Medical Center in Everett, Washington. 
------------------------
Poppoff, Inc. donated all 220 of its N95 respirators to local hospitals due to the shortage caused by COVID-19. O'Brien Construction Company Inc. in the tri-cities is also hosting a drive through March 27 to collect respirators to get them to first responders in need.
------------------------
With the help of Verona Safety Supply, Inc., JP Cullen was able to source 2,400 masks and is donating them to local hospitals in Wisconsin. The company is urging others to join the effort.
------------------------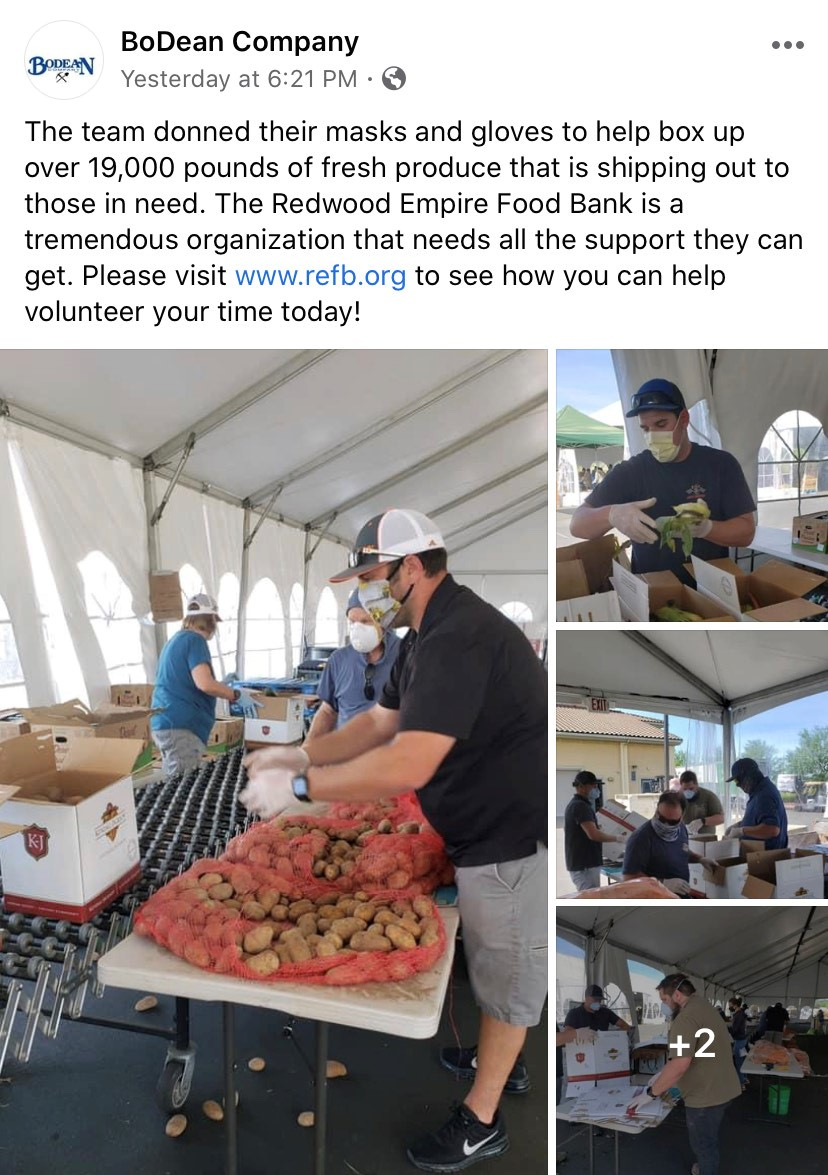 Recognizing the tremendous PPE need for front line workers in healthcare, project teams in Barton Malow's Southeast Region delivered several boxes of N95 masks to Orlando-area hospitals. The company continues to send masks and safety gloves - and even some homemade cards to thank the doctors and nurses - to Florida hospitals. 
------------------------
At BoDean Company, the team donned masks and gloves to help the Redwood Empire Food Bank box up over 19,000 lbs. of fresh produce to ship out to those in need. 
------------------------
Aware of the impact of the coronavirus crisis on small businesses in its community, Kissick Construction Company has chosen to intentionally support local businesses, from buying lunches for its crews to buying from local suppliers. Kissick made a conscious choice for procurement to come from the Kansas City area, even if prices may be higher than ordering from larger out of state suppliers.
------------------------
R.J. Beischel Building Co. donated over 300 N-95 masks to area hospitals so that those on the frontline can protect their patients and themselves.
------------------------
In Minnesota, Grazzini Brothers & Co. donated every piece of PPE in its inventory to help medical professionals. Vonco employees came together to donate N95 masks to a local hospital birth center. Rice Lake Construction Group donated 500 masks to a local hospital. Park Construction Company also donated 200 N95 face masks to Woodwinds Hospital in Woodbury, MN. Duininck donated more than 80 respirators to Bethesda Willmar and Kandiyohi County Relief Agency.
------------------------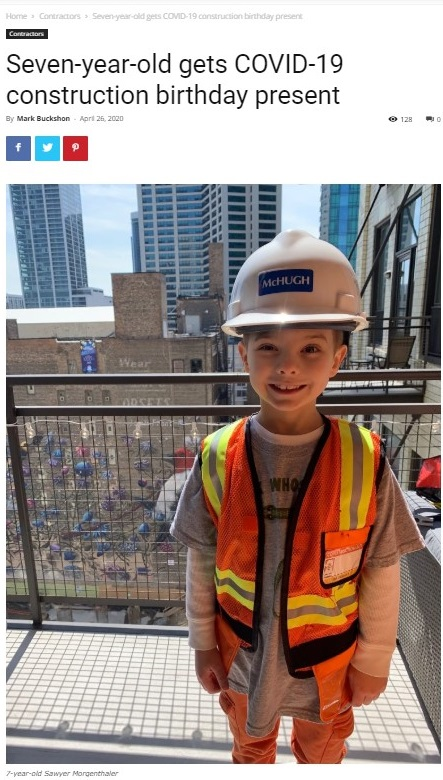 The Shelly Company in Columbus, OH, donated a supply of unused shoe covers to local medical professionals through the Nationwide Children's Hospital PPE donation area. Receptionist Donna Roof-Suain also showed a special token the company uses to symbolize its commitment to safety.
------------------------
According to Chicago Construction News, young Sawyer Morgenthaler has been keeping a close eye from his balcony on the work being done on the condominium building across the street. When Sawyer's mom alerted the developer that it was Sawyer's 7th birthday, McHugh Construction and 1000M, the development team for the project, set into action, making him a 12-ft.-tall birthday banner to hang from a nearby building; giving him a custom hard hat; and joining neighbors to raise balloons and sing happy birthday to the future little construction worker.
------------------------
Also read: