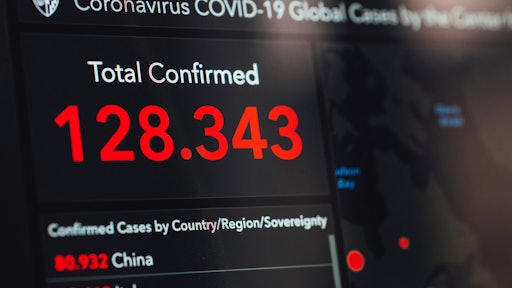 Markus Spiske/Pexels
Industry advocates are advising against the requirement of the Occupational Safety and Health Administration (OSHA) to issue an Emergency Temporary Standard (ETS) at this time in response to the coronavirus pandemic. Such a requirement is included in the COVID -19 Every Worker Protection Act of 2020 (H.R. 6559, included as Division L, Title III in H.R. 6800).
The Construction Industry Safety Coalition (CISC) says that instead OSHA should continue with its current approach of issuing industry -specific guidance based on the latest information from the Centers for Disease Control and Prevention (CDC) as this approach provides a more nimble and effective solution than issuing a rigid, one -size -fits -all standard.
The CISC said they recognize the potential hazards of COVID-19 and strongly believe that employers should take steps to ensure that employees are protected.
"Our industry continues to adhere to public health guidelines set forth by OSHA and the CDC for safely operating during the pandemic," a letter to the Senate says. "A large majority of construction job tasks further fall within OSHA's Lower Exposure Risk tier in its occupational risk guidance for COVID-19 as they entail minimal contact with the public and other workers. As a proactive measure, early in the pandemic the CISC developed and distributed comprehensive materials to our member companies for communicating proper safety, distancing and disinfecting measures to workers on the job site to reduce the risk of exposure. This includes a Coronavirus Preparedness and Response Plan for Construction and customizable blueprint for construction businesses to use in establishing worksite safety protocols."
The CISC says they are greatly concerned by proposals such as H.R. 6559, the COVID-19 Protect Every Worker Act as it would compel OSHA to issue an emergency temporary standard and subsequent permanent standard for infectious diseases.
"This bill, and similar language adopted in the House passed Heroes Act, puts the cart before the horse, mandating the issuance of a new standard before OSHA has had the opportunity collect and analyze data on the prevalence of workplace exposure to and contraction of COVID-19."
As the Senate works to identify priorities for inclusion in its own coronavirus recovery package, the members of the CISC are working to ensure that OSHA, the CDC, and all other appropriate agency stakeholders first work together to assess the extent to which COVID-19 presents a risk in various workplaces before taking any action, including, if necessary, issuance of any infectious disease standard. 
Many feel that both employers and employees alike are better served by an approach that focuses on disseminating the latest information available and tailoring safety guidance to reflect the rapidly evolving understanding of this public health emergency than a rigid standard that would limit their collective ability to quickly adjust to changing circumstances.