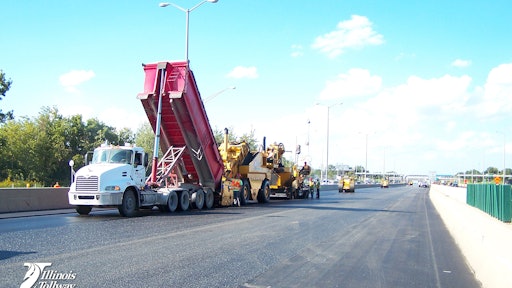 Photo courtesy Illinois Tollway
As an accounting professional might say when analyzing financial results, numbers don't lie. Such logic also applies when assessing ongoing market trends and longer-term sales projections to take advantage of new and developing business opportunities.
Which is why visionary asphalt producers and contractors are paying more attention to the continued rising interest in reclaimed asphalt pavement (RAP) use by state transportation agencies across the country who welcome the economic, environmental and efficiency benefits of RAP in asphalt mixture.
The National Asphalt Pavement Association (NAPA) estimates that RAP used in asphalt mixtures in the 2018 construction season totaled 82.2 million tons, representing a 7.9% increase over the prior year total of 76.2 million tons and a slow but gradual 46.8% rise in overall RAP use in mixtures since NAPA, in conjunction with the Federal Highway Administration (FHWA), began surveying contractor use of recycled materials in 2009. The number of states with asphalt producers reporting the use of RAP in pavement at 20% and higher peaked at 30 states in the 2018 survey, up from 24 states in 2017 and 10 states in 2009.
In addition, a significant part in the greater use of RAP has to do with successful studies and pavement test results of reclaimed asphalt mixed with the proper additives, a global market that is projected to grow by $2.7 billion between now and 2029.
"Additives play a big role in enriching and improving the types of pavements that the industry can make," says Hassan Tabatabaee, global technical manager—Asphalt Solutions at Minneapolis-based Cargill, Inc. "The greater benefits offered by additives are not yet fully understood by the industry and not everyone is taking full advantage of them, but word is getting out among producers and contractors that the right additive can be a  valuable and reliable tool."
Rejuvenators and other additives available today help build upon pavement sustainability and performance. Both the additive chemistry and proper mix formulation are important for ultimate success, i.e., what it allows the contractor or the agency to do with it for best product results. 
"When it comes to additive mix percentages, there are ranges but it changes based on application and performance needs," Tabatabaee points out. "A good example might be what baking soda is to the cake. There's no standard amount of baking soda you put in cakes. Every cake is different. There's always a certain number of teaspoons you're going to consider, but the specific amount is something that you tailor per mix and application."
Some of the more innovative states, producers and contractors already have been moving the needle forward on new formulations and ranges in their asphalt specs after conducting successful tests on trial products.
Small State Enjoys Big Benefits
The state of Delaware has been among some of the more progressive states in the successful use of recycled material in new pavement, both from a research standpoint as well as through performance testing. The state's smaller footprint at 100 miles north to south and 20 miles east to west allows for the quick, centralized decision-making that helped it increase the use of RAP over the past 10 years.
Today, DelDOT, which maintains 90% of the state's roads, uses on average 25% RAP, 4% RAS in mixtures. The state began using reclaimed asphalt in new pavement mixtures a decade or so ago, impacted by two unpredictable, but major developments: The beginning of the deep U.S. recession in 2009 prompting the state to trim costs by mixing in about 18% RAP and the devastation caused by Hurricane Sandy in October 2012 along the nearby Jersey Shore.
"When Hurricane Sandy hit New Jersey, there was a large amount of shingles that hit the market and one of our suppliers came to us and wanted to know whether we would allow the shingles in our mixes," Shane Biddle, hot mix asphalt supervisor at DelDOT, told For Construction Pros. "We did and we started using them but when we were doing the performance testing with the Texas Overlay Test, these mixes were horrible compared to other mixes. They were very, very brittle, their cycles were very low and for that year it really became a concern with us where it was almost to a point that the following year we were not going to accept them anymore."
The supplier then contacted Cargill regarding use of ANOVA rejuvenator, which DelDOT had never dealt with before, Biddle said. "We reached out to them (Cargill) and made some samples and it dramatically decreased the cracking."
DelDOT did a couple of pilot jobs on roads around Kent County, Delaware, testing the asphalt performance over about a six-month period. Following the testing, the supplier made a deal with Cargill and last year began using rejuvenator in all of its state top layer material produced at its hot mix plants, according to the agency.
"We did a lot of research on the rejuvenators and even looked at the long-term aging of the specimens," Biddle said, adding that tests showed an increase in the strength of the Texas Overlay.
Large State Reaps Big Savings
When the Illinois Tollway implemented new, more robust specifications for performance design in their tollway mixes last year following testing and due diligence, they set an actual performance bar for final product rather than the previous recipe approach. It led to mixes with higher recycled content and early indications of overall asphalt performance improvements.
Over a 10-year period, the Illinois Tollway saved roughly $200 million through the reuse of recycled material including asphalt, a reduction in the purchasing of virgin material, and by cutting down on disposal fees, according to Paul Kovacs, chief engineer of the tollway authority, in an interview with an industry trade group.
Kovacs at the time was commenting on a massive program to completely reconstruct the Jane Addams Memorial Tollway portion of I-90 from 2014 to 2017 as part of an ongoing 15-year, $14 billion "Move Illinois" capital program.
The Jane Addams roadway base and shoulders included recycled asphalt pavement, recycled asphalt shingles and warm-mix asphalt according to the report. Recycled asphalt was used in about 33% of the new asphalt laid on the mainline and about 50% of material used for shoulder construction, and served as a testing ground for subsequent use of RAP and additives in pavement mixtures throughout other Illinois Tollway projects.
Collaboration and Innovation Are Key
To help develop techniques to maximize ROI and increase the use of RAP, industry experts recommend that producers and contractors should take steps to carefully manage their inventory, improve processing capabilities, assure product uniformity and maintain consistent asphalt quality in order to avoid accepting or placing contaminated product into the mix.
A good place to start would be to engage in proactive collaborative efforts with their state agencies and the FHWA, including aiding in RAP pavement research efforts and testing programs aimed at boosting RAP use well above the current average of 21.1% in the U.S.
"As an additive supplier, an important portion of our efforts are focused on partnering with each customer to get the right dosage and formulation for their application," according to Cargill's Tabatabaee.