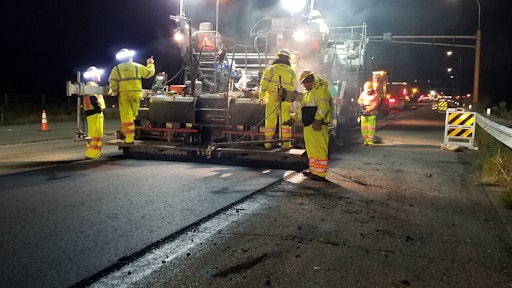 Results of two years' testing of Cargill's plant-based Anova rejuvenator have laid the groundwork for developing national benchmark specifications to enable higher RAP content in paving specifications by state and local DOTs throughout the country.
The study was carried out in coordination with the Minnesota Dept. of Transportation at its MnROAD test track and with Virginia DOT at the National Center for Asphalt Technology (NCAT) at Auburn University. Cargill's Susan Listberger, global product line manager for road construction, and Hassan Tabatabaee, Cargill global technical manager for asphalt, say that the successful results from both locations will provide state and local DOTs with a level of confidence that they can include a higher percentage of RAP in their paving specifications and still achieve performance objectives.
"We really wanted to have information available to the industry to demonstrate not only a success-backed and data-driven approach but also the level of confidence Cargill has on this product," Listberger said. "We wanted to make sure DOTs have information not only based on hard data, but information that gives them confidence."
Test Results from North and South
Tabatabaee says the tests incorporated Anova rejuvenator to increase the RAP percentage to 45% in the mix. He says tests were conducted to evaluate how the constructability and quality control aspects using a mix with 45% RAP compares to a conventional mix, and how the mix responds throughout the loading cycle.
"In both tests a control section was built using conventional mix design, basically what the agencies would have typically made using a lower recycled content," Tabatabaee says. "In both test cases we were able to demonstrate the use of a performance-based design to get to equal or better performance using the Anova rejuvenator compared to the typical mixes containing lower percentage of RAP."
Among the key findings of the NCAT tests are that after two years and 5 ½ million equivalent single axle loads (ESAL), the test pavement showed:
0% cracking
No rutting issues in either the control section or the Anova section
The Anova section shows slightly better performance on the International Roughness Index,
A cost savings ranging from .50 to $1.50 a ton, which Cargill estimates equates to $750,000 in annual savings for a mid-sized contractor
Tabatabaee says NCAT will continue monitoring the test sections up to 10 million ESALs.
On the MnROAD test, the study found that the RAP mix is performing the same as typical lower-RAP mixes, despite the colder weather.
"The results prove that Anova-rejuvenated RAP delivers consistency, predictability and 'construct-ability' while reducing costs and being more sustainable," Listberger says. "Innovations around RAP deliver huge value to road owners, contractors and taxpayers."
Minimal Impact on Contractors
Tabatabaee says that according to contractors, "in terms of the physical reality of it," working with a mix with the high percentage of RAP using Anova rejuvenator wasn't any different than working with a conventional mix.
"Contractors typically have a limited window of opportunity to get the mix to the jobsite, work it, compact it and get good density before it stiffens up on them," Tabatabaee says. "They might be worried that with 45% recycled content that they might not be able to rake it or work it at the edges."
But he says that often the crews involved in placing Anova-rejuvenated high RAP mixes who aren't told in advance the RAP content, report no difference in working with the rejuvenated mix compared to a typical low RAP mix.
"The contractors indicated the rejuvenated mix worked and compacted like a lower recycled mix, confirming that they would be able to use a higher recycled content that works like a lower recycled content."
Listberger adds that temperature doesn't have an impact different than it would on a conventional hot mix.
"The construction in Minnesota was completed at the end of October, and it can get pretty cold there at that time of year."
She says the rejuvenated mix with 45% RAP was placed at the MnROAD test site on Interstate 94 overnight when ambient temperature was 32°F. In addition, the plant was 45 minutes from the construction site.
"All of the Anova sections were paved and compacted during the night and the contractor achieved density bonuses on all the Anova sections," she says.
A Benchmark for 50 States
Tabatabaee says the next step is to show how the many performance tests under consideration by individual states can correlate to each other. That data can help the development of uniform benchmarks for states consider in the process of creating their own specifications.
"So instead of having 50 different specifications that can't be related and compared to each other this data can help specification-writers establish uniform performance thresholds for use in balanced mix design," he says.
"There are really two aspects to the test track studies. One is demonstrating the reliability of the product and the robustness of the technology. And two, support the agencies and owners with credible independent data that they will need to create the specifications for implementation of such technology. We hope to support the creation of a specification platform that helps DOTs throughout the country implement balanced mix design with a sense of transparency and reliability."
"We wanted to provide the industry the confidence that additives like Cargill's Anova  can meet their specifications through the concept of a balanced mix design, where you balance the cracking performance with the rutting performance," Listberger says. "We also wanted to provide the industry an opportunity to see that innovation can really pay off."