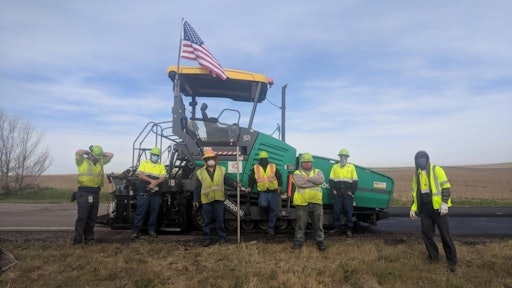 Jeffrey Azevedo/Facebook
Whether your asphalt paving crew consists of five members or five hundred, COVID-19 has impacted the way your company operates. The asphalt industry has been fortunate in that the work we do is essential, so we've been able to keep working. The challenge has been how do we do it safely?
Work zones are already challenging operating environments but construction business owners have made it a priority to keep their workers safe and do their part to stop the spread of the Coronavirus. Here are five key ways asphalt contractors can help protect their workers from becoming a victim of the pandemic:
1.      Cleaning & Sanitation
Crews cleaning their own equipment before shift and after each use. 
Do a jobsite audit and determine where employees are touching shared surfaces and make sure those surfaces are disinfected regularly throughout the day.
Color-code tools so people are using the same tools all day that have not been touched by another worker.
Don't allow work to happen if proper supplies are not available.
Always provide on-site hand-washing  - no shared water.
2.       Social Distancing & Face Coverings
Hard physical work makes it difficult to wear a mask all day – make sure you have different mask options to best suit worker needs.
If your state does not require masks, use best practices for social distancing and make sure you trust your crew to stay apart from each other.
Make sure workers take frequent breaks to avoid heat stress related to wearing a mask.
Avoid ride-sharing to a jobsite and allow crews to drive their own vehicles if possible
3.       Deploy Administrative Controls
Plan jobsite work-shifting and install plexi-glass barriers inside small spaces.
Explore new technology to see if there are ways to streamline processes that are normally done in-person. Can a re-planning meeting be done via video-conferencing? Is now the time to deploy e-Ticketing?
4.       Communication & Maintaining a Safe Culture
Have a safety meeting at the beginning of every shift to not only discuss the procedures of the day, but to keep COVID-19 top of mind for workers.

Do not let COVID-19 polices become a distraction from normal safety operations and keep normal hazards in mind.
List of topics should include fire safety with hand sanitizer, social distancing measures, etc.     


Communicate regularly with the crew about current protocols surrounding COVID-19 protection requirements and what has changed.
Create formal policies on sharing communal food/water and share best practices.
5.       Fit For Duty & Back-to-Work Protocols
Ensure employees have not been exposed to COVID-19 by asking a series of questions. Use a third party service to help. If employees are able to answer no to the five symptoms of the virus, they could be considered fit for dut.y
Some companies are using temperatures scans at the beginning of the day as well to ensure workers are fit to work.
Communicate with employees on any exposure that may have occurred and develop a plan to quarantine employees on a case-by-case basis.
Finally, make sure your workers avoid complacency. COVID-19 is a common enemy that we can all work hard to destroy. And while workers may not enjoy wearing gloves and masks in 100° heat, you can't allow your crew to become complacent in following protocol to protect themselves and others.
Stay safe out there.