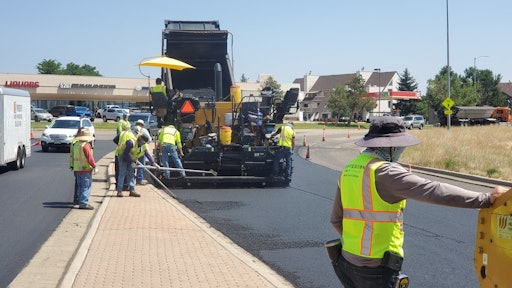 Tom Clayton/Facebook
During the summer months, asphalt workers are at a significantly higher risk for heat-induced injuries and illnesses than at any other time of year, even though these conditions are often preventable. In fact, a 2019 study by the American Journal of Industrial Medicine indicates that 75% of heat-related occupational deaths occurred during the summer months of June, July and August, as a result of high temperatures. With the emergence of the coronavirus (COVID-19) pandemic, additional on-the-job safety practices and procedures have been implemented. However, with mask and social distancing requirements that help slow the spread of COVID-19, the signs and symptoms of heat stress on the job may be harder to detect.  For this reason, it's important that employers and workers take special consideration of heat stress prevention amid COVID-19 workplace safety guidelines.
What is heat stress?
Heat stress is a build-up of body heat stemming from exposure to internal and external factors such as the environment (hot, dry and sunny climate), physical activity (active, manual labor), and heat-retaining clothing. The most common illnesses caused by heat stress include heat rashes, heat cramps, heat exhaustion and heat stroke. According to the Centers for Disease Control and Prevention (CDC), common symptoms of heat-related illnesses can present as impaired thinking, dizziness, sweaty, slippery hands, muscle fatigue, cramping and clouded eyewear that may block vision. Symptoms experienced as a result of heat stress can lead to further occupational hazards, which are more likely to occur when a worker is exhausted or impaired.
 Construction workers face specific occupational hazards that may contribute to a higher risk of heat-related injuries and illnesses. These may include labor-intensive work that causes the body to generate excessive heat, performing jobs outdoors during the hottest times of the year, working in non-climate controlled spaces such as attics or direct sunlight on roadways or rooftops and operating machinery that generates extreme heat such as welding, roofing, hot mopping and asphalt paving. 
Why asphalt workers are at high risk for heat stress
Environmental factors that contribute to heat stress are accentuated by the heat generation associated with asphalt paving. Considering that temperatures can reach well above 300 degrees Fahrenheit while laying hot mix, heat stress can certainly emerge when workers are exposed to intense heat from asphalt as well as the environment around them. 
Another risk factor involving asphalt is the dark color of the material, which causes it to absorb much of the natural UV light hitting the surface. The absorption of heat from the sun, the high temperature of asphalt material when poured, along with other environmental factors such as the outside temperature, can increase a worker's likelihood to be exposed to heat-related illnesses and injuries. 
Heat stress and COVID-19 mask restrictions: understanding the hazards
The COVID-19 pandemic presents its own complications to workers in the prevention of heat stress. While masks are recommended by the CDC to prevent the transmission of COVID-19, the organization also warns that it may be more difficult for workers to detect the signs of heat stress using the traditional "buddy system" while they are social distancing and wearing masks. 
In addition, some studies suggest that wearing masks, especially the N95 variety, may cause increased heat retention around the nose, mouth and cheeks, increase breathing and heart rates and cause discomfort for some individuals, all of which are factors that can exacerbate the body's response to heat stress. This is especially concerning throughout the asphalt industry, where N95 masks are commonly used to protect from regular occupational hazards. 
Preventing heat stress amid COVID-19
Several measures to prevent both the transmission of COVID-19 and heat stress must be instituted simultaneously to protect construction workers from both risks. Social distancing, at a minimum distance of 6 feet, is recommended by the CDC, as is wearing masks when distancing is not possible. Increasing the amount of breaks workers take throughout the day can reduce the onset of heat stress, but breaks should be staggered to ensure that workers are not gathered in small indoor spaces. Workers should avoid overexertion by taking frequent water breaks when necessary but should ensure that they are not sharing water bottles or cups when hydrating. 
Another preventative measure that can be instituted by employers is to designate a specific individual to be present at the worksite to monitor workers, and environmental conditions, as the day progresses. This individual, who should be trained in recognizing the signs and symptoms of heat stress, can assist in performing emergency first aid if necessary, and monitor the worksite conditions to prevent accidents. 
A common workplace method of preventing heat stress and other occupational injuries is the "buddy system," where workers check in on one another by observing any visual symptoms of heat stress in their "buddy." Social distancing can reduce the effectiveness of the "buddy system," as being a distance away from a partner can prevent someone from observing visual symptoms. In place of the usual practice, workers can ask verbal questions to check in on one another to assess any signs of heat stress in their coworkers. 
What to do after experiencing a heat-related injury or illness
Considering the increased risk of a work-related heat injury or illness amid summer months and COVID-19 safety restrictions, it's important to be prepared to respond to heat stress, should an accident occur. Immediately after experiencing an injury or illness on the job, a sick worker or their colleague should immediately seek the necessary medical treatment by calling 911 and receiving an evaluation from a medical professional. 
A worker who has been injured or suffers an occupational injury may have several options to recover financial losses stemming from the conditions sustained. In many states like New York, employees cannot sue their employers for most on-the-job occupational illnesses or injuries. Instead, workers can file a workers' compensation claim to recover monetary losses from these incidents. If the injury or illness occurs as a result of a third-party's negligence, a worker may be able to recover damages through a personal injury lawsuit, including a loss of potential earnings, pain and suffering, and mental anguish, among others. A worker, in this instance, may wish to consult a personal injury attorney who can advise them of their legal rights and remedies. 
We know that sometimes, workplace accidents can occur even if every precaution is taken, and with the onset of the COVID-19 pandemic, these precautions have become even more complicated. However, heat stress can have severe and sometimes lethal effects, so it's important that employers, worksite managers and workers implement strategies to prevent heat-related injuries and illnesses on the job.
David Perecman
, Founder and Lead Trial Attorney at
The Perecman Firm, P.L.L.C.
, is a distinguished New York attorney who concentrates his practice in all aspects of personal injury law, including construction accidents, premises liability, automobile accidents, medical malpractice, as well as employment discrimination, false arrest, and civil rights matters. He has successfully represented individuals who were seriously injured and the surviving family members of those who were fatally injured and has helped to secure hundreds of millions of dollars in compensation on their behalf. The Perecman Firm is a full-service personal injury law firm with offices in New York, New York, and Jericho, New York. For more information, visit
www.perecman.com
.