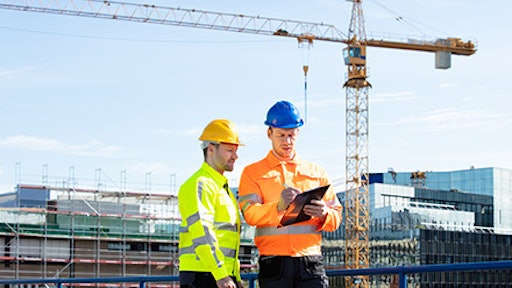 Andrey Popov/Adobe Stock
According to the Center for Construction Research and Training, construction workers have a 75% chance of experiencing a serious injury over the span of a 45-year career, and their likelihood of being fatally injured on the job is 1-in-200. Those are frightening numbers for workers and employers alike.
Quite simply, construction is one of the most dangerous jobs in the United States. An effective safety and training program is the best way to prevent avoidable injuries and deaths.
The Occupational Safety and Health Administration (OSHA) says employers can save between $4 and $6 for every dollar they invest in training and prevention. It pays off in lower costs, increased productivity, and safer workers. A look at the latest data on the most cited OSHA standard violations will give you a good idea of where you should be spending your training dollars. By properly training your team to avoid common violations, you can protect your workers and avoid hefty OSHA fines.
Top 10
OSHA

Violations, FY 2019

The most frequently cited OSHA violations tend to be similar each year. While finalized data for 2020 is not yet available, Patrick Kapust, deputy director of OSHA's Directorate of Enforcement Programs, presented the top 10 OSHA violations of fiscal year 2019 at the NSC 2019 Congress & Expo.
OSHA

Standard & Number of Violations

1. Fall Protection – General Requirements: 7,014

2. Hazard Communication: 4,170

3. Scaffolding: 3,228

4. Lockout/Tagout: 2,975

5. Respiratory Protection: 2,826

6. Ladders: 2,766

7. Powered Industrial Trucks: 2,347

8. Fall Protection – Training Requirements: 2,059

9. Machine Guarding: 1,987

10. Eye and Face Protection 1,630
1. Fall Protection
The leading cause of death in the construction industry is falling. OSHA statistics show that falls in construction make up more than one third of all private-sector worker deaths. OSHA requires employers to comply with its Fall Protection standard (1926.501). It is the employer's responsibility to set up controls to protect workers from falls associated with overhead platforms, floor holes and elevated workstations. This involves planning jobs carefully and providing fall protection equipment to workers who are six feet or more above lower levels. To prevent falls, your team should regularly inspect ladders, scaffolding, and safety gear such as personal fall arrest systems (PFAs) and harnesses.
2. Hazard Communication
Any company that uses potentially hazardous chemicals must communicate the safety and health risks of those chemicals to employees. You must also provide guidance on what to do in the event of an emergency. OSHA's Hazard Communication standard (1910.1200) covers best practices for keeping workers informed of health and safety risks.
All chemicals should be properly labeled with easily readable signs. Employers should maintain accurate records of all hazardous chemicals at the worksite and provide Safety Data Sheets (SDSs) to workers and customers.
3. Scaffolding
Scaffolding safety plays a key role in preventing falls. The OSHA Scaffolds standard (1926.451) requires scaffolds and their components to support their own weight and at least four times the maximum intended load without failing.
Common causes of scaffolding accidents include plank or flooring collapse, slips and falls, and defective scaffold setups. Employers should inspect scaffolding construction daily and make sure they maintain compliance with OSHA standards. This includes using guardrails or a fall arrest system for work that is more than 10 feet above lower levels.
4. Lockout/Tagout
The Control of Hazardous Energy (Lockout/Tagout) standard (1910.147) applies to situations where starting up equipment could release stored energy and harm workers. Lockout/tagout procedures can prevent a wide range of serious injuries accidents, including:
· A wiring short that shocks workers performing repairs
· A worker turning a valve that releases steam and burns workers
· The sudden release of a jammed conveyor belt that causes hand or arm injuries
Employers should train workers on proper lockout/tagout practices and procedures. Equipment and machinery should be discharged of energy or equipped with a tagout or lockout device whenever stored energy poses a hazard to workers. If equipment is not capable of being locked out, a formal tagout program should be created to protect workers. Once a lockout or tagout device has been put in place, only the employee who applied the device is permitted to remove it.
5. Respiratory Protection
Another frequently cited violation involves respiratory problems caused by breathing air contaminated with harmful dust, fog, fumes, gas, smoke, sprays, or vapors. When employers fail to practice accepted engineering control measures for safe ventilation or fail to provide appropriate personal protective equipment (PPE), they risk receiving an OSHA violation.
The OSHA Respiratory Protection standard (1910.134) includes a list of respirator types and the situations in which they should be used. Employers should ensure they provide adequate PPE and employees receive proper training on when and how to use it. This includes training on donning and doffing, PPE limitations, and maintenance.
Employers should also create a written respiratory protection program and appoint a trained program administrator to oversee the program.
6. Ladders
More than half of all deaths involving ladders occur in the construction industry, according to the Centers for Disease Control and Prevention (CDC). Experts point to inexperienced workers or a lack of proper safety training as the main causes of accidents with ladders.
Employers should make sure workers are adequately trained on the OSHA Ladders standard (1926.1053). Best practices include choosing the right ladder for the job, securing ladders and placing them in safe positions, and maintaining three points of contact with the ladder at all times during use.
7. Powered Industrial Trucks
Forklifts, tractors, platform lift trucks, and other types of powered industrial trucks can expose workers to significant safety hazards. Workers who use this equipment should be certified and trained on the OSHA Powered Industrial Trucks standard (1910.178). Employers should provide safety belts on forklifts and require workers to wear them during operation. Loads should be wrapped in plastic shrink wrap to increase stability.
One of the leading causes of accidents for powered industrial trucks is striking pedestrians or other workers. It's important to train workers on hazard recognition and prohibit cellphone use during operation. It's also crucial to train workers to avoid rollovers.
8. Fall Protection - Training Requirements
Since falls are the most common source of worksite injuries, it's not surprising that OSHA penalizes businesses that don't comply with OSHA training requirements for fall protection (1926.503). Employers are required to provide training to any employee who might be exposed to fall hazards on the job.
This includes qualified training on procedures to erect, maintain, disassemble, and inspect fall protection systems. Workers should also be trained on the safe operation of personal fall arrest systems, safety nets, warning line systems, control access zones, and guardrails.
Employers should verify compliance with a written certification record that contains the names of employees that have been trained, dates of training, and the signature of the employer or person who conducted the training.
9. Machine Guarding
Workers face serious hazards when barrier guards, two-hand tripping devices, electronic safety devices, and other methods of machine guarding are not properly employed. Guards should be attached to machines whenever possible.
Employers should train workers on OSHA's Machinery and Machine Guarding standard (1910.212) and ensure that guard use does not create its own safety hazards. They should also provide proper equipment for machine guarding and make sure workers know the correct way to attach and detach guards.
10. Eye and Face Protection
According to the CDC, each day roughly 2,000 U.S. workers suffer a job-related eye injury that requires medical treatment. The majority of injuries are caused by small particles or objects that strike or scrape the eye, such as dust, cement chips, metal slivers, nails, or drywall. Chemicals can also cause burns to a worker's eyes or face.
Employers should provide appropriate PPE to prevent eye and face injuries. Guards and controls on machines can help prevent particles from shearing off during operation. Welding curtains can prevent arc flashing, and goggles and face shields provide higher impact protection.
If workers wear glasses with prescription lenses, employers must ensure they wear eye protection that fits over their glasses or incorporates the prescription in its design. Eye protection policies should include eyewash stations and training on OSHA's Eye and Face Protection standard (1926.102).
Preventing Accidents and Violations Through Safety Training
You can avoid OSHA violations and injuries with workplace safety training. Training your workforce on safety standards can also protect your business from OSHA fines, which can add up quickly. Employers can be hit with a penalty of up to $13,494 per violation. And if they fail to abate the issue, that same amount can be levied every day until the situation is resolved.
Willful or repeat violations can cost up to $134,937 per violation. And states with their own Occupational Safety and Health Plans have maximum penalty levels that are at least as effective as federal OSHA penalties. Developing an ongoing workplace safety training program is the key to preventing avoidable accidents, injuries, illnesses, and deaths.
Kyle Davis is with the OSHA Education Center, a leading provider of online OSHA-authorized training, including 10- and 30-hour Outreach training for construction and general industry. The company offers online courses on a wide range of workplace safety topics and bulk rate pricing that makes it simple and affordable to keep your workforce compliant with OSHA training requirements.