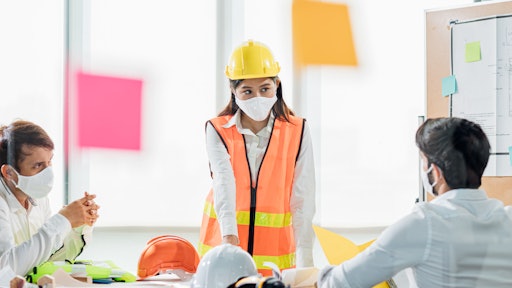 Adobe/Shutter B
As businesses around the world postpone and cancel in-person meetings in response to the Coronavirus, workplace training is emerging as one of the earliest and hardest-hit activities. However, now is not the time to give up on your employees and their future success at your company. 
If your employees are not engaged in their careers, your company is going to suffer. Low engagement, as well as a large number of actively unengaged employees, can have significant impacts on an organization's culture and bottom line. Unengaged workers cost U.S. companies between $483 billion and $605 billion each year, according to a 2017 Gallup report of the state of the American workforce. 
To properly engage employees, construction business owners need to focus on work tasks that lead to increased employee job satisfaction, lowered attrition and improved performance. This usually includes sending your crew to on-the-job training events. 
While some manufacturers may be canceling or postponing their training, other companies are moving ahead with their training courses, making sure to follow all CDC recommended guidelines. You can head to page XX in this issue to see all in-person training opportunities still happening over the next year. 
Virtual Learning
While there is nothing like in-person, hand-on training,  it's more important to keep the education going virtually than to skip the training all together and organizations should take advantage of these opportunities. Virtual meetings give your crew a chance to get together all at once to view training sessions. This not only increases worker engagement, it also helps bring your employees together for opportunities to address questions and address any gaps in their knowledge you may not be aware of. 
Many associations have increased the frequency of these virtual events during the pandemic and are happy to share their knowledge for the betterment of the industry. 
The National Asphalt Pavement Association (NAPA) have always been a leader in conducting webinars for their members. Since the pandemic, the association has increased frequency of their webinars and held virtual meetings to update their members on critical issues facing asphalt contractors and mix producers. 
A full list of their virtual meetings and webinars can be found at https://member.asphaltpavement.org/Events/Webinars.
The Pavement Preservation & Recycling Alliance (PPRA) has partnered with the Federal Highway Administration (FHWA) and have had successful webinar events that have covered topics from cracksealing and chipsealing to cold in-place recycling and more. You can see a full list of their events at https://roadresource.org/webinars.
Other resources for online training are listed below:
National Center for Asphalt Technology (NCAT): http://www.eng.auburn.edu/research/centers/ncat/education/online-courses.html
Asphalt Institute: http://www.asphaltinstitute.org/training/webinars/
Association of Asphalt Paving Technology (AAPT): https://asphalttechnology.org/webinars/
While your company hurries to put safety first during this pandemic, be careful you're not pushing the pause button on critical workplace learning that will help your company be successful in the future. 
Stay safe out there!