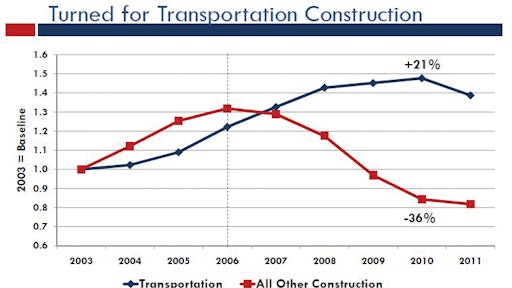 The American Road & Transportation Builders Association (ARTBA) forecasts highway and bridge construction to contract six percent, to an estimated $72.6 billion in 2011 and remain flat through 2012. Subway and light-rail markets will be down even more.
ARTBA expects a 14% plunge in the value of pavement put in place in 2011, and forecasts the industry will scrape along the $44- to $45-billion bottom until 2015. And while 2011 is shaping up to be a record year for bridge construction, the value of bridges put in place is expected to fall 10% in 2012 and remain flat in 2013, so the outlook is dark for more than 75% of ARTBA's transportation market.
"The main factors driving the decline in highway and bridge construction are not surprising: the winding down of infrastructure investment under the American Recovery & Reinvestment Act (ARRA), continued weak growth in the U.S. economy, persistent state and local budget challenges, and a static federal-aid highway program," ARTBA's senior economist, Alison Premo Black, said in a December-12 webinar.
More than 82% of stimulus funding has been paid out, and only about $300 million worth of projects have yet to be awarded.
Black says the long-delayed highway/transit reauthorization bill remains a "wild card."  If Congress passes a multi-year bill in early 2012 that maintains at least current investment levels, the improved spending certainty could free up some state money to boost the market. Both the Senate and House proposals also contain language to expand the Transportation Infrastructure Finance and Innovation Act (TIFIA), which if leveraged quickly, could offer another market bump, she says.
There is a little good news.
The freight-rail market, driven largely by private investment, is expected to increase by nearly four percent; and the value of construction for ports and waterways is expected to grow six percent, driven by work on both coasts in preparation for the 2014 expansion of the Panama Canal. 
Also good news, the transportation construction market sector will remain the most stable industry sector as it has been for the past five years. Between 2007 and 2011, the real value of highway and bridge construction, adjusted with the ARTBA Price Index for material prices, wages and inflation, fell only 10 percent. Over the same period, the real value of total construction work in the U.S. fell by one-third from $1.1 trillion to an estimated $769 billion. And the real value of residential construction tanked more than 50 percent from $500.5 billion in 2007 to $236.5 billion in 2011.
ARTBA's 2012 forecast for other transportation modes:
Bridges: The value of bridge work is expected to drop by 10 percent from $26.3 billion to $23.6 billion, primarily because nearly all the projects that include ARRA investments are finished or underway and state/local DOTs are pulling back on new projects. This is likely due to a combination of the delayed federal reauthorization bill, and continued state and local budget challenges.
Airports: The value of work done on airport runways is expected to fall four percent from $4.9 billion in 2011 to $4.7 billion, primarily because of flat funding for the Airport Improvement Program and continued failure by Congress to pass a new aviation bill.
Subway & Light Rail: After a decade of growth, the real value of subway and light rail construction is expected to drop nearly 16 percent from $5.4 billion in 2011 to $4.6 billion.  Contract awards for subway and light rail are down sharply in 2011, indicating transit agencies are pulling back on projects.
About ARTBA's model
ARTBA has a series of econometric models that take into account current economic conditions, state and local funding and federal investment.  The ARTBA forecast model assumes: 1) the U.S. economy will continue to show modest growth in the coming years; 2) material prices and project costs will be in line with inflation; and 3) there is no major increase or decrease in federal investment over the next five years. 
Established 110 years ago, ARTBA represents the U.S. transportation design and construction industry in the Nation's Capital.