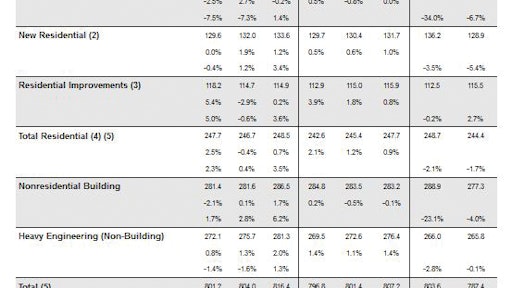 The U.S. Census Bureau reported that total construction spending increased 1.5% in December following a 0.4% rise in November. December total construction spending was $816.4 billion at a seasonally adjusted annual rate (SAAR). For the year, construction spending was down 2.0% from 2010.
Nonresidential building construction spending picked up in December to $286.5 billion (SAAR), an increase of 1.7%, following a modest 0.1% rise in November. For the year, spending was down 4.0%.
Heavy engineering (non-building) construction spending rose a healthy 2.0% to $281.3 billion (SAAR), its fifth consecutive monthly increase and its seventh increase over the last eight months. For 2011, heavy engineering construction spending was almost unchanged, down a modest 0.1% from 2010.
Total residential construction spending, which includes improvements, was up 0.7% after falling 0.4% in November. New residential construction spending, which excludes improvements, rose 1.2% following a 1.9% gain in November. Total residential construction spending for the year ended down 1.7% from 2010, while new residential construction was down 5.4%.
Total public construction spending advanced 0.5% in December after increasing 1.7% in November and was at its highest monthly level since January 2011. For 2011, spending fell 6.5%. The outlook for public spending continues to be for further declines as local governments struggle to balance their budgets and as Congress strives to reduce the federal government's deficit. Some hope comes from the states, most of which are seeing their revenues improve faster than expected. Meanwhile, total private construction spending rose 2.1% in December, its seventh monthly increase over the past nine months. For the year, private construction spending increased 0.7%.
Continued positive economic reports indicate that the U.S. economy is on more solid footing. Fourth quarter real (inflation adjusted) gross domestic product (GDP) rose 2.8% (SAAR), its fastest quarterly rate of growth since second quarter 2010. Nonfarm payroll employment increased 243,000 in January following a 203,000 increase in December. The unemployment rate has fallen for five consecutive months and stood at 8.3% in January compared to 9.1% a year earlier.
Europe continues to lurch forward, solving immediate issues without producing true long-term solutions. Although we expect Europe to continue to muddle through, developments there bear watching and remain a major risk to the U.S. economy.
Another major risk is the price of oil. A prolonged, large increase in oil prices, roughly $30 to $50 a barrel above current prices, would damage the U.S. and world economies. The current high price of oil is a drag on growth, but not at a level that is likely to tip the U.S. into recession.
Assuming no recession, the Reed Construction Data forecast is for total construction spending to increase 6.5% in 2012 and 5.9% in 2013.
Construction Spending Ends the Year on an Up Note