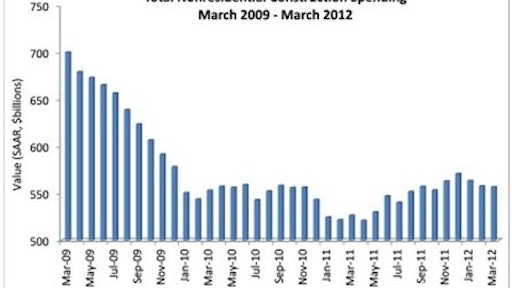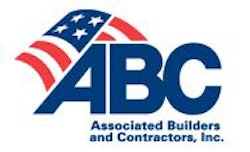 Total nonresidential construction spending fell for the third month in a row, declining 0.2 percent in March to a seasonally adjusted annual rate of $556.85 billion, according to the May 1 report by the U.S. Commerce Department. However, total nonresidential construction spending is up 5.7 percent from one year ago.
Private nonresidential construction spending increased 0.7 percent for the month and is up 15.2 percent year over year. In contrast, public nonresidential construction fell 1.1 percent in March and is down 2.8 percent compared to the same time last year.
Ten subsectors experienced decreases in spending for the month, including water supply, down 4.3 percent; public safety, 3.8 percent lower; sewage and waste disposal, down 2.2 percent; and amusement and recreation, down 2.1 percent. Eight subsectors posted decreases in spending compared to March 2011, including conservation and development, down 15.6 percent; water supply, 10.1 percent lower; religious, down 6.6 percent; and transportation, down 5.9 percent.
On the other hand, six of the sixteen nonresidential construction subsectors posted increases for the month, including lodging, up 5.9 percent; conservation and development, 3.8 percent higher; office, up 3.2 percent; transportation and manufacturing, both up 2 percent; and communication up 1.1 percent. Nine subsectors registered year-over-year gains in construction spending, including manufacturing, up 39.6 percent; power, up 19.2 percent; commercial, 8.9 percent higher; and public safety, up 7 percent.
Residential construction spending was 0.7 percent higher for the month and is 6.5 percent higher than the same time last year. Overall, total construction spending – which includes both nonresidential and residential – was up 0.1 percent for the month, and is 6 percent higher compared to March 2011.
Analysis
"Today's data on construction spending was mixed, which represents an improvement over recent data releases," said Associated Builders and Contractors Chief Economist Anirban Basu. "The past few months generally have been associated with negative news regarding the performance of the U.S. nonresidential construction sector.
"While overall nonresidential construction spending dipped in March, the decline in spending was not as severe as reported during the prior two months," Basu said. "In addition, some of the decline that occurred was perfectly predictable.
"State and local government fiscal circumstances remain challenging," said Basu. "The deceleration in government spending appears to have impacted nonresidential construction spending, as public nonresidential construction spending fell 1.1 percent on a monthly basis, including declines in the public safety, educational and water supply sectors.
"The most positive aspect of today's release was that private construction spending expanded 0.7 percent for the month, with gains registered in lodging, office and the communication sectors," Basu said. "Based on a host of leading indicators, private nonresidential construction should continue to rebound during the months ahead, with the presumption being that 2012 will remain a year of economic expansion in America."
See also: