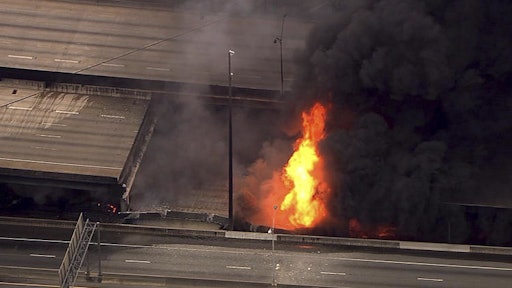 Three people were arrested Friday in connection with a raging fire that collapsed an elevated portion of Interstate 85 in Atlanta and shut down the heavily traveled route through the heart of the city.
Deputy Insurance Commissioner Jay Florence said Basil Eleby faces a charge of criminal damage to property, and Sophia Bruner and Barry Thomas each were charged with criminal trespass.
"We believe they were together when the fire was set and Eleby is the one who set the fire," Florence told The Atlanta Journal-Constitution.
Florence would not discuss how the fire was started or why, saying those details would be released as the investigation progresses.
The fire broke out Thursday afternoon in an area used to store state-owned construction materials and equipment, sending flames and smoke high into the air. Fire authorities said they had not determined how the blaze started.
McMurry said his department stored coils of plastic conduit used in fiber optic networks beneath the span but insisted they were noncombustible.
No injuries were reported from the fire and collapse. Firefighters shut down the section of highway before it gave way, and made it to safety themselves after hearing the road cracking and seeing concrete go flying, authorities said.
U.S. Transportation Secretary Elaine Chao promptly released $10 million for the initial repair work, and the Federal Highway Administration promised more in emergency repair funds. Officials gave no estimate of how much the job would cost.
Read the full report at The Chicago Tribune by clicking here.

AP writers Alex Sanz in Atlanta; Russ Bynum in Savannah, Georgia; and Kevin McGill and Rebecca Santana in New Orleans contributed to this report.