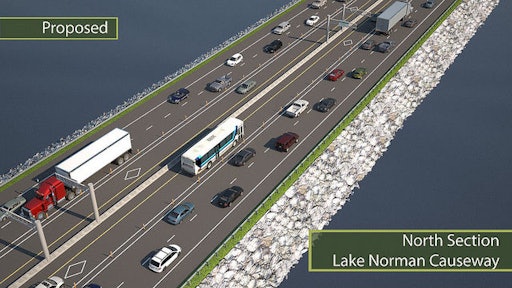 N.C. DOT
By Doug Clark, Greensboro.com
A challenge to the North Carolina's I-77 toll lane was denied by the N.C. Court of Appeals Tuesday.
The unanimous ruling by a three-judge panel upheld a lower court, which had dismissed a citizen group's attempt to stop the public-private project in Mecklenburg and Iredell counties.
As a legal issue, the opposition doesn't seem to have much gas.
I-77 from Charlotte to Mooresville is a traffic nightmare. To address the congestion, the state's DOT in 2014 signed a contract with a Delaware LLC called Mobility for what it called the I-77 HOT Lanes Project.
You can see all the details of the project here. Here's a summary. Simply, the private contractor builds two new lanes in each direction along 26 miles of the highway (except just one additional lane in the Lake Norman area). The state's share of the cost is $90 million. The private firm pays the rest, estimated at $655 million. In return, it can collect tolls for 50 years to recover its costs and earn a profit.
Motorists can continue to use the existing lanes at no cost. The tolls apply only to the two new lanes. Those lanes also are open, for free, to vehicles carrying at least three people, hence HOV for high occupancy vehicles.
A group called WIDENI77 filed suit to stop all this, challenging just about every aspect of the deal. It claimed the legislature unconstitutionally delegated authority to DOT to set tolls and to contract with the private firm; that DOT violated its taxing power; that it violated the public purpose doctrine; that it violated due process, and more.
Judge Ann Marie Calabria wrote the decision for the Court of Appeals and was joined by Judges Doug McCullough and Lucy Inman.
McCullough signed off on the ruling before he resigned from the court last Monday.
Calabria reviews state laws delegating certain powers to the Department of Transportation and cites a statute that specifically addresses the need to take innovative approaches to transportation improvements:
"Toll funding of highway and bridge construction is feasible in North Carolina and can contribute to addressing the critical transportation needs of the State. A toll program can speed the implementation of needed transportation improvements by funding some projects with tolls."