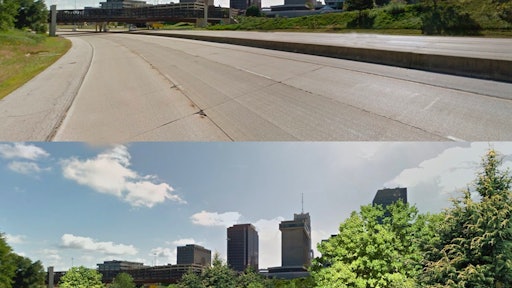 Hunter Franks/Knight Cities Challenge
In the annals of bad highways, Akron's Innerbelt—a sunken six-lane artery built in the 1970s with the hopes of stemming the Northern Ohio city's then-nascent population loss—deserves special mention. Never fully completed, the 4.5-mile long freeway was envisioned as a connection between central Akron and the peripheral expressways that were magnetizing residents to the suburbs. Instead, the Innerbelt devastated historic black neighborhoods, cordoned off downtown from westbound foot traffic, and became a notoriously underused "road to nowhere" as Akron's population dwindled to fewer than 200,000 souls—two-thirds of its 1960s peak.*
That narrative is familiar in so many American cities. But Akron's much-despised sunken spur is now looking toward a distinctly different future. Thirty-five acres of highway are in the process of being decommissioned, and smaller, safer, surface streets are on the way to replace it; currently, about a mile of road is closed to traffic for construction. Once the road is right-sized to fit the relatively small stream of traffic it gets, though, about two dozen acres will be left over. Now, a quarter-million dollar project will invite locals aboard the asphalt to imagine how the rest of it could be readapted for the long term.
With a $214,420 grant from the John S. and James L. Knight Foundation's 2017 Knight Cities Challenge, the artist Hunter Franks will transform two acres of highway with lush trees, alluring light installations, and public events fully accessible for surrounding neighborhoods. "Akron was the center of the American tire industry—it was literally built by and for the automobile," says Franks. "The fact that the city is now willing to part with this key piece of auto infrastructure, and recognize it's not the highest use of that space anymore, is a pretty huge step."
He hopes that his three-month-long "Innerbelt National Forest" project will foster social connections between West Hill, the University of Akron, and downtown—diverse communities long isolated from each other—and stimulate visions for the city's future that move away from private cars.
Read more on the project.