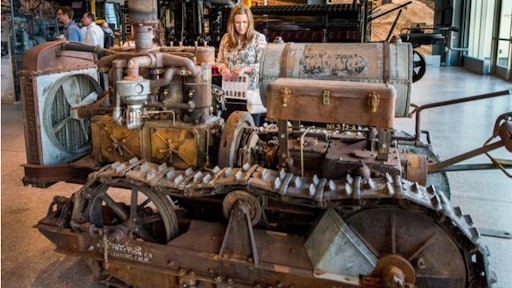 Fred Zwicky/Journal Star
The most striking details immediately set it apart as an early ancestor of modern machinery: white paint, nickel trim, undulating Caterpillar logo.
But more mundane minutiae on the meticulously restored Caterpillar Twenty that made its debut Tuesday at the Caterpillar Visitors Center define its unique position in the lineage of track-type tractors.
The serial number reads "EXP 0000-L" — marking it as the first machine to roll off the California production line as an official piece of Caterpillar Tractor Co. equipment following the merger of the now iconic brand's predecessors, C.L. Best Tractor Co. and Holt Manufacturing Company, in 1925.
"What you see here is the first Caterpillar made by Caterpillar," said Matt Veerkamp, whose family loaned the historic specimen and a handful of other rare antique tractors to the company for a yearlong exhibition.
Karl Weiss, the Caterpillar Inc. vice president with responsibility for earthmoving equipment, oversees production of direct descendants of the early-model tractors on display as part of the new Antique Equipment Expo at the visitor center.
He pointed to the machines Tuesday as the foundation for Caterpillar's evolution into a global icon.
"It never ceases to amaze me the strength of our brand, and our brand was built with machines like this," Weiss said.
Read more on Caterpillar's exhibition.