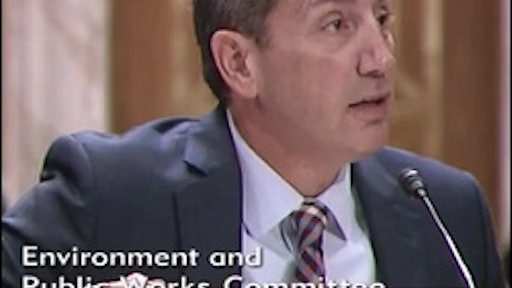 Paul Trombino repeatedly told senators at his Oct. 5 nomination hearing that if confirmed by the full Senate to head the Federal Highway Administration, he will follow up on their concerns about highway projects and safety issues and commit to working with them. 
Trombino has been president of Des Moines, Iowa-based McClure Engineering since January. Before that he was director of the Iowa Department of Transportation, held several leadership positions at the American Association of State Highway and Transportation Officials including as its 2015-16 president, and earlier worked for the Wisconsin DOT.
Sen. John Barrasso, R-Wyo., chairman of the Environment and Public Works Committee that has jurisdiction over the FHWA, praised President Trump's selection "of such a highly accomplished and dedicated public servant for this important position." Barrasso added: "Confirming Mr. Trombino to be administrator of the Federal Highway Administration will be an important step in addressing our nation's infrastructure needs."
Barrasso said the FHWA "plays a central role in ensuring the mobility of the American people and the goods and services on which we all rely." 
The agency, he continued, "supports state, local and tribal governments by providing financial support and offering technical assistance in the design, construction and maintenance of our nation's highways, roads and bridges. The FHWA also advances innovative practices and technology deployment that facilitate transportation project development, construction, and maintenance, and that enhance roadway safety."
More from AASHTO.