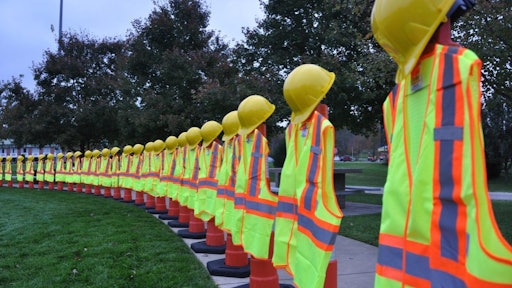 The West Virginia Fallen Worker Memorial for Highway Safety now sits at the Interstate 77 Welcome Center in Wood County.
The memorial was unveiled Wednesday in Williamstown by the state Department of Transportation.
Nearly 50 names of former DOT employees who died in the line of duty were read during the ceremony.
State Transportation Secretary Tom Smith told families members of fallen workers their goal is to reduce the number of deaths on the roads.
"We know that there's not much we can do to lessen your pain besides being with here with you today, but what we can do is really dedicate ourselves to making sure there are no new names added to this," he said.
The memorial serves as a place where friends and family can go to remember their loved ones, but also serves as a safety reminder to both motorists and DOT workers.
"Please help us spread the word to just slow down. Don't drive distracted. Don't drive under the influence. Pay attention as you drive through work zones," Smith said. "What we want to do is make sure everyone is as attentive as they can be."