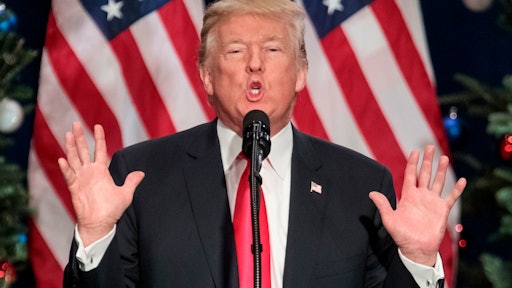 The Trump administration had promised to unveil "detailed legislative principles" on Trump's rebuilding initiative in early January, after the issue took a back seat to other GOP priorities all last year.
But White House officials told a bipartisan group of lawmakers on Capitol Hill that the proposal could now be released after Trump's inaugural State of the Union address on Jan. 30, according to the aide, though they assured lawmakers that a plan was forthcoming.
Senate Environment and Public Works Committee Chairman John Barrasso (R-Wyo.) and Sen. Tom Carper (Del.), the panel's top Democrat, requested Tuesday meeting with Trump's infrastructure team to learn more about the administration's rebuilding proposal.
The congressional Problem Solvers Caucus on Wednesday then released a bipartisan report detailing policy suggestions for a future infrastructure plan.
The report, released by the caucus's Infrastructure Working Group, proposes solutions on how to modernize U.S. infrastructure while maintaining environmental protections and bolstering the national security.
"Unfortunately, due to years of underinvestment and deferred maintenance, America is no longer keeping pace and continues to fall behind other countries," the report says. "By some estimates, the funding gap may be as high as $2 trillion by 2025 across all sectors of American infrastructure."
Among the suggestions in the report is creating "a rural liaison" for various federal agencies to help those areas seek funding. It also suggests that projects financed by the federal government should take a "Buy America" approach to make sure U.S. goods like steel and iron are used.
"America was a great country because we did great and big things," Rep. Elizabeth Esty (D-Conn.), a co-author of the report, said during its unveiling.
Read more from The Hill.