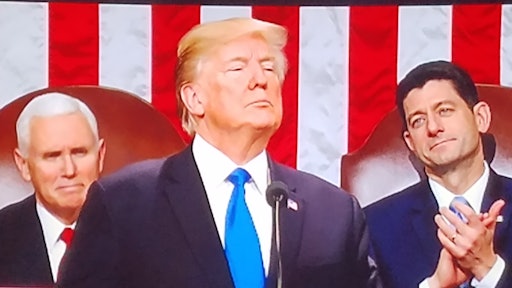 In his first State of the Union address January 30th, President Donald Trump worked to unite the country through bipartisan issues like the tax reform win and the highly anticipated infrastructure package. 
"As we rebuild our industry, it is also time to rebuild our crumbling infrastructure," Trump said.
Trump's rebuilding plan, which is expected to be a core part of his 2018 agenda, will be divided into two major goals: rebuilding U.S. infrastructure and speeding up the permit approval process.
Trump went on to say that he was now calling on Congress to create a bill that generates at least $1.5T for the new infrastructure investment that our country so desperately needs.
Trump initially promised to unveil a plan to rebuild U.S. roads, bridges, airports and other public works within his first 100 days in office, but the issue took a back seat to other GOP priorities such as taxes and health care last year.
More detailed legislative principles are expected to land on Capitol Hill in the next few weeks following Trump's address and the administration has been talking about a plan costing $1.7 trillion, though the private sector and local governments would be picking up the majority of the tab.
Trump's plan would use $200 billion in federal funding to raise at least $1 trillion worth of overall infrastructure investment, largely by offering incentives to the private sector and local governments to back transportation projects.
"Every federal dollar should be leveraged by partnering with state and local governments and, where appropriate, tapping into private sector investment to permanently fix the infrastructure deficit and we can do it," he said. "We will build gleaming new roads, bridges, highways, railways and waterways all across our land and we will do it with American heart, American hands and American grit."
Trump's pitch, however, lacked critical policy details, like how the White House plans to pay for the package or how exactly the money will be spent.
Trump said Tuesday night his proposal would also be paired with significant permit reform in an effort to reduce regulatory roadblocks and bring down the length of the construction approval process saying "America is a nation of builders. We built the Empire State Building in a year. Isn't a disgrace that it can now take 10 years to get a minor permit approved for the building of a simple road?"
Trump went on to say that any bill that's created must also streamline the permitting and approval process, getting the approval process down to not more than two years and perhaps even one.
Labor Also a Focus
In his hour+ address, Trump also acknowledge the need for a stronger workforce. Since the election, America has created created 2.4M new jobs, including 200,000 new jobs in manufacturing alone. However, many companies are lacking the workers needed to fill those jobs long-term. 
"As tax cuts create new jobs, lets invest in work force development and lets invest in job training which we need so badly," Trump said. "Let's open great vocational schools so our future workers can learn a craft and realize their full potential."