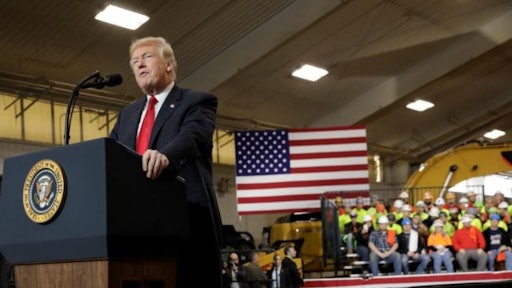 Reuters
U.S. President Donald Trump has made shortening the often lengthy timetable to get approvals for new highways, runways and other projects a key focus of his infrastructure reform plans.
Trump presided over the signing of the "One Federal Decision" memorandum of understanding by members of his cabinet after a meeting with agency heads.
The signers include the heads of the Interior, Agriculture, Commerce, Housing and Urban Development, Transportation, Energy, and Homeland Security departments, as well as the Environmental Protection Agency, U.S. Army Corps of Engineers, Federal Energy Regulatory Commission and Advisory Council on Historic Preservation.
The memorandum says "one lead federal agency will be responsible for navigating major infrastructure projects through the entire Federal environmental review and permitting process." 
The agencies will work to develop a single environmental Impact Statement and sign a single record of decision and the lead agency will seek written agreement from other agencies at key points. It also seeks to try to quickly resolve interagency disputes.
Representative Bill Shuster, who heads the House Transportation Committee, called the move allowed under a 2015 law a "positive step forward in the fight against inefficient, bureaucratic permitting."
Read the full story from Reuters.