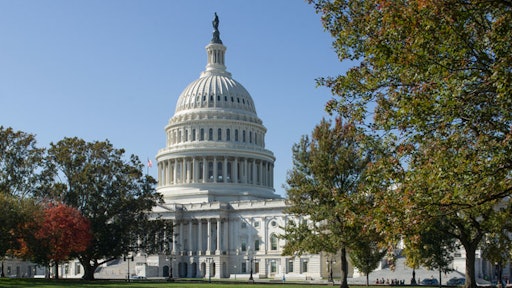 On Aug. 1, the Senate passed H.R. 6147, a "minibus" appropriations bill that combined four appropriations bills, including Transportation, Housing and Urban Development (THUD).
The FY 2019 THUD Appropriations bill approved by the Senate includes $45 billion in funding (consistent with FAST Act levels) from the Highway Trust Fund for federal-aid highway programs, along with an additional $3.3 billion transfer from the general fund. The bill also includes $1 billion for Better Utilizing Investments to Leverage Development (BUILD) grants and $17.7 billion for the Federal Aviation Administration, with $3.35 billion for Airport Improvement Program (AIP) grants and an additional $750 million in AIP discretionary funds. 
The Senate also adopted a "manager's package" of 46 amendments by voice vote on all four appropriations bills in the minibus, including 12 related directly to the THUD funding bill.
One of those amendments cut $52 million from the Transportation Infrastructure Finance and Innovation Act funding to extend the spending deadline for certain fiscal 2012 TIGER projects; a program that underwent a name change in April and is now called the Better Utilizing Investments to Leverage Development or BUILD Transportation grants program.
Another amendment prohibits procurement of transit rail cars and buses from companies owned or subsidized by the Chinese government, while a third blocks funding of Federal Transit Administration policy changes to its Capital Investment Grants or CIG program – a source of controversy ever since the FTA issued a "dear colleague" letter regarding CIG funding formula changes on June 29.
Aside from those amendments, the funding levels for various transportation agencies and activities in the original bill approved by the Appropriations Committee remained in place in the final bill passed by the Senate:
$1 billion BUILD grants, previously known as TIGER grants.
$956 million in total budgetary resources for the National Highway Traffic Safety Administration, $667 million for the Federal Motor Carrier Safety Administration, and $275 million for the Pipeline and Hazardous Materials Safety Administration
$17.7 billion in total budgetary resources for the Federal Aviation Administration
$1 billion for FAA Next Generation Air Transportation Systems or "NextGen" programs and not less than $168 million for the Contract Towers program. The bill also provides $750 million in additional funding for airport improvements.
$2.8 billion for the Federal Railroad Administration, which includes $1.9 billion to Amtrak for the Northeast Corridor and National Network, along with $262 million for FRA safety and operations, as well as research and development activities.
$255 million for the Consolidated Rail Infrastructure and Safety Improvement grants program, $300 million for Federal-State Partnership for State of Good Repair grants, and $10 million for Restoration and Enhancement grants.
$13.5 billion for the Federal Transit Administration, with $9.9 billion from the Highway Trust Fund to fund formula grants, honoring the FAST Act. In addition, the bill provides another $800 million in transit funding from the general fund. The bill provides a total of $2.6 billion for Capital Investment Grants or "CIGs," fully funding all current Full Funding Grant Agreement or "FFGA" transit projects, as well as new projects that qualify.
$818 million for the Maritime Administration, along with $300 million for the Maritime Security Program.