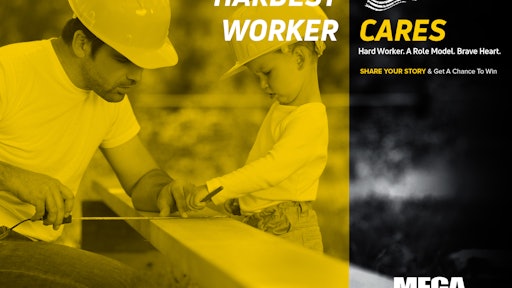 For the third consecutive year, MEGAComfort, an occupational health and wellness company focused on work-life wellness solutions, will celebrate the great American work ethic with its Labor Day Hardest Worker Contest. Holding this annual contest honors hard working, role models that work tirelessly behind the scenes to help their families, communities and workplaces be their best. MEGAComfort wants to recognize these hard workers who exemplify pride in their work and community. Individuals who continuously display a generosity of spirit, making the world a better place, deserve to be applauded for their ability to support those around them.

MEGAComfort's Hardest Worker Contest encourages individuals to submit stories that highlight an unsung hero in their workplace, family or local community for their chance to win a variety of prizes including mega cash prizes and MEGAComfort's highly acclaimed ergonomic insoles.

"In our day-to-day lives, we often unknowingly overlook those that are making an impact on our lives, families, friends and communities," said Dr. Orvitz. "We are choosing finalists around Labor Day as a way to honor and highlight the impact these individuals have on their communities, and to say thank you for all that they do."

How to enter the Hardest Worker Contest
Visit MEGAComfort's Hardest Worker website and share a personal story about an individual who has the traits of a hard worker. Nominations will close on August 26, 2018, and the 10 finalists will be announced on September 3, 2018. The public is then welcome to vote for their favorite hard worker. Winners and their associated prizes will be announced on September 29 2018.

The winnings include:
1st prize: $5,000 and 20 insoles
2nd prize: $2,500 and 10 insoles
3rd prize: $1,000 and 4 insoles
The remaining 7 finalists will receive $200 amazon gift certificates and 2 insoles
Stay updated on contest details by liking MEGAComfort on Facebook at www.facebook.com/MEGAComfortInsoles and by following MEGAComfort on Twitter at @MEGAComfortInc.