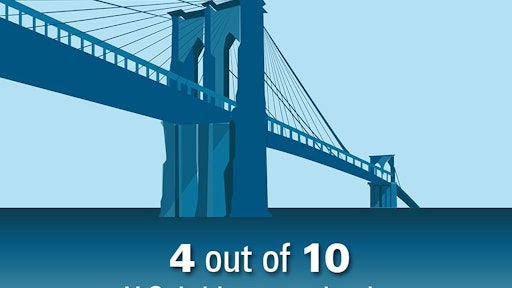 ARTBA
A new report from the American Road & Transportation Builders Association (ARTBA) estimates that 47,052 bridges in the United States are classified as structurally deficient and considered to be in poor condition. Cars, trucks and school buses cross these compromised structures 178 million times every day. 
What's worse is that the pace of improvement on these structures has slowed compared to the last five years.
"The total inventory of structurally deficient bridges is down by about 567, which is a very slow pace compared to what we've seen in previous years," Alison Premo Black, ARTBA chief economist who conducted the analysis says. "At that pace, it would take over 80 years to repair or replace those bridges, which is just a ridiculously long time."   
Including structurally deficient bridges, there are nearly 235,000 bridges across the country that need structural repair, rehabilitation or replacement, according to ARTBA's analysis of the NBI data, accounting for 38 percent of all bridges. If placed end-to-end, they would stretch nearly 1,100 miles—the distance between Chicago and Houston. ARTBA estimates the cost to make the identified repairs for all 235,000 bridges is nearly $171 billion, based on average cost data published by FHWA.
However, many of these will need to wait until Congress can agree on a funding mechanism for infrastructure repairs. 
"Incoming revenues are not anywhere where they need to be to make all of the needed investments to keep things in a good state of repair and make some of these larger replacement and rehabilitation projects happen," Black says.
ARTBA's primary goal is to aggressively grow and protect transportation infrastructure investment. Many of its 8,000 members stand to benefit from increased funding.
Notable Bridges
Nearly two-third of the bridges that are structurally deficient in 2018 have been classified as structurally deficient since 2014. Some of the notable structurally deficient bridges in 2018 include:
• New York's Brooklyn Bridge
• Memorial Bridge connecting Washington, D.C. at the Lincoln Memorial with Arlington, VA
• San Mateo-Hayward bridge crossing California's San Francisco Bay – the longest bridge in California
• Robert S. Maestri Bridge over Lake Pontchartrain in Louisiana
• Albemarle Sound Bridge and the Lindsay C. Warren Bridge crossing the Alligator River in North Carolina
• Florida's Pensacola Bay Bridge
• Vicksburg Bridge in Mississippi
• Lacey V. Murrow Memorial Bridge in Washington state
Visit the bridge report website to learn more.