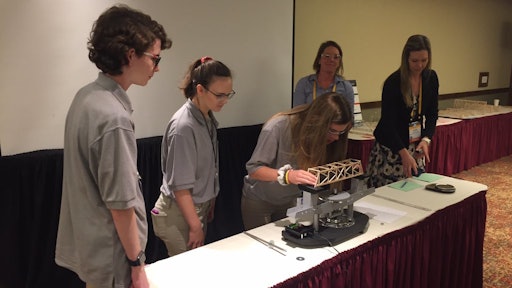 The Roadways Into Developing Elementary Students, or RIDES, program was developed by the Mississippi DOT and introduced in Mississippi in 2004. RIDES is designed to improve science, technology, engineering and math skills, and prepare students in grades K-8 for the workforce of the future. Students utilize critical thinking skills to solve real world problems and learn about careers in the transportation industry, specifically civil engineering.
Teachers wishing to utilize RIDES in their classroom attend two days of high energy training conducted by National Board Certified math and science instructors who are actively using the RIDES program in their classes. Since 2004, over 2,000 teachers throughout Mississippi have attended RIDES training.
The RIDES module contains ready-to-use lesson plans and a trunk of resources containing all the materials the teacher needs to conduct the hands-on activities.
The RIDES curriculum and activities are aligned with the National Math and Science Standards, Mississippi Frameworks for Math and Science Education and the Common Core for Math and has been recognized at a national level for its support of STEM (science, technology, engineering and math) education in the classroom.
In 2011, the American Association of State Highway Transportation Officials (AASHTO) distributed the RIDES program throughout the United States as a model transportation education outreach program. Through this partnership, RIDES is currently used in Louisiana, New York, North Dakota, Nebraska, California, Rhode Island, New Jersey, Oregon and Alaska.
Impacts:
• 2,015 teachers trained since 2004
• 40,000 students impacted annually
• 42 pre-service teachers trained in 2015; will impact 800+ students annually
• Refresher training for 250 teachers; will impact 5,000+ students annually
• Introduced 10,000 students to STEM careers at career fairs throughout Mississippi