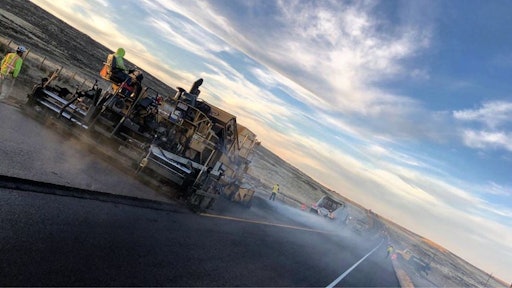 Recently, the U.S. DOT announced the largest investment in U.S. infrastructure in history. The Trump Administration will invest $900 million in American infrastructure through the Better Utilizing Investments to Leverage Development (BUILD) Transportation Discretionary Grants program. The funding has been awarded to 55 projects in 35 states.
BUILD is a discretionary grant program originally known as Transportation Investment Generating Economic Recovery (TIGER). It came about during the Obama administration as a stimulus response to the Great Recession in 2009. During that first year, the program had $1.5 billion to dole out to a variety of transportation projects; it contributed funding to the 13-state Crescent Corridor freight rail project; Chicago's bottleneck-busting CREATE program; bus rapid transit projects in Denver and Las Vegas; streetcars in Dallas, Portland and New Orleans; and bicycle and pedestrian networks in Philadelphia and Indianapolis. The program has been averaging around $500 million each year since, continuing with that experimental approach of boosting multimodal programs.
Priorities Change Under Trump
This year, U.S. Transportation Secretary Elaine Chao said the program selection criteria encompassed safety, economic competitiveness, quality of life, state of good repair, environmental sustainability, innovation and partnerships with a broad range of stakeholders.  For this round of BUILD grants, the maximum grant award is $25 million, and no more than $90 million can be awarded to a single state. 
Six of the grants that maxed out at $25 million include five road projects—an interstate interchange in Aurora, CO; a dam mitigation in Des Moines, IA; bridge replacements in Woolwich, ME, and Providence, RI; and transportation improvements in Houston, TX—plus a port, a petroleum and cement marine terminal port in Anchorage, AK.
Under the Trump administration, the share of dollars handed to roads has more than doubled from that of the Obama administration to the tune $603 million (68% of the FY2019 spending).Eno Transportation
This news is good for the road building industry. In fact, under the Trump administration, the share of dollars handed to roads has more than doubled from that of the Obama administration to the tune $603 million (68% of the FY2019 spending). 
However, Transportation For America has recently argued that federal funding for new car-centric infrastructure needs to halt entirely; instead, the government should prioritize fixing the current U.S. road and bridge network—which has a considerable maintenance backlog.
Unfortunately prioritizing new roadway construction also means that Trump's DOT reduced its commitments to mass transit and rail improvements, zeroed out bike and pedestrian projects. According to Eno Transportation, the past three years of discretionary grants have funded the construction of more roads and bridges while reducing commitments to mass transit, rail and bike/pedestrian infrastructure.
Experts argue the BUILD program needs to be revamped in a way that better distributes the funds. 
"There has been a lack of vision about what the [BUILD] program is supposed to accomplish,"  says Beth Osborne, the director of Transportation For America. "The only goal is the expenditure of dollars, where Congress says, 'If they give me more money, I will issue a press release talking about how much money is going to be spent.' And that's what we've done. We need to say what the money will accomplish."
In the meantime, road construction contractors should appreciate the boom in business under the Trump administration while continuing to push for the maintenance of existing roadways. 
Have you noticed an increase in work under the Trump administration? Let me know at jlombardo@acbusinessmedia.com.