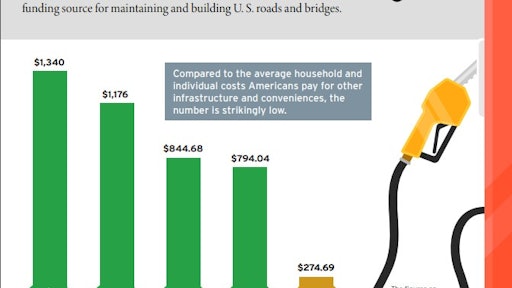 HNTB
American families pay thousands of dollars a year to use critical services such as electricity, water and broadband, but an analysis of available data by HNTB Corporation shows that, on average, families pay far less for the critical transportation network that powers economies, strengthens communities and improves quality of life.
On average, American drivers pay just $274.69 annually in gas taxes (federal + state taxes) at the pump, the primary source of funding for the upkeep and improvement of U.S. roads and bridges.
Compared to other critical public services, the cost for their transportation systems lags far behind. Household expenses for annual average electric bills in the U.S. ran $1,340 in 2017 according to the U.S. Energy Administration. Forbes reported that annual broadband internet service totaled $794.04 that year and Statista reported that a family of four paid an average annual water bill of $844.68 last year. Individually, Americans' mobile phone bills average nearly $100 a month or $1,200 per year, according to bill pay service Doxo.
"Think of it this way: the bills we pay monthly for critical services like electricity and water largely go to the utility companies and municipalities that provide these services," said John Barton, senior vice president and national DOT practice leader for HNTB. "That is not so when it comes to transportation. Transportation is a utility and should be viewed as such. Mobility providers—the governments that build and maintain roadways, bridges, paths and transit systems so we can get to work or school, feed our families, supply our homes and enjoy our communities—see only a fraction of what Americans pay on average at the pump to deliver such an essential service. Typically, less than 20% of what we pay at the pump actually goes to fund our transportation system."
Industry Shares Sentiment
Jim Tymon, executive director of the American Association of State Highway and Transportation Officials, made the same points in testimony before Ohio state legislators last year.
"Nationwide, we see ample evidence for ever-growing transportation investment needs from growing population, aging infrastructure stock, and rapid deployment of new technology," Tymon said in his remarks. "In 1970, Americans logged just over 1 trillion VMT [vehicle miles traveled]; yet by last year we traveled over 3 trillion miles. By 2030 we are expected to see a 25 percent increase in VMT and a 64 percent increase in travel by large commercial trucks."
Meanwhile, the federal fuel tax on both gasoline and diesel hasn't been increased since 1993 causing the Highway Trust Fund (HTF) to go broke. The HTF uses the federally established gas tax to help fund our nation's roads, bridges and highways. Each time you fill up your gas tank, you are helping to pay for the roads you're using. In fact, roughly 51% of road and bridge projects in the United States are funded through the use of the HTF. 
The Congressional Budget Office (CBO) projects that outlays from the HTF will exceed trust fund reserves by a cumulative $123 billion for the highway account and by $46 billion for the mass transit account by 2029. If no action is taken, the CBO estimates that both those accounts will go broke in FY2021. 
If you're willing to shell out over $1,200 a year for your cell phone, don't complain about the potholes on your street if you don't want to fork over a mere $250 a year for our roads.